Alpha & Omega Ministries Apologetics Blog

An Incredible Turn Around!
03/28/2007 - James White
Thanks to the diligent work of Mike Gaydosh of Solid Ground Christian Books, his staff, and my volunteers (Marie Peterson, Carrie Gambill, the rest of the #prosapologian crew), the period of time between my decision to publish a response to The Lost Tomb of Jesus film and the accompanying book, The Jesus Family Tomb, which I believe I made on March 1st, and the time when it will be in my hand (I believe Monday, April 2), is simply astounding. One month! I did not actually start writing until the 5th, so it was less than a month from the start of the project until the book was produced and shipped and in my possession. Truly an amazing testament to what you can do if you just work hard at it!
So now comes your turn. This book needs to get to believers so that they can be prepared. But it also needs to get in the hands of unbelievers who find this kind of argumentation compelling. We are going to put together a special offer as soon as we can including the book, the "Empty Tomb of Jesus" t-shirt, and a tract I am writing especially for use with the book. That's my current project. So keep watching the blog for details, and join us in using this error-filled attack upon the faith as a starting point to proclaim the truth to a world intent upon disbelief and rebellion.


12:21:55 - Category: Misc - Link to this article -

Counterfeit Christianity: The Basics
03/26/2007 - Jeff Downs
Two weeks ago I began teaching on the topic "A Biblical Approach to Christian Counterfeits." This is an introductory course that will end up being 12 weeks total. Since the issue of methodology is currently a hot topic, this week and the following two weeks is devoted to this issue. I am presuppositional in my apologetic methodology and therefore trying to apply this to Christian counterfeits. Frankly, there isn't much theoretical material from our camp dealing with cults and world religions.
Here are Word docs for the first and second weeks, which include an outline and a bibliography. If you'd like to offer some feedback go here.
While most of you who read this blog probably will not get much out of what I'm doing (i.e. you been there, done that), I still hope it is beneficial to the body of Christ.
BTW: I am putting together another edition of the Countercult Apologetics Journal which I hope to go live with by July (if not earlier). I already have some great articles either in hand or lined up on Jehovah's Witnesses, Mormonism, the Trinity, Islam, and more.
I am looking for additional articles and book reviews, so if you are interested contact me.


17:26:51 - Category: Misc - Link to this article -

Monday Morning Miscellaneous
03/19/2007 - James White
Very excited, but very busy. I think I will make my self-imposed deadline, and seeing the book taking form is very exciting.
For those who have written e-mails to me asking for details on upcoming trips, etc. Book or e-mails. Book wins. Hopefully by the end of the week.
Here's enough evidence, for anyone who still cares, of why the folks at the oxymoronic website should be dismissed as ever having anything worthwhile to say to anyone who takes the Bible seriously and loves the faith.
Finally, one more example of why I really need to get this book done by Wednesday evening:

Dear Sirs, as a Jew in Israel, I really don't understand why this movie is an "attack on the Christian" faith. Instead of investigating all available sources, the author prefers to attack the film makers as money greedies. when he attacks them for not being "scientific" enough, he is falling just in the same trap he is digging: when one reads all available sources, the tomb the movie dealt with is at least possiblly what they said it is. I don't know how much Discovery paid them, but I couldn't care less. money is not the question. but attacking them is just the opposite of what Jesus said. whether they are right or wrong. the question is: can one dismiss the movie concept alltogether?
11:27:21 - Category: Misc - Link to this article -

The TQ Fan Club Speaks
03/15/2007 - James Swan
Here's a shocker: Kevin Johnson over at ReformedCatholicism.com actually liked a recent entry I wrote for Team Apologian. I would like to put forth a point of correction and clarification. Johnson notes,

"We've been attacked before by James White, Swan, and others for stopping just short of the Tiber and not stepping on to the firm rich soil that leads to the seven hills of Rome."

I have not written anything against the Reformed Catholic clan. I didn't even respond to a recent rant put forth by Paul Owen on Calvin and baptism. This doesn't mean I approve of this group, but it does suggest they do not read carefully.


11:41:50 - Category: Misc - Link to this article -

Gnostic Sources: The New Complete Version of Biblical Studies
03/15/2007 - James Swan
The other day I spent some time at the big chain bookstore. I usually grab a cup of coffee, and then head over to the religion section. Most of the time I'm thumbing through books on Roman Catholicism. It's unbelievable how many books Catholic apologists and those devoted to Rome put out. Usually, the ones I want to thumb through are sealed in plastic. I'm not sure why. It makes me wonder what information is so astonishing it must be shrouded in plastic to conceal it from the browsing public.
This time though, I branched out to the section containing books on the alleged lost books of the Bible. I was amazed how many books were put out on this topic. They weren't simply translations or compilations of non-canonical writings. They were actually commentaries and analysis of this genre. Recently Simcha Jacobovici made a big deal about the Acts of Philip. He says it contains "a much more complete version of Mary Magdalene than the Gospels." Are we to assume that the Gnostic literature gives us reliable information about historical New Testament people? Consider the picture of Jesus put forth by The Infancy Gospel of Thomas (possibly written about A.D. 125):

3.1. The son of Annas the scribe was standing there with Joseph. He took a branch of a willow and scattered the water which Jesus had arranged. 2. Jesus saw what he did and became angry and said to him, "You unrighteous, impious ignoramus, what did the pools and the water do to harm you? Behold, you shall also wither as a tree, and you shall not bear leaves nor roots nor fruit." 3. And immediately that child was all withered.

4.1. Once again he was going through the village, and a child who was running banged into his shoulder. Jesus was angered and said to him, "You shall go no further on your way." And immediately the child fell down dead. Some people saw this happen and said, "From whence was this child begotten, for his every word is an act accomplished?" 2. The parents of the dead boy went to Joseph and blamed him: "Because youhave such a boy, you cannot live with us in the village; your alternative is to teach him to bless and not to curse, for he is killing our children."

5 .1. Joseph took the child aside privately and warned him, saying, "Why do you do such things? These people are suffering and they hate us and are persecuting us!" Jesus said, "I know that these are not your words, but on account of you I will be silent. However, they shall bear their punishment." Immediately, those who accused him were blinded.

The use of Gnostic sources made me consider just what people like Simcha Jacobovici have up their sleeves. I think there is a concerted effort to put forth books left out of the Bible as if they actually contain reliable information. Why do this? It's simply another way to attack sola scriptura. God has spoken, and this truth drives non-believers to extremes. Quoting Gnostic literature as more complete versions is a desperate attempt to undermine the reliability of the Bible. There is nothing more infuriating to non-believers than an absolute standard.

Quick Addition from James White: If you want to know what Simcha has up his sleeve, click here.


11:40:50 - Category: Misc - Link to this article -

Here's a Book I Need to Order!
03/07/2007 - James White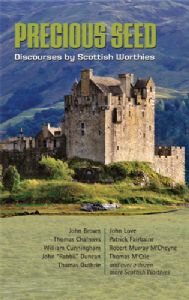 Hey, do you think if I link to this for the folks at Solid Ground (who are putting out From Toronto to Emmaus as well), they might sneak a copy into my current order? Hey, it's worth a try! Seriously, having been mercifully removed from the Pseudo-Scots Club Presidency by as great an authority as Pastor Jim Handyside, I truly have a place in my heart for all things Scottish, especially when it comes to the great men of God who graced that land for many years. There are some tremendous names here, and from what Mike says, and from the endorsements on the book, the sermons selected are amongst the best. Given what passes for Christian preaching today (here's a pretty sad example), this would be a refreshing reminder of what real biblical preaching is about. Quick before the price goes up!


11:30:10 - Category: Misc - Link to this article -

Particular Redemption, etc.
03/07/2007 - Jeff Downs
John Piper, Mark Dever and Bruce Ware join together for a two hour discussion on topics such as particular redemption, N.T. Wright on justification, megachurches and more. Here is the link to the audio. This was recorded in November of 2006 during the ETS Conference.

BTW: James preached a great sermon this past Sunday on The God Who Justifies.


04:49:13 - Category: Misc - Link to this article -

Bibliology Course
03/03/2007 - Jeff Downs
As some of you know (not by viewing the Calendar mind you), James is in Massachusetts teaching a class on Bibliology at Bethlehem Bible Church. Here is the description of the course:

Canonicity, inspiration, inerrancy, transmission, and preservation of the Biblical text will be evaluated in this course. The reliability of modern translations as accurate representations of the original manuscripts (along with provocative topics such as the King James Only controversy and gender neutral Bible translations) will be explored

Already they have up the audio for session 1 and for some time now, the Syllabus and Notes #1 and 2. Go here for all the details.


19:13:15 - Category: Misc - Link to this article -