Alpha & Omega Ministries Apologetics Blog

Atonement
07/27/2007 - Jeff Downs
The Southern Baptist Journal of Theology, Vol. 11, No 2
Editorial: Articulating, Defending, and Proclaiming Christ our Substitute, by Stephen J. Wellum.

"A History of the Doctrine of the Atonement", by Gregg Allison.

"The Atonement in Isaiahís Fourth Servant Song" (Isaiah 52:13-53:12), by Peter J. Gentry.

"Songs of the Crucifi ed One: The Psalms and the Crucifi xion", by Derek Tidball.

The Cross and Substitutionary Atonement, by Simon Gathercole.

"Christ Bore the Sins of Many: Substitution and the Atonement in Hebrews", by Barry C. Joslin.

"The Atonement under Fire", The SBJT Forum.


11:38:31 - Category: Misc - Link to this article -

Mormonism, Holy Spirit, Grenz and Franke
07/27/2007 - Jeff Downs
Here are a few (new) papers that maybe of interest. Papers were presented at the 2007 International Society of Christian Apologetics (June 1-2):

Latter Day Atheists: The Problem of Omnipotence in Mormon Theology", by Adam P. Groza.

What Did He Hear and Where Did He Hear It? Apologetic Reflections on the Person of the Spirit in Johnís Gospel, by John A. Jelinek.

Postmodern Epistemology: A Critique of Stanley J. Grenz and John R. Franke, by John D. Wilsey.


11:19:02 - Category: Misc - Link to this article -

Great Themes in Puritan Preaching
07/27/2007 - James White
Tired of fluffy, man-centered "preaching" that is 9/10ths motivational speaking and 1/10th watered-down Christianity? It is always good to be reminded that there was a day when godly men of great learning and insight fearlessly proclaimed the truths of a divine revelation called the Holy Scriptures.
Here is a volume you might wish to look into from Joshua Press, compiled and edited by Dr. Mariano Di Gangi, Great Themes in Puritan Preaching.
Speaking of the folks "north of the border," I will be with Heinz Dschankilic and the folks with Sola Scriptura Ministries at their national conference in Toronto September 7-8, 2007. Here's the info. If you are up in that neck of the woods, make plans to join us!


11:01:34 - Category: Misc - Link to this article -

On My "Issues" and Other Stuff
07/25/2007 - James White
I fine-tuned my Google Blog Search gadget and got rid of all the references to basketball and politics. As a result, I found this article by "iggy" from Billings, Montana. Thankfully, iggy later admitted his error, and recognized that there might just be more than one person on the Internet with the initials JW, or "Jim W.," etc.
If I'm going to comment on a blog somewhere, I will almost always identify myself with the signature (developed back in the 1980s for use on our BBS) of "James>>>" along with our website, www.aomin.org. If the comment system uses nicks instead of names, you will often see DrOakley or a variant thereof (my nick in our chat channel). For someone who makes himself so easily available, I have no reason to hide when commenting out there in the blogosphere, as rarely as I do that.
You will note that we also changed the blog format so that the author identification tag is right under the title of the blog article now. For some reason folks just don't see the "by" line at the bottom of the blog articles, so I am always being asked to comment on materials I did not write. So, from now on, you will see the actual author of the blog article appearing right beneath the title. So please, stop asking me questions about Harry Potter! :-)
Finally, don't forget that we have open phones tomorrow evening on the Dividing Line as we finish up our Radio Free Geneva series on Romans 9 and Steve Gregg. I dare say that the majority of post-evangelicals do not believe that I am correct in my exegesis of Romans 9, so I would think there would be great interest in calling in to voice that disagreement! We all know Pierre, our LDS caller, will disagree, but I wonder if all the Arminians/anti-Lordship advocates/Dave Hunt fans/etc. will wish to step up to the plate and make their case? We will see.


15:41:59 - Category: Misc - Link to this article -

Ussher is Ushered In
07/17/2007 - James White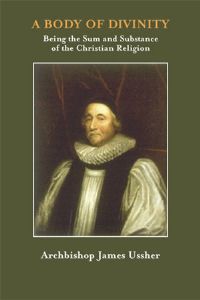 I think it was November last year that Solid Ground announced that they were putting Ussher's A Body of Divinity into print. I ordered a couple for Christmas presents...of course, the folks I got them for will wonder if they are for Christmas '06 or Christmas '07, but hey, as long as they have the book in hand at some point! So, I'm thankful to announce that Ussher's work is now shipping, and, what's more, if you tell the folks at Solid Ground that "James White Sent Me" in the comments section of your order for Ussher you will get it for $35 instead of the current $39.95 (which will be going up soon). Click here.
I should have info on both Letters to a Mormon Elder and Is the Mormon My Brother later this week!


13:27:21 - Category: Misc - Link to this article -

Some Quick Links
07/04/2007 - James White
Trying to get back into the swing of things, and it is always a task to dig back out from the "normal things of life" after being gone for a while.
First, here is an interview that I found fascinating and useful. Many do not realize that there are, indeed, many Islamic intellectuals. Here is an example of one, a convert to Islam, Shaykh Hamza Yusuf. I found him engaging and learned, but I could not help but wonder what he thinks about the fact that his religion has produced a situation where he could not even live in an Islamic state under Shariah law without risking his very life? Thanks to Sam Shamoun for pointing this one out to me.
Next, I mentioned on the DL yesterday that the folks over at irr.org have put out a video on the Book of Abraham, the single greatest documented proof that Joseph Smith Jr. was a charlatan, not a prophet of God. The full video is now on YouTube, here. Given the current discussions of Mormonism, this is very useful. Here's the info on how to obtain it in DVD format.


13:33:09 - Category: Misc - Link to this article -