Alpha & Omega Ministries Apologetics Blog

The Only Begotten of the Father in the Flesh: Mormonism's Embarrassing Theology (#2)
11/29/2007 - James White
Nineteenth Century Teachings
Since it is said that this doctrine is primarily found in the nineteenth century, we should take the time to find out if those LDS leaders that modern apologists admit speculated on this topic were, in fact, saying, This is my speculation and opinion only, or whether in fact they taught this doctrine as a divine truth, consistent with the rest of LDS theology. However, as we will see, the vast majority of the statements presenting this doctrine come from the twentieth century!
The most vocal proponent of the idea that God the Father, possessing a physical body, begat the physical body of Jesus Christ, was Brigham Young, second Prophet and President of the LDS Church. We have already noted earlier that President Young stated that if he was given the chance to correct a sermon (i.e., proofread the transcript) when it was recorded, it was then as good Scripture as the people deserved. What did President Young say about this doctrine?

He [God] created man, as we create our children; for there is no other process of creation in heaven, on the earth, in the earth, or under the earth, or in all the eternities, that is, that were, or that ever will be. Brigham Young, Journal of Discourses, ed. George D. Watt, 26 vols. (Liverpool: F.D. Richards, et al., 1854-1886), 11:122, LDSCL.
The birth of the Saviour was as natural as are the births of our children; it was the result of natural action. He partook of flesh and blood was begotten of his Father, as we were of our fathers. Ibid., 8:115, LDSCL.
When the Virgin Mary conceived the child Jesus, the Father had begotten him in his own likeness. He was not begotten by the Holy Ghost. . . . Now, remember from this time forth, and for ever, that Jesus Christ was not begotten by the Holy Ghost. I will repeat a little anecdote. I was in conversation with a certain learned professor upon this subject, when I replied, to this idea if the Son was begotten by the Holy Ghost, it would be very dangerous to baptize and confirm females, and give the Holy Ghost to them, lest he should beget children, and be palmed upon the Elders by the people, bringing the Elders into great difficulties. Ibid., 1:50-51, LDSCL.
When the time came that His first-born, the Saviour, should come into the world and take a tabernacle, the Father came Himself and favoured that spirit with a tabernacle instead of letting any other man do it. The Saviour was begotten by the Father of His spirit, by the same Being who is the Father of our spirits, and that is all the organic difference between Jesus Christ and you and me Ibid., 4:218, LDSCL.
As this is one of Young's plainest statements, we should note some particulars. Young says God favored his first-born, the Savior, with a tabernacle. The term first-born in LDS theology refers to the idea that Jesus Christ is the first begotten spirit child of God (Elohim) in the spiritual pre-existence. Once Elohim became a God, his first-born spirit offspring was Jesus, also known (in modern LDS theology) as Jehovah. This is a concept that developed after Joseph Smith's life, as Smith referred to the Father as Jehovah. Mormon theology regarding the names Elohim and Jehovah is quite muddled, as the Bible uses the two terms of the one true God. The term first-born needs to be differentiated from only-begotten in Mormon teaching. In biblical terminology, the two terms are very closely related, and both refer to the unique relationship of Father and Son. First-born refers to pre-eminence and authority, while only-begotten is better rendered unique, and likewise speaks to the special relationship between Father and Son. If one listens carefully to the leaders of the Church, and even to the missionaries who visit in your home, you will note the use of a short, three word modifier when Mormons refer to only-begotten. They consistently say, "Jesus is the only-begotten in the flesh." It took me some time to realize what this meant, but it goes back to this very concept. As we have seen, Mormons believe that Elohim has begotten literally billions of spirit offspring in heaven. Hence, how can he be said to have an only-begottenSon? The key is recognizing that Jesus Christ is the only human being who was physically begotten by God the Father. This will become more and more clear as the citations stack up.

. . . the Father came down from heaven, as the Apostles said he did, and begat the Saviour of the world, for he is the only-begotten of the Father, which could not be if the Father did not actually beget him in person. Brigham Young, Journal of Discourses 1:238, LDSCL.
This matter was a little changed in the case of the Savior of the world, the Son of the living God. The man Joseph, the husband of Mary, did not, that we know of, have more than one wife, but Mary the wife of Joseph had another husband. On this account infidels have called the Savior a bastard. This is merely a human opinion upon one of the inscrutable doings of the Almighty. That very babe that was cradled in the manger, was begotten, not by Joseph, the husband of Mary, but by another Being. Do you inquire by whom? He was begotten by God our heavenly father. Ibid., 11:268, LDSCL.
It is certainly striking that the Mormon Prophet would say that Mary had another husband, and that husband was God our heavenly Father. In the same way, note the parallelism between Jesus not being begotten by Joseph, but instead being begotten by Elohim. And the reader should keep in mind throughout these passages the statement of LDS Scripture: The Father has a body of flesh and bones as tangible as mans (D&C 130:22). How, then, does a God who has a body of flesh and bones beget a child?
Mormon Apostle Heber Kimball likewise addressed this topic:
In relation to the way in which I look upon the works of God and his creatures, I will say that I was naturally begotten; so was my father, and also my Saviour Jesus Christ. According to the Scriptures, he is the first begotten of his father in the flesh, and there was nothing unnatural about it. Heber C. Kimball, Journal of Discourses, 8:211, LDSCL.
Kimball claims that Jesus was begotten just as he, Kimball, was begotten. There was nothing unnatural about it. Certainly this is what Orson Pratt had in mind when he wrote the following startling, and indeed, highly offensive, section:
. . . but it was the personage of the Father who begat the body of Jesus; and for this reason Jesus is called the Only Begotten of the Father; that is, the only one in this world whose fleshly body was begotten by the Father. There were millions of sons and daughters whom He begat before the foundation of the world, but they were spirits, and not bodies of flesh and bones; whereas, both the spirit and body of Jesus were begotten by the Father the spirit having been begotten in heaven many ages before the tabernacle was begotten upon the earth. The fleshly body of Jesus required a Mother as well as a Father. Therefore, the Father and Mother of Jesus, according to the flesh, must have been associated together in the capacity of Husband and Wife; hence the Virgin Mary must have been, for the time being, the lawful wife of God the Father: we use the term lawful Wife, because it would be blasphemous in the highest degree to say that He overshadowed her or begat the Saviour unlawfully. It would have been unlawful for any man to have interfered with Mary, who was already espoused to Joseph; for such a heinous crime would have subjected both the guilty parties to death, according to the law of Moses. But God having created all men and women, had the most perfect right to do with His own creation, according to His holy will and pleasure; He had a lawful right to overshadow the Virgin Mary in the capacity of a husband, and beget a Son, although she was espoused to another; for the law which He gave to govern men and women was not intended to govern Himself, or to prescribe rules for his own conduct. It was also lawful in Him, after having thus dealt with Mary, to give Mary to Joseph her espoused husband. Whether God the Father gave Mary to Joseph for time only, or for time and eternity, we are not informed. Inasmuch as God was the first husband to her, it may be that He only gave her to be the wife of Joseph while in this mortal state, and that He intended after the resurrection to again take her as one of his own wives to raise up immortal spirits in eternity. Orson Pratt, The Seer, p. 158.
Such blunt language certainly causes us to consider a rather obvious problem: in LDS theology, Mary was Elohim's spirit child. Yet, a Mormon apostle speaks of Mary as being Elohim's wife so that the procreative act would be licit. It is this very idea that has caused some LDS of my acquaintance to utterly reject as preposterous and blasphemous the idea that God the Father would impregnate one of his own spirit daughters. The term incest has been used by those who rejected this view even as Mormons. Yet, this is what Pratt taught. Even if one, in the face of the evidence yet to be presented, rejects the doctrine as being truly representative of Mormon theology (a difficult thing to do), it still follows that those who taught such things are, beyond question, heretics in the true sense of the word. How a person then deals with the fact that Mormon apostles have taught heresy from the pulpit and in print is another issue.
If these were all the statements we could present on this topic, we could understand the strong language of Dr. Peterson, Dr. Ricks, and Dr. Robinson. We could hardly hold the modern LDS Church accountable for a small number of statements, especially if we found repeated affirmations of the virgin birth of Christ in later authoritative writings. But is this what we actually find? No. Instead, we find the vast majority of the clearest statements on this topic in the twentieth century and in official LDS Church publications! To those sources we now turn.
(continued!)


00:01:00 - Category: Mormonism - Link to this article -

The Only Begotten of the Father in the Flesh: Mormonism's Embarrassing Theology
11/28/2007 - James White
Mormonism continues to show great shame for its own roots and its own history, resulting in the (dishonest) rewriting of its own history. One of the most embarrassing teachings of the LDS Church and its leaders has to do with the teaching that Jesus is the physical offspring of Elohim, the Father, who likewise has a physical body. That is, that Jesus was physically begotten in a sexual union between the Father and Mary. So prevalent was this teaching that to our very day you can hear LDS missionaries speak of Jesus as "the only begotten of the Father in the flesh." Given that Mormons believe God the Father has many celestial wives, and that we are all offspring of Elohim and one of these wives, the phrase "only begotten of the Father" in the King James Version does require some explanation on the part of Mormon theology. The explanation has been consistent down through the decades, and to this day I do not know of a single official denial of this doctrine from the leadership of the LDS Church. However, you will find lots of unofficial denials coming out of BYU. The most recent I find in the new book from Robert Millet and Gregory Johnson, the next installment in the "compromise the gospel for the sake of false unity" campaign, titled Bridging the Divide (2007). This small book (it could have been made into a booklet, its margins are so wide) carries endorsements by the usual suspects such as Richard Mouw of Fuller Seminary (who has done more to end meaningful evangelism amongst Mormons than anyone else I know of). Others likewise wrote words of commendation, though with care (I personally think many who did so should have stayed far, far away, but have allowed the spirit of our age to cloud their thinking). Once again, the person familiar with the LDS faith and its historical teachings will find this "dialogue" maddeningly shallow and missing the heart of the issue. But as soon as I received the book, my eyes fell upon the following words, and I simply had to take the time to demonstrate how far from the truth the "dialogue" has wandered.

Some time ago a colleague and I were in Southern California speaking to a group of about 500 people, both Latter-day Saint and Protestant. During the question and answer phase of the program, someone asked the inevitable: "Are you really Christian? Do you, as many claim, worship a different Jesus?" I explained that we worship the Christ of the New Testament , that we believe wholeheartedly in His virgin birth, His divine Sonship, His miracles, His transforming teachings, His atoning sacrifice, and His bodily resurrection from the dead. I added that we also believe in the teachings of and about Christ found in the Book of Mormon and modern revelation. After the meeting an LDS woman came up to me and said, "You didn't tell the truth about what we believe!" Startled, I asked, "What do you mean?" She responded: "You said we believe in the virgin birth of Christ, and you know very well that we don't believe that." "Yes, we do," I retorted. She then said with a great deal of emotion: "I want to believe you, but people have told me for years that we believe that God the Father had sexual relations with Mary and thereby Jesus was conceived." I looked her in the eyes and said: "I'm aware of that teaching, but that is not the doctrine of the Church; that is not what we teach in the Church today. Have you ever heard the Brethren teach it in conference? Is it in the standard works, the curriculum materials, or the handbooks of the Church? Is it a part of an official declaration or proclamation?" I watched what seemed like a 500-pound weight come off her shoulders, as tears came into her eyes, and she simply said: "Thank you, Brother Millet."
We see here the full-on overthrow of a clear and consistent teaching of the leadership of the LDS Church, not only in written form, but in the curriculum of the LDS Church and in the General Conference as well. Evidently, the staff of BYU have taken over the leadership of the LDS Church, and they can now dismiss the historical teachings of the leadership by their own authority.
I will begin today providing full documentation on this vital subject. It is vital not only because it touches on the LDS teachings concerning Christ, but even more so today because it documents so plainly the willingness of modern LDS writers to rewrite history and play with the facts. As we will see, this teaching has, in fact, been plainly presented in General Conference, in the curriculum materials published by the LDS Church itself for its own people, etc. Millet wishes to insist that this teaching, while once taught, is no more. Really? Upon whose authority? I would very much like to see the official proclamation that retracts the words of the previous prophets and apostles and that likewise then explains why we should continue to believe these men are apostles of Jesus Christ when they come from a line that they themselves claim is taught falsehoods in the name of Christ. Millet tries to tie Luther into his defense, but anyone who knows the LDS doctrine of priesthood authority knows such a connection is invalid. So with these things in mind, I provide the following information in substantiation of the assertion that the leadership of the LDS Church has taught, as official doctrine, even to the point of placing the teaching in the priesthood manuals and other materials written by the church for use by Latter-day Saints in their studies, the doctrine that Elohim, God the Father, sired, or begat, Jesus Christ, so that Christ is the "only begotten of the Father in the flesh."

Remaking Mormonism
One of the tasks of some of the modern proponents of the LDS cause seems to be to remake Mormonism in a mold that fits better in the modern setting. Whether purposefully or not, modern defenders of Joseph Smith are often found softening, or even directly denying, doctrines and teachings that have been taught within the LDS Church since its inception. And, of course, if this doctrine is referred to in anti-Mormon literature, it is claimed that the authors of such works are acting in bad faith, purposefully misrepresenting the LDS faith.
One such doctrine that is now identified as mere speculation rather than a teaching of the LDS Church, is the doctrine that God the Father (Elohim) in a physical body begat, literally, the body of Jesus Christ here on earth. The physical parentage of Jesus Christ has often been a focus of attack on the part of Christians who seek to respond to the claims of Mormonism. Yet, if one is to believe the current crop of LDS apologists, it is a doctrine that is nothing more than speculation, and certainly not representative of the official teaching of the LDS faith.
In their 1992 book, Offenders for a Word: How Anti-Mormons Play Word Games to Attack the Latter-day Saints, BYU professors Daniel C. Peterson and Stephen D. Ricks attempt to respond to the historical teaching of the LDS Church regarding the physical parentage of Christ. Note their own words:

We will ignore the fact that these scattered nineteenth-century speculations were never canonized by the Mormon Church, and that no comparable statements occur in Latter-day Saint scripture. We will pass over the unfairness of holding Mormons to statements that they and their own leaders have never deemed authoritative and binding (and we will deprive ourselves of the great entertainment that would ensue were we to call our Protestant critics to account for every speculation advanced by their pastors and reformers of the past five centuries). . . . The speculations that most incense the critics are simply literalistic interpretations of the divine paternity alluded to in the title, Son of God.While certain early Mormon leaders may occasionally have reinterpreted the concept of virgin birth,they never for a moment suggested that Jesus was begotten by a mortal man, nor that his father was any other personage than God. . . . And for a denial, it cannot be repeated too often, that the Latter-day Saints have never accepted as official doctrine. (129-131)
In a footnote Peterson and Ricks cite numerous Christian critiques of Mormonism that note this doctrine. They focus upon Walter Martin, saying he finds these rare and isolated speculations shocking and vile,and makes the obligatory allusions to Greek mythology. From the above citation, then, we can conclude that the idea that God the Father physically begat Jesus Christ is a mere scattered nineteenth century speculation that was never canonized by the Mormon Church. These speculations have never been considered authoritative and binding. They were merely literalistic interpretations of the divine paternity based upon the title Son of God. They amount only to a reinterpretation of the virgin birth, and have never been accepted as official doctrine.

A colleague of Peterson and Ricks, Dr. Stephen Robinson, likewise downplays this doctrine. In How Wide the Divide? Robinson makes these comments:
Unfortunately, popular speculations on the LDS side have sometimes also been tasteless and indelicate. . . . While it is true that certain LDS leaders (mostly in the nineteenth century) have offered their opinions on the conception of Jesus, those opinions were never included among the official doctrines of the church and have, during my lifetime at least, not appeared in official church publications lest they be taken as the view of the church. Yet those who would misrepresent the LDS Church (and also a vocal minority of its own eccentrics) continue to insist on the unofficial speculations of nineteenth-century members rather than on the official views of the church then or now. Craig L. Blomberg and Stephen E. Robinson, How Wide the Divide? (Downers Grove, IL: InterVarsity Press, 1997), pp. 135-136.
We can add, then, to the conclusions of Peterson and Ricks, the following from Robinson: this doctrine is again a speculation, based primarily in the nineteenth century opinions of certain unnamed LDS leaders and members.These opinions have never been included among the official doctrines of the LDS faith, and have not appeared in any official church publications during the lifetime of Stephen Robinson. Those who say otherwise (which would include this author) are misrepresenting Mormonism.
For most Mormons, and for most Christians who have not read widely in LDS sources, such should be sufficient. Three LDS scholars, Ph.D.s all, have pronounced the idea that God the Father literally and physically begat the Son in the flesh a mere nineteenth century speculation. What more could be said?
The problem is, history stands unalterably opposed to every single claim made by all three authors. As we will now document, this doctrine has been taught consistently by every single General Authority of the LDS Church who has addressed this topic up to this present day! What is more, we will find numerous official LDS publications written within the past thirty years that likewise teach this very doctrine. And just as important, we will not find a single LDS General Authority denying this doctrine. I will leave the reader to determine the issue of motivations, misrepresentation, and simple honesty in debate, that arise when faced with the kind of documentation that follows.
( continued tomorrow! )


00:01:00 - Category: Mormonism - Link to this article -

The Christian-Mormon "Dialogue"
11/27/2007 - Jeff Downs
Robert Millet seems to be the new man on the block to make Mormonism more palatable.

If you have not read it yet, don't miss Gary L.W. Johnson's chapter The Reformation, Today's Evangelicals, and Mormons: What Next? in By Faith Alone: Answering the Challenges to the Doctrine of Justification (Crossway, 2007).

In Johnson's chapter, he corrects Millet's communication of a meeting that took place between Robert Millet, Haddon Robinson and David Wells. You can hear Millet tell the story in this audio from 2005.

Johnson ends his chapter by stating "After a careful reading of Millet's book [A Different Jesus], I am more than ever convinced that Millet's Jesus would not be recognized by our evangelical forefathers (like a Calvin, a Wesley, or a Spurgeon) and that Mouw would think otherwise is inexplicable. Having said that, I am forced to admit that developments over the last few decades in what goes by the name evangelical would make it difficult not to allow Mormons in under the big top of today's evangelical circus (after all, if antitrinitarian "oneness Pentecostals" like T. D. Jakes and the rebarbative "Word of Faith" prosperity teachers are considered members of today's evangelicalism, then why not Mormons like Millet?). In fact, given the present state of today's evangelicalism and the tendency to let people define for themselves what it means to be an evangelical, this morphosis is not all that surprising."

See also Robert Bowman, Jr.'s recent review of Gerald McDermott and Robert Millet's new book.


18:49:03 - Category: Mormonism - Link to this article -

Today on the Dividing Line: A Very Mylo Christmas! And Some Other Stuff, Too!
11/27/2007 - James White
Well, it was a mighty big day...and I do mean BIG day...on the DL, since I was joined by none other than the one and only Mylo Hatzenbuhler to talk about his brand new album, A Very Mylo Christmas. Oh my, what a privilege to once again get a chance to talk to such a huge star! Oh, yeah, and this other Clyde guy got on the phone later, too. But anyway, you just must hear Mylo's new Christmas album, his first! You can listen to samples and order A Very Mylo Christmas here, at Mylo's huge, almost-always-over-run-by-screaming-fans, website! And as Mylo reminded us, make sure you use www and not mmm, since that turns everything upside down! Then after we finished talking to Mylo (and that Clyde fella) we got on to theological things, like, Mormonism and Christianity, and the cadre of folks who seem quite intent upon muddling the vast chasm that separates any monotheistic faith from a polytheistic one. I will begin a series tomorrow on more of Millet's attempts to re-write LDS history (and basically take over the LDS Church, it seems, with the tacit approval of a number of supposed evangelicals who know better) as well. Till then, Here's the program (free/high quality).


16:00:59 - Category: The Dividing Line - Link to this article -

Exchanging the Truth of God for a Lie
11/27/2007 - Colin Smith
I was vivdly reminded of the truth of Romans 1:24-32 as I read this article. It seems these British environmentalists consider the life of the planet more valuable than human life. The whole issue of environmentalism is one that is often distorted by extremes (aren't so many issues that way?). As Christians, we should recognized two things that are evident in Genesis 1-2: 1) God gave the earth to man for him to subdue. Man has dominion over all that God made, and hence it is for our use. However, 2) we are to be good stewards of creation, as we should be of all of God's gifts to us. This being said, we should never, never place environmental concern over the commands of God, such as "You shall not murder," or the exhortations of God as in Psalm 127 that tells us that the fruit of the womb is a "reward," not a curse (another sign of God's judgment on our culture: calling God's blessings a curse).
This is what happens, though, when a sound principle such as being conscientious about looking after the world God has entrusted to us is handled by sinful minds that suppress the knowledge of God and try to operate based on their own fallen reason: God is removed from the picture, and the planet becomes the object of worship instead. In bygone days the pagans would sacrifice children to their false gods; nowadays it is the pagan environmentalists who are doing the same.
May God have mercy on us all.


00:01:00 - Category: Christian Worldview - Link to this article -

Calvin and the Death Penalty For Roman Catholics
11/26/2007 - James Swan
While looking through Catholic apologist Steve Ray's blog, I came across a
very brief entry
that I found curious:
Would Today's Reformed & Presbyterians Agree? Jean Calvin, father of the multiple Reformed & Presbyterian denominations, said: "Persons who persist in the superstitions of the Roman Antichrist [Catholicism] . . . deserve to be repressed by the sword." Harkness, Georgia, John Calvin: The Man and His Ethics NY: Abingdon Press, NY, 1931
No, "
today's Reformed & Presbyterians
" would not agree that Roman Catholics deserve the death penalty. The society we live in does not reflect the same sentiment as sixteenth century Europe. Modern European Catholics don't think Protestants should be executed for theological reasons either, while in the sixteenth century, I'm sure many did find executing Protestants a worthy cause. I assume Mr. Ray used this quote for its "shock" value, but if you've ever read any simple biography of the Reformation, this type of quote doesn't really shock. Most of the Reformers were of the opinion that the death penalty could be used for theological reasons.
The reason though why this quote got my attention is because I don't recall ever reading of Calvin advocating the death penalty for Roman Catholicism. I realize this type of sentiment from Calvin's pen is not out of the realm of possibility. I happen to have the book Mr. Ray has cited,
John Calvin: The Man and His Ethics
by Georgia Harkness. Even though Mr. Ray didn't provide a page number, I managed to track down the quote:
In a letter to the Duke of Somerset, Protector of England during Edward VI's minority, he urges the rooting out of Roman abuses in that country in these words: "There are two kinds of rebels who have risen up against the King and the Estates of the Kingdom. The one, a fantastical sort of persons, who, under color of the Gospel, would put all into confusion. The others are persons who persist in the superstitions of the Roman Antichrist. Both alike deserve to be repressed by the sword which is committed to you, since they not only attack the King, but strive with God, who has placed him upon a royal throne." [Harkness, p.96]
That Mr. Ray simply used this information for its polemical and shock value becomes very clear when the actual context from Ms. Harkness is provided. She states Calvin was outspoken on the death penalty for heresy, but he was "
far more guarded about Catholicism
" (p.95), and that Calvin seemed very reluctant to arrive at the conclusion that the idolatry of Catholicism deserved the death penalty (p.96). In fact, of the quote in question, Harkness states it is the only quote she could find in which Calvin states such sentiment. She goes on to point out,
"...[I]n this letter he drops the suggestion without developing it. He has much to say about the need of extirpating papal abuses, but only a brief word about extirpating Papists themselves. Had Calvin really meant seriously to recommend the use of the death penalty, it is unthinkable that he would have been content to make the recommendation in so casual a fashion. Still more manifest evidence of his reluctance is the fact that he did not, in practice, attempt to employ the death penalty upon any Catholic. Servetus has no Catholic counterpart. Catholics were banished from Geneva, but there is nothing unique in this, since it occurred before Calvin's arrival and was common practice. Aside from his insistence that the company of true believers be not polluted by the presence of Papists, Calvin's venom found expression in words rather than overt acts. In a nature which usually drew conclusions with inexorable logic, this reluctance to advocate the killing of Catholic idolaters is significant. It indicates that Calvin was not, by his own volition, a persecutor, and that considerations of human charity sometimes outweighed legalism" [Harkness, p.96].
Any of you familiar with this book realize that Georgia Harkness was not overly sympathetic to Calvin. One may disagree with her interpretation and conclusion on this issue. I'm sure many Catholics interested in "shock" arguments now have another quote for their arsenal. But one needs to look at the methodology put forth by those entrenched in promoting Catholic apologetics. Steve Ray cited Calvin from a book he may have actually not read. If he did, I question why he would direct his readers to a context that spends more time defending Calvin than actually indicting him (he links to Amazon so you can buy the book as well). This isn't even a difficult quote to track down if one wished to read Calvin in context. Mr Ray has been promoting his works on the Early Church Fathers, recently stating that "
Those who begin to dig deeper frequently become Catholics
." Well, I just dug a bit deeper into one of his Calvin citations by looking at the book he refers to, and I'm not impressed.
08:41:19 - Category: Roman Catholicism - Link to this article -

To the Praise of His Glorious Grace
11/25/2007 - James White
Theology matters. The substance of what God in His infinite wisdom has revealed to His creatures is the marrow of the joy of the believer's heart---and mind. Theology matters because theology is possible because of God's initiative in revelation. What God reveals is, by definition, important, central, vital, life-changing, heart-enrapturing, for all in whom the Spirit dwells. And thanks be to God, when one is absorbed in seeking to think God's thoughts after Him, the resultant joy cannot be touched by all the enemies in the world.
Theology matters. If your theology is focused upon God, His glory, and His purposes, you will see man as a creature---the only creature made in the image of God, the only creature into whose existence God Himself in the person of the Son has entered---but still very much a creature, very much on the "created" side of the chasm that separates all of creation from the Uncreated, the Eternal, the Self-existent. If you are God-centered in your theology, as, I believe firmly, the Bible teaches us to be, you will start with a perspective that is completely beyond anything accessible to mankind outside of divine revelation. You will see all of human history, all of mankind, and every event therein, bathed in the glow of God's purpose, God's decree, God's power, God's glory. The resultant consistency and harmony thrills the soul, and comforts the afflicted.
Bad theology matters, too. If your theology is first and foremost upon the creature, you will inevitably have to "edit" God down to allow something as small as man to have center-stage. The results can range from the inevitable inconsistency that comes from such a theology honestly trying to deal with all of Scripture (a rarity, sadly), to the complete catastrophe of man-centered false religion. We can be thankful that many who start with a bad case of tradition and a focus that is off of God do not take their traditions to their logical conclusions, but we must likewise say that not only is God not honored by such theologies, but there is truly no logical, consistent "stopping point" along the spectrum of such teachings before one falls into the pit of heresy.
If you would like a great example of this, see these two blogs: first, Ben Witherington's very Arminian-originated reaction to Thomas Schreiner's biblical and sound assertion that the core of New Testament theology is "God magnifying himself through Jesus Christ by means of the Holy Spirit." Witherington's comments should shock you, given how prolific an author he is, but they are helpful in that they point out just how far removed, foundationally, Reformed theologians and teachers are from those who openly embrace their Arminian roots. And second, John Piper's response to Witherington.
I would love to spend time with Witherington's words myself, but I have an extended and very challenging trip coming up, first to St. Louis this coming weekend, then immediately back out to spend a number of days recording apologetics videos for use overseas.


00:01:00 - Category: Theology Matters - Link to this article -

When Footnotes Attack!
11/24/2007 - James Swan
"If the world lasts for a long time, it will again be necessary, on account of the many interpretations which are now given to the Scriptures, to receive the decrees of councils, and take refuge in them, in order to preserve the unity of faith." Epis. ad. Zwingli (ap. Balmes, p. 423)" - Martin Luther


It is an odd occurrence when Catholic apologists cite Martin Luther. I've found citations to editions of Luther's writings that have been out of print for hundreds of years, or citations from his writings that have never been translated into English. The quote above is a perfect example. One is left wondering if the current batch of Catholic apologists are fluent in Latin and German and have access to the rarest of books in the Luther corpus. So far, none has admitted either.
For instance, commenting on this very citation, a footnote from Catholic apologist Steve Ray says, "In a letter to Heinrich Zwingli, Martin Luther conceded that reformers would again have to take refuge in the Church councils in order to preserve the unity of faith on account of the many interpretations that were given to the Scriptures (see Epis. ad. Zwingli)" [Source: Crossing the Tiber: Evangelical Protestants Discover the Historical Church, p. 45]. He's also cited this quote in a few articles available on-line (documented here).
I strongly doubt Steve Ray actually read "Epis. ad. Zwingli" and translated it from Latin into English. This citation is a reference back to European Civilization: Protestantism and Catholicity Compared By Jaime Luciano Balmes, published during the 1800's. On page 423, Balmes cites the quote from Luther, stating "Luther writing to Zwinglius...". This quote though does not come from a letter. By consulting the current edition of Luther's Works, the quote is from That These Words Of Christ, "This Is My Body," etc., Still Stand Firm Against The Fanatics (1527) [LW 37]. Steve Ray said the quote is from a letter written to Zwingli, but this quote is from this treatise directed toward Zwingli.
If one simply reads the quote as it stands, it appears to be saying that Luther believed Church councils and creeds are necessary in order to "preserve the unity of faith" because sola scriptura is some sort of blueprint for anarchy. Well, creeds are indeed useful. Even during Luther's lifetime, statements of faith were produced from Luther and his immediate circle. So what is going on here? How can Luther hold to sola scriptura, but yet say the Church needs to have the Christian faith "decreed by a council"? Didn't Luther say "Unless I am convinced by Scripture and plain reason- I do not accept the authority of popes and councils, for they have contradicted each other- my conscience is captive to the Word of God"?
What's going on here is what typically happens when Catholic apologists cite Luther without actually reading Luther. After speaking about the controversies and divisions surrounding the Lord's Supper, Luther says,

"If the world lasts much longer, men will, as the ancients did, once more turn to human schemes on account of this dissension, and again issue laws and regulations to keep the people in the unity of the faith. Their success will be the same as it was in the past " [LW 37:16].

Granted, this citation does not at first appear identical to the one popularly used by Catholics. However, "on account of this dissension" in the preceding paragraph is explained to be differing interpretations given to the Scriptures. "Human schemes " issuing "laws and regulations" keeping people "in the unity of the faith" does sound a lot like receiving "the decrees of councils, and take refuge in them, in order to preserve the unity of faith" as stated above.
Note the last sentence: "Their success will be the same as it was in the past." Their success will be, according to Luther, failure, because "human schemes " "laws and regulations " are not the work of the Holy Spirit, but of men. The text goes on to say, "In short, the devil is too clever and too mighty for us" because "If we wish to stand upon the councils and counsels of men, we lose the Scriptures altogether and remain in the devil's possession body and soul." So rather than proving Luther wanted to "take refuge in the Church councils in order to preserve the unity of faith " as Steve Ray claims, Luther said the exact opposite in this text.
I've been accused by self-proclaimed Catholic apologist "professionals" as nitpicking Catholic apologetic writings when it comes to Luther. It's one thing to not provide enough information as to give clarity to an issue, it's quite another to cite a source that is saying the exact opposite of which one is claiming. Well, perhaps Steve Ray can produce a letter of Luther's to Zwingli saying that a Church council will be needed in the future to settle the issues between them. Then again, I doubt very much Mr. Ray actually cares if he's cited Luther accurately. Catholics frequently cite Luther as a polemical tool in their writings, while most in the Protestant world realize what Luther said, or didn't say, really isn't all that important.
The back cover of Crossing The Tiber claims the book is "thoroughly documented with over 400 footnotes." Footnotes are supposed to provide documentation for claims being made. I look up the material put in footnotes simply to prove that the methods employed by some in Catholic apologetics are the same methods used when they made their dramatic swim across the Tiber. They began with a desire to swim, and then sought out facts to justify that swim. When they cite Luther, they cite him as he needs to be cited in order to make the swim a success.


00:01:00 - Category: Roman Catholicism - Link to this article -

Go Read This from Phil Johnson
11/23/2007 - James White
When you hear someone saying what you've been saying it makes you go, "See, I told you so!" This article by Phil Johnson is a great read. How many times have our regular readers and listeners heard me lamenting the insatiable desire on the part of "the academy" to be loved by, respected by, the world, and the resultant train-wreck of compromise that flows from it? Well, at least I'm not alone!


20:06:34 - Category: Christian Worldview - Link to this article -

Can Paul Be Trusted? Ali Ataie vs.Sound Christian Scholarship (#7)
11/23/2007 - James White
A few months ago I began responding to Ali Ataie's attack upon the Apostle Paul. I took a brief break because of the Seattle trip, and since I have returned from Seattle, I have been overwhelmed with upcoming duties, teaching, Arabic and the like. But I have a full list of blog articles that are "in progress" and "still need to be done," so Lord willing, I'll get to them eventually! My last response to Ataie was posted here. I pick up with his words,

Paul's obvious unfamiliarity about the Gospel tradition is further seen when he describes Jesus post-resurrection appearances:
I note just in passing that Ataie has provided no foundation for this accusation of ignorance of the "Gospel tradition" as we demonstrated in our previous refutations of his assertions.

And that he was buried, and that he rose again the third day according to the scriptures: And that he was seen of Cephas, then of the TWELVE: After that, he was seen of above five hundred brethren at once; of whom the greater part remain unto this present, but some are fallen asleep. After that, he was seen of James; then of all the apostles. And last of all he was seen of me also, as of one born out of due time (1 Cor. 15 4:8).
If Cephas (Peter), James, and Judas (since he is dead) are not included in the twelve, then who are the other three disciples that are taking their places amongst the twelve?
Of course, "the Twelve" is a title used to refer to the Apostolic band; the previous appearances were to individuals apart from the disciple band as a group, hence their being noted singularly. Judas' death did not cause the Twelve to become known as the Eleven, of course. And so all we have here is Mr. Ataie's ignorance of simple linguistic usage, not ignorance on Paul's part.
Ataie continues:

After his life-changing vision of Christ while traveling to Damascus, Paul does not go into Jerusalem to consult with the chosen disciples of Jesus, but rather goes to Arabia for about three years (according to the Book of Galatians) to basically formulate his revolutionary doctrine pertaining to the death and resurrection of Jesus.
Note the unfounded assertion, "his revolutionary doctrine pertaining to the death and resurrection of Jesus." All of the first century documentation indicates that this was the universal message of the early Christians, and only the anachronistic bias of a particular interpretation of 40 lonely Arabic words written over half a millennium later is responsible for Ataie's comments.

Scholars agree that Paul most likely did not author the book of II Timothy. The pseudonymous author, however, is schooled enough in Pauline doctrine to declare: Remember that Jesus Christ of the seed of David was raised from the dead ACCORDING TO MY GOSPEL (II Timothy 2:8).
Another bland use of the wonderful phrase "scholars agree." Some scholars agree. Many others do not. I'm sure Ataie would not accept such argumentation as, "Scholars agree that Muhammad most likely did not author all of the Qur'an." As far as the statement goes, it is likewise true. But serious argumentation goes beyond taking polls of current "scholars" and goes to the actual arguments behind their assertions. When you do this regarding those who restrict the Pauline corpus you find that the foundational arguments always admit of alternative explanations.
Next, evidently, Ataie thinks "according to my gospel" (kata. to. euvagge,lio,n mou) means "according to the gospel that finds its origins solely in me." But such is far from the truth. There were many false gospels being preached, even in the days of the Apostles, as Galatians demonstrates. Even today there are so many contradictory "gospels" that one has to sadly emphasize that one is talking about the gospel that is derived from Scripture alone and all of Scripture. So identifying the gospel is hardly surprising. As an Apostle of Jesus Christ Paul's gospel would be in contrast to the false gospels of the Judaizers, for example. So "his" gospel would be the authoritative one, just as Muhammad's words would be authoritative for the Islamic community. That would not mean that Muhammad was claiming he came up with his message rather than Allah, of course, which is the very sense Ataie assumes for these words of Paul. Again, we see a major amount of prejudice operating in Ataie's misreading of Paul.


00:01:00 - Category: Islam - Link to this article -

Shame On You!
11/22/2007 - James White
Dr. White, After reading a few articles on your site about Catholicism, I have decided that your anti-Cahtolic bigotry has clouded your reasoning. You reject Church authority for the interpretation of scripture, yet on what basis do you determine what Scripture teaches? Your own? Like Luther, you have allowed your ego and bias to determine what scripture says, layering it with Protestant dogma that likewise has no basis in scripture and calling it Truth. Shame on you. Grace and Peace, David Roberts

Dear Mr. Roberts:
Thank you for reading a few articles, Mr. Roberts. I'd invite you to read a few books, maybe view some of the three dozen debates we have done with your leading apologists. You might have a little better basis upon which to offer meaningful commentary.
You refer to my "anti-Catholic bigotry." Really? Possibly you could document this bigotry? I mean, bigotry is easily identified, isn't it? It results in the kind of abuse of facts you see with someone like Steve Ray and a whole host of Catholic apologists who abuse the "33,000 denominations" number, right? It prompts men like Patrick Madrid to publish anonymous hit-pieces in response to perfectly fair and sound articles on the history of the Council of Nicea. That kind of thing. So...would you care to provide documentation, from these few articles you've read, of "anti-Catholic bigotry"? It is easy to make the accusation---it should be just as easy to document it, yes?
You say I "reject Church authority." If you mean Rome, yes, I do. Rome is not the church. The church existed long before a man in Rome decided to allow folks to call him the Vicar of Christ or the Holy Father. I know of no apostle of Jesus Christ, including Peter, who ever told me to look to the bishop of Rome as my final authority, either. The concept of the Papacy developed over time, Mr. Roberts, and it stands firmly opposed to the teaching of the Apostles of Jesus Christ regarding the nature and form of Christ's Church.
You further say I reject Rome's authority for the interpretation of Scripture. Well, how ironic, since I recently noted the confusion of Rome's defenders regarding just what the Roman Church has, in fact, infallibly defined as the meaning of any particular text of Scripture. Can you tell me, Mr. Roberts, what the infallible Roman interpretation of John 6:37 is? Romans 4:8? Galatians 2:16? Maybe you can point me to Rome's official, infallible interpretation of the Granville Sharp Construction at Titus 2:13, possibly? I'd be very interested in seeing these infallible interpretations.
You then ask how, having rejected Rome's false claims to authority, I can determine what Scripture says. What an amazing question! Consider the implications of what you have asked. How could anyone know what Isaiah's words meant until the middle of the second century when the first singular bishop of Rome came into existence? Are you seriously suggesting that for nine hundred and fifty years no one could figure out what Isaiah was saying? What an incredible claim!
How do I know what Scripture says? It's called exegesis Mr. Roberts. It's called paying attention to context, authorial intent, grammar, syntax--all those kinds of things. That's what I did in questioning Catholic apologist and scholar Fr. Peter Stravinskas:

See how that works? Context, language---works real well! So you see, your entire question, which tries to locate some kind of "authority" in me (or in Luther, for that matter), completely misses the point. The authority is found in the text itself, not in me, or Luther, or anyone else. When Paul wrote to the Galatians, he intended them to understand his words. I don't need a man in Rome to tell me what Paul meant, Paul did just fine, thank you very much!
You then speak of layering the text with Protestant dogma. Of course, you don't give examples, so it is impossible to refute non-documented charges. If you would provide something more than rhetorical flourishes, I would be happy to demonstrate that it is not my side presenting as dogmas beliefs that have not the slightest biblical foundation (shall we discuss purgatory, for example?).
So you say, "Shame on you." I invite you to provide some foundation for your accusations. I do a live, call-in webcast Tuesdays and Thursdays. The schedule is easily found on my website. Toll free phone number, too. You would be welcome to call and attempt to back up your assertions, Mr. Roberts.
James White


14:15:08 - Category: Mail Bag - Link to this article -

A Few Thanksgiving Thoughts
11/21/2007 - James White
Just a few quick thoughts on giving thanks as we all prepare (at least in the United States!) for the Thanksgiving holiday. To those elsewhere...well, if you don't have such a holiday, my condolences, and if you celebrate it at a different time, well, come back and read this then!
I would first like to thank La Shawn Barber for posting this little graphic which I shameless and openly stole directly off of her blog without the slightest bit of embarrassment or hesitation! La Shawn's blog is in my RSS feed list, and I appreciate her outlook on the world.

Next, I would like to thank all the nutty but very special folks in my chat channel, #prosapologian, for the neato sign they put together for me for my ride in the 80 mile El Tour de Tucson last weekend. I did not have time to do any kind of intensive training for the ride, as I have in years past, and was just looking forward to the challenge of completing it (as I had not ridden that far in a single shot since the 2005 Tour). When I got to the point where I met tusconmom and tucsonkid about 14 miles out from the end, I had started to cramp in my legs, which is unusual for me. They had the sign, put together from all sorts of folks, some even outside the US, encouraging me to press on. Well, I will tell everyone honestly, the cramping got so severe over the next five miles or so that had it not been for that sign, and my refusing to disappoint all those folks, I would have called my daughter to come pick me up. But I pressed on, despite the agonizing cramps, which finally let up about six miles from the finish. Despite the cramps, and getting stopped three or four times by traffic close to the finish (which was unusual...the cops normally let us keep going), I beat my 2005 time by 7 minutes.

Here's proof I actually finished. I was in the top 1/3 of riders in my event, which isn't saying much other than "yeah, he rides a bike." I need to also thank Eddie and Lucy McKee, who also rode the 80 mile portion. They rode their tandem, and when they passed me, I latched onto their rear wheel, and they gave me a great ride for about ten miles, which surely helped me get a better time. Then we hit the hills on the way out to Sun City Vestoso, and I had to say "have a nice ride!" But thankfully, I latched onto a very fast moving group of guys on the way down Tangerine, and that helped a lot as well. And to Summer, who went down to Tucson with me, my thanks as well!
When you start listing those to whom you owe thanks at Thanksgiving, you get a little taste of what we, as believers, are supposed to be doing all year long. "Be persistent in prayer, staying alert in it with thanksgiving" (Colossians 4:2). "I will praise (the term used in Hebrew gives us our word "hallelujah") the name of God with song, and I will magnify Him with todah, thanksgiving" (Psalm 69:30). How our lives would be different, our prayers God-centered, our worship rich and self-emptying, if we cultivated the Christian character of thanksgiving the way we should! I truly believe that the vast majority of my complaining, of my struggles in my Christian life is due to allowing my mind to move away from the God-centeredness that results from being truly thankful. Discontentment cannot find root in a heart that is giving thanks to God for His manifold blessings.


11:55:19 - Category: Personal - Link to this article -

Pulpit Crimes the Topic of Pilgrim Radio Interview
11/20/2007 - James White
Bill Feltner did a really in-depth interview with me on my book, Pulpit Crimes, for airing on the Pilgrim Radio Network. The program will air 11/27&28 at 2am, 12:04pm, and 9:04pm.


15:53:37 - Category: Misc - Link to this article -

This Week's Only Dividing Line Program
11/20/2007 - James White
We were just flooded with calls today...ok, we didn't get any. Must be that Skype thing! So I yammered on and on about...stuff, like, the ELCA ordaining a practicing lesbian, the Rome/Orthodox "Ravenna Document," Shabir Ally's misuse of a passing comment by E.P. Sanders, and some comments from Tozer on how modern folks invent new versions of Jesus. All in this exciting edition of The Dividing Line! Here's the program (free/high quality).


15:43:18 - Category: The Dividing Line - Link to this article -

Reformed Baptist Academic Press On Line
11/19/2007 - James White
My brothers at the Reformed Baptist Academic Press are now on line with some very useful offerings. You can take a look at their catalog here.


20:26:47 - Category: Reformed Baptist Issues - Link to this article -

James R. White
11/19/2007 - Micah Burke
(Click here for media bios and photos.)
Publications
Books




The Fatal Flaw


(Crowne Publications, 1990)




Answers to Catholic Claims


(Crowne Publications, 1990)




Letters to a Mormon Elder


(Crowne Publications, 1990,

reprinted by Bethany House, 1993)




Justification by Faith


(Crowne Publications, 1990)




God's Sovereign Grace


(Crowne Publications, 1991)




Drawn by the Father


(Crowne Publications, 1991)




The King James Only Controversy


(Bethany House Publishers, 1995)




Sola Scriptura and the Early Church in Sola Scriptura!


(Soli Deo Gloria Publishers, 1995)




The Roman Catholic Controversy


(Bethany House Publishers, 1996)




Is the Mormon My Brother?


(Bethany House Publishers, 1997)




Grieving: Our Path Back to Peace


(Bethany House Publishers, 1997)




The Forgotten Trinity


(Bethany House Publishers, 1998)




Mary--Another Redeemer?


(Bethany House Publishers, 1998)




What's With the Dudes at the Door? with Kevin Johnson


(Bethany House Publishers, 1998)




Jesus Shall Reign in Onward, Christian Soldiers


(Soli Deo Gloria Publishers, 1999)




What's With the Mutant in the Microscope? with Kevin Johnson


(Bethany House Publishers, 1999)




The Potter's Freedom


(Calvary Press, 2000)




The God Who Justifies


(Bethany House Publishers, 2001)




The Same Sex Controversy


(with Jeff Niell) (Bethany House Publishers, 2002)




Dangerous Airwaves


(Calvary Press, 2002)




Justification in The Holman Illustrated Bible Dictionary



(2003)





Debating Calvinism vs. Dave Hunt


(Multnomah, 2004)




The Plurality of Elders in Perspectives on Church Government:

Five Views of Church Polity


(Broadman-Holman, 2004)




Scripture Alone


(Bethany House Publishers, 2004)




Pulpit Crimes


(Solid Ground Christian Books, 2006)




From Toronto to Emmaus


(Solid Ground Christian Books, 2007)




Islam and Christianity: A Matter of Denial in Answering Islam:

Countering Terror with Truth


(Coral Ridge Ministries, 2007



Articles
Christian Research Journal
Is Your Modern Translation Corrupt? Answering the Allegations of KJV Only Advocates (1996 Winter)

Of Cities and Swords: The Impossible Task of Mormon Apologetics (1996 Summer)

What Really Happened at Nicea? (1997 July-August)

Summary Critique: How Wide the Divide? A Mormon and an Evangelical in Conversation (1997)

Effectively Sharing the Deity of Christ with Jehovah's Witnesses (1997)

The Jesus Seminar and the Gospel of Thomas: Courting the Media at the Cost of Truth (20,3)

Summary Critique: Jehovah's Witnesses Defended (21,2)

Target, Bible: A Flood of Books Attack the Sufficiency of Scripture (21,3)

Anonymous Strawmen (21,4)

Loving the Trinity (21,4)

Beyond the Veil of Eternity: The Importance of Philippians 2:5-11 in Theology and Apologetics (22,3)

Pro and Con: Two Journal Contributors Respond to the Joint Declaration of Justification by Ralph E.

Mackenzie and James R. White (22,4)

The Divine Sovereignty-Human Responsibility Debate (Part One) (with George Bryson) (23,4)

The Divine Sovereignty-Human Responsibility Debate (Part Two) (24,1)

Dangerous Airwaves: Harold Camping's Call to Flee the Church (25,1)

Examining Muslim Apologetics (Part One): The Bible Versus the Qur'an (25,3)

Examining Muslim Apologetics (Part Two): Unusual Attacks on the Trinity (25,4)

PDAs and Apologetics (26,3)

Exodus and Abortion (27,1)

Bible Versions: The Good, the Bad, and the Ugly (Parts 1 and 2) (28,3,4)

Getting Over the Hurdles of the New World Translation (29,3)
TableTalk Magazine
Created in the Image of Rome (March, 2002)

The Lord is One (May, 2003)

The Fool's Folly Uncovered (May, 2006)
Modern Reformation Magazine
Whom Does God Forgive? (March, 2002)

Reformed Baptist Theological Review
The Newness of the New Covenant (Part I) (I:2, July, 2004)

The Newness of the New Covenant (Part II) (2:1, January, 2005)

Textual Criticism and the Ministry of Preaching (2:2, July, 2005)
Myth, Allegory, and Parable: the Presuppositions of John Dominic Crossan
and the
Jesus Seminar and Their Importance to Reformed Baptist Theology and Apologetics (3:1, January, 2006)
Formal Debates (see bookstore for audio and video recordings)
Sola Scriptura, August, 1990 vs. Gerry Matatics, Long Beach, CA

Perseverance of the Saints, December, 1990 vs. Gerry Matatics, Phoenix, AZ

The Papacy, December, 1990 vs. Gerry Matatics, Tempe, AZ

Justification by Faith, January, 1991 vs. Fr. Mitch Pacwa, El Cajon, CA

The Mass, January, 1991 vs. Fr. Mitch Pacwa, El Cajon, CA

Justification by Faith, May, 1991 vs. Art Sippo, Toledo, OH

Sola Scriptura, November, 1992 vs. Gerry Matatics, Omaha, NB

The Mass, November, 1992 vs. Gerry Matatics, Omaha, NB

Justification by Faith, April, 1993, vs. Gerry Matatics, Boston College

The Apocrypha, April, 1993, vs. Gerry Matatics, Boston College

The Papacy: NT Evidence, July, 1993 vs. Gerry Matatics, Denver, CO

The Papacy: Early Church Evidence, July, 1993 vs. Gerry Matatics, Denver, CO

Sola Scriptura, September, 1993 vs. Patrick Madrid, San Diego, CA

Is the KJV the Best Translation, vs. D.A. Waite, 1994

Justification, July, 1994, vs. Dr. Fastiggi, Austin, TX

Indulgences, July, 1994, vs. Dr. Fastiggi, Austin, TX

Mary, July, 1994, vs. Dr. Fastiggi, Austin, TX
Papal Infallibility
, July, 1994, vs. Dr. Fastiggi, Austin, TX
The Papacy
, Summer 1995 James White, Robert Zins vs. Scott Butler and Robert Sungenis, Boston College, Boston, MA
Paedobaptism
, June, 1995 with Geoff Volker against Robert Strimple and Gary Johnson, Tempe, AZ
Paedobaptism
, October, 1995 with Geoff Volker, University of New Mexico
The Marian Dogmas
, May, 1996 vs. Gerry Matatics, Long Island, NY
Man's Will, Christ's Atonement
, May, 1997 vs. Jim Barker, Queens, NY
Sola Scriptura
, May, 1997 vs. Gerry Matatics, Long Island, NY
Election and Predestination
, May 1998, vs. Paul Barber, Queens, NY
The Papacy
, May, 1998 vs. Fr. Mitch Pacwa, Long Island, NY
Sola Scriptura
, July, 1998 vs. Tim Staples, Fullerton, CA
Does the NT Teach the Deity of Christ,
May, 1999 vs. Hamza Abdul Malik, Syosset, NY
Is the Trinity Biblical?
, May, 1999 vs. Robert Sabin, Patchoque, NY
The Mass
, May, 1999 vs. Robert Sungenis, Long Island, NY
Is the KJV the Best
, July, 1999 vs. Thomas Holland, Indianapolis, IN
Sola Scriptura
, December 1999 vs. Mitch Pacwa, El Cajon, CA
Justification by Faith
, April, 2000 vs. RCIA Instructor, Sale Lake City, UT
Justification
, May, 2000 vs. Robert Sungenis, Long Island, NY
Papal Infallibility
, July, 2000, vs. Tim Staples, Fullerton, CA
Papal Infallibility
, November, 2000, vs. Robert Sungenis, Clearwater, FL
The Will of Man
, March, 2001, vs. Richard Hopkins, Salt Lake City, UT
Is Homosexuality Consistent with Biblical Christianity
, May, 2001, vs. Barry Lynn, Long Island, NY
Purgatory?
, May, 2001, vs. Fr. Peter Stravinskas, Long Island, NY
Grace and Works
, October, 2001 vs. Roger Keller, Salt Lake City, UT
Who Controls Salvation?
, April, 2002 vs. George Bryson, Anaheim, CA
The Fall of Adam
, April, 2002, vs. Gilbert Scharffs, Salt Lake City, UT
Veneration of Saints and Images
, July, 2002, vs. Patrick Madrid, Long Island, NY
Can Men Become Gods?
, October, 2002, vs. Martin Tanner, Salt Lake City, UT
Inclusivism
, November, 2002, vs. John Sanders, Tampa, FL
Open Theism
, November, 2002, vs. John Sanders, Orlando, FL
The Atonement of Christ
, April, 2003, vs. Dennis Potter, Salt Lake City, UT
The Mass
, April, 2003, vs. Robert Sungenis, Salt Lake City, UT
Is the Roman Catholic Priesthood Biblical?
, May, 2003, vs. Fr. Mitch Pacwa, Long Island, NY
The Perpetual Virginity of Mary
, October, 2003, vs. Gerry Matatics, Salt Lake City, UT
Jesus: God or a god?
, December, 2003, vs. Gregory Stafford, Tampa, FL
Are Temples Consistent with NT Christianity?
, April, 2004, vs. Richard Hopkins, Salt Lake City, UT
Is Gay Marriage Consistent with NT Christianity?
, April, 2004 vs. Dee Bradshaw, Salt Lake City, UT
Is the Apocrypha Canonical?
, May, 2004, vs. Gary Michuta, Long Island, NY
Are Roman Catholics Our Brothers and Sisters in Christ?
, November, 2004, vs. Douglas Wilson, Los
Angeles, CA
Regeneration and Faith
, April, 2005, vs. Robert Wilkin, Oklahoma City, OK
Can Non-Christians Enter Heaven?
, June, 2005, vs. William Rutland, Long Island, NY
Is the Bible True?
, August, 2005, vs. John Dominic Crossan, Seattle, WA
The Resurrection of Jesus Christ
, August, 2005, vs. Marcus Borg and John Dominic Crossan
(with James Renihan),
Sun Princess (at sea)
Calvinism vs. Arminianism
, April, 2006, vs. Dr. Jonathan Wright, Sedalia, MO
Is the New Testament We Possess Today Inspired?
May, 2006, vs. Shabir Ally, Biola University
Baptism for Believers Only?
October, 2006 vs. Pastor William Shishko, Long Island, NY
Is Homosexuality Consistent with Biblical Christianity?
November, 2006, vs. Bishop John Shelby Spong,
Orlando, FL
Did Jesus Offer Himself on the Cross as a Willing Sacrifice for the Sins of God's People?
, October, 2007,
vs. Shabir Ally, Seattle, WA
Can We Trust What the New Testament Says about Jesus and the Gospel?, March 21, 2008, vs. Nadir Ahmed, Norfolk, VA
Does the Bible Teach Jesus is God?, April 12, 2008, vs. Jalal Abualrub, Fullerton, CA
The Freedom of God in Salvation April 3-9, 2008, vs. Steve Gregg Radio
Gay Marriage Debate vs. Dr. Michael K. Schutz, April 22, 2008, Hayward, CA
Did Jesus Claim to Be God? vs. Farhan Qureshi, September 21, 2008, Bellflower, CA
Was Jesus Crucified or Substituted? vs. Osama Abdullah, September 20, 2008, Bellflower, CA
Can We Trust the New Testament? vs. Osama Abdullah, September 20, 2008, Bellflower, CA
Does Belief in the Trinity Necessitate Shirk? vs. Adnan Rashid, November 11, 2008, London, England
Does Belief in the Trinity Necessitate Polytheism? vs. Abdullah al-Andalusi, November 13, 2008, Radio
Jesus: Divine Son of God or Prophet of Allah? vs. Sami Zaatari, November 13, 2008, London, England
Is Jesus Prophesied in the OT? vs. Shabir Ally, November 17, 2008, London, England
Is Muhammad Prophesied in the Bible? vs. Shabir Ally, November 17, 2008, London England
The Bible vs. the Qur'an: a Comparison vs. Dr. Zulfiqar Ali Shah, November 20, 2008, Duke University - Durham, NC
Does the Bible Misquote Jesus vs. Dr.Bart Ehrman, January 21, 2009, Ft. Lauderdale, FL
Teaching
Church History, Grand Canyon University, 1991-92, 95

Scholar in Residence, Grand Canyon University, 1995-1996

Apologetics, Grand Canyon University, 1996

Beginning Greek, Golden Gate Baptist Theological Seminary, 1995, 1997, 1999, 2001

Greek Exegesis of Ephesians, Golden Gate Baptist Theological Seminary, 2001

Beginning Hebrew, Golden Gate Baptist Theological Seminary, 1996, 1998, 2000

Hebrew Exegesis, Golden Gate Baptist Theological Seminary, 1997, 1999

Christian Philosophy of Religion, Golden Gate Baptist Theological Seminary, 1998-2003

Christology, Golden Gate Baptist Theological Seminary, 1997

Systematic Theology, Golden Gate Baptist Theological Seminary, 1996, 1998, 2004

Apologetics, Golden Gate Baptist Theological Seminary, 2003-2004, 2009

Development of Patristic Theology, Golden Gate Baptist Theological Seminary, 2004

Current Issues in Apologetics, Golden Gate Baptist Theological Seminary, 2005, 2007

Islam, Golden Gate Baptist Theological Seminary, 2008
Education
B.A. Bible (Major in Biology, minor in Greek), Grand Canyon College, 1985.

M.A. Theology, Fuller Theological Seminary, 1989

Th.M. Apologetics, Faraston Seminary, 1995

Th.D., Apologetics, Columbia Evangelical Seminary, 1998

D.Min, Apologetics, Columbia Evangelical Seminary, 2002
Elder, Phoenix Reformed Baptist Church (www.prbc.org)
Critical Consultant, New American Standard Bible Update (1995)
Married since 1982, two children, residing in Phoenix, AZ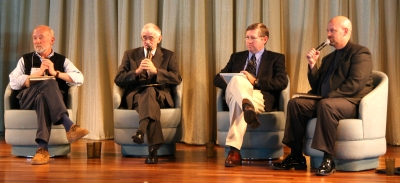 James White, Jim Renihan (right) dialogue with

Marcus Borg and John Dominic Crossan, August, 2005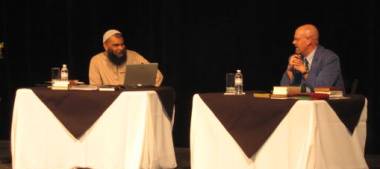 James answers questions in cross-examination in debate

with Islamic apologist Shabir Ally, Biola University, May, 2006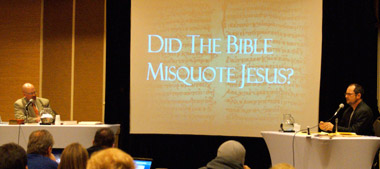 James White defends the text of Scripture against

noted scholar Bart Ehrman, Ft Lauderdale, Florida, 2009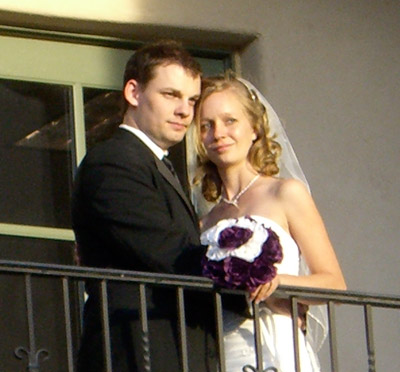 James' son Joshua and his lovely bride Tiffany, March, 2008
12:59:00 - Category: Misc - Link to this article -

Major News from Salt Lake City
11/18/2007 - James White
This is some of the biggest news I've seen coming out of Mormonism in quite some time. Here is the Salt Lake Tribune article (ht: TC). Changing a single word in the introduction to the Book of Mormon may not seem like a huge thing to most folks, but it is the word that is changed that says a lot. For those not familiar with the situation, let me summarize it.
There is truly no question that Joseph Smith believed the Book of Mormon story took place all across the United States, including upstate New York. That is, the battles and armies described in the book were not tiny affairs hidden away in some yet-to-be-discovered valley in the jungle of Meso-America. The fact that Smith identified some bones found during one of his journeys as a "Lamanite" proves this (and the excuses offered by LDS apologists on this account ring very hollow).
It is very clear that the leadership of the LDS Church until very recently believed firmly that the Book of Mormon is a historical document that explains where the American Indians came from. The fact that leaders as well known as Spencer W. Kimball made it clear they believed that native American converts to Mormonism would see lighter and lighter offspring (as the "curse of Cain" was lifted) once again proves this to be the case. It was the claim of the Book of Mormon that a dark skin was a curse placed upon the Lamanites for their unrighteousness (a curse not placed upon the white and delightsome Nephites). The long history of racist views amongst the leaders of Mormonism is, likewise, well documented. Indeed, the fact that blacks were not admitted to the LDS priesthood until 1978 (though the theology behind that ban was not changed, but has been swept under the rug) again shows that the viewpoints expressed by Joseph Smith, flowing from the worldview predominant amongst unlearned Americans of the early 1800s in that area of the world continued to determine LDS theology right into the modern day.
But with the advent of DNA studies, the LDS faith has once again been challenged to its roots. Previous elements of Smith's supposed revelations have already been proven false at their core. The Book of Abraham is an albatross draped across the neck of LDS apologists, an obvious fraud defying rational defense. And as LDS apologists have strained to give credence to Smith's revelations in the Book of Mormon, they have had to draw his claims in ever smaller circles, doing all they can to minimize the huge target that they are called to defend. So much is this the case that modern LDS apologists are want to limit the Book of Mormon story to a 40 square mile area, so small that it could be plausibly argued that modern archaeological research could miss it...forever. But when DNA studies began to prove what critics have been saying all along, namely, that the American Indians are anything but the descendants of Jews who fled to the Americas under God's guidance around 600 B.C., the LDS apologetics community was pressed beyond its limits.
Surely, attempts have been made to deflect the weight of these studies, but they are truly little more than O.J. Simpson style excuses, concocted to allow those who wish to continue to believe to do so, but little more. Those who are seriously seeking evidence of Smith's prophethood are now faced with serious, fair, and weighty evidence on all hands that demonstrate conclusively that Smith, and the religion he founded, while a fascinating study in human nature, is anything but divinely instituted.
The change that has been made is a clear sign that, just as the smoke screen blown out by Hugh Nibley after the discovery of the Joseph Smith papyri was nothing but damage control, a rear-guard action, likewise the flurry of "it doesn't necessarily mean that" papers thrown out by LDS apologists have simply given the church some plausible excuses while they try to find another path to follow.
Now, before we get too excited, let's realize something: the introduction is still making historical claims that have no foundation whatsoever. And, if one is cynical (as I tend to be), this could be little more than a signal of the new apologetic: that the BoM story is so small, so minor, that it did indeed take place in a very small area, and hence the offspring of the Lamanites would be a very small minority percentage of the actual heritage of the modern native Americans, hence, would be next to undetectable in the gene pool. The approach to the major problems with Smith's supposed revelations in the past have been handled in similar fashion, with the hopes that the apologetic excuses are enough to keep the bleeding, membership wise, to a minimum. This kind of argument, which again seeks to minimize the prophetic claims of Smith and hence offer a smaller "target," would fit into Salt Lake's consistent paradigm. So while this change may well indicate that some of the leadership is leaning toward a less strident view of Smith's claims to prophethood, we can not at yet know for sure.
Which leads me to speculate: what if future generations of Mormons adopt the "Smith wrote a nice book of parables for us called the Book of Mormon" paradigm? Could Mormonism survive such a transition? I normally try to avoid such theoretical speculation, but in today's situation, it is hard not to ponder the possibilities. It is well known that Mormonism's growth has "gone soft." The numbers indicate little more than "natural growth," not the massive explosion seen in the 1970s and 80s. Mormonism has lost its way, and it cannot get traction in post-modern Western culture. On the one hand, this may be due to Mormonism trying to follow in the "don't offend anyone, just share your story" mold. The Mormonism of old was bold and clear in its claim to be the "One True Church," and that is attractive to many. Surely the reasons for the change in its growth rate are many and complex. But one thing is for sure: the hard core of Mormonism in central and southern Utah is not ready to turn Smith into a religious fiction writer. The farther Salt Lake slides toward that viewpoint, the more growth you will see in the "fundamentalist cults" (as Salt Lake sees them) in Utah, Idaho, and Arizona. At the same time, Mormonism's over-seas numbers reflect a wide range of challenges to the religion as well. How they will handle the continuing secularization of the West, coupled with the challenge of Islam all over the world (Mormonism, as a religion, simply doesn't have the depth of theology and tradition to survive long in dhimmi status under Islam), is anybody's guess.
So this change is certainly to be noted, especially if more changes of a similar nature begin appearing under the auspices of the leadership of the religion. Keep your eyes open, and continue to pray for opportunities to share the life-giving gospel of Christ with Mormons you may meet. Remember, even when religions undergo major changes, most of those who become disillusioned and leave do not end up in Christ-honoring churches. I have met many LDS now who have left the faith and are now skeptical about any religion at all. Pray that God will bring honor and glory to Himself by revealing His truth to those in the LDS faith, bringing them to faith in the one true and eternal God.


21:48:05 - Category: Mormonism - Link to this article -

A Clear and Perspicuous Book?
11/17/2007 - James White
Since the Seattle debate Shabir Ally and I have been posting various commentaries on elements of the debate. Obviously, Shabir has had more time to be doing this than I have, but we have both posted some rather lengthy commentary on particular points. I will continue to comment as time allows, but I am certain I will not be able to match Mr. Ally's literary output. Be that as it may, I do trust the readers to analyze the contributions for themselves.
The Qur'an claims to be a clear, perspicuous book. In Surah 5:15-16 we read,

O people of the Book! There hath come to you our Messenger, revealing to you much that ye used to hide in the Book, and passing over much (that is now unnecessary). There hath come to you from Allah a (new) light and a perspicuous Book (مِّنَ اللّهِ نُورٌ وَكِتَابٌ مُّبِينٌ)---wherewith Allah guideth all who seek His good pleasure to ways of peace and safety, and leadeth them out of darkness, by His will, unto the light---guideth them to a path that is straight.
The people of the Book are Jews and Christians, and hence there is a comparison inherent in these words, one claiming the Qur'an is more clear, more relevant, and simply superior, to the Torah (OT) and Injil (NT). The claim that the Qur'an is "clear" and "plain" and understandable is often repeated by Muslims, mainly because it is found in the Qur'an itself. But if that is the case, why is it that Shabir Ally and I can exchange so many pages of text on what is being said in Surah 4:157-158? Remember what is said:

157. That they said (in boast), We killed Christ Jesus the son of Mary, the Apostle of Allah---but they killed him not, nor crucified him, but so it was made to appear to them, and those who differ therein are full of doubts, with no (certain) knowledge, but only conjecture to follow, for of a surety they killed him not---158. Nay, Allah raised him up unto Himself; and Allah is Exalted in Power, Wise---
Let's consider this "clear" (مُّبِينٌ) portion of the Qur'an in light of the debate with Shabir Ally in Seattle.
"That they said (in boast)" --- This is spoken of in reference to the Jews. One could argue if this is a fair representation of the Jews as a whole, but it must be granted that in some context some group of Jews could have made such a boast. It is unlikely, but not impossible. But keep in mind who the pronouns in this text are referring to. We start with the Jews, a particular group, evidently, who boasted.
"We killed Christ Jesus the son of Mary" (قَتَلْنَا الْمَسِيحَ عِيسَى ابْنَ مَرْيَمَ) Obviously, this would extend the accusation to the entirety of the Jewish people, for no one in Muhammad's day was making the claim that they themselves had done so. It is likewise highly doubtful that any Jew of the day would use "Christ" (literally, Messiah, الْمَسِيحَ) of Jesus to begin with. Now, does this mean that the Jews alone killed Jesus, without the assistance of the Romans? Or that they were guilty of instigating the killing of Jesus? We simply are not told.
At this time I need to take a moment to re-emphasize something. Surah 4:157 stands alone in the Qur'an in making this claim. This is an instance where we have a single ayah (verse) that makes this claim, with no other text in all the Qur'an affirming this assertion. In point of fact, at least two texts (Surah 3:55, 19:33) seem to teach the death of Jesus in plain, clear language. So if the text is going to announce something as ground-shaking as the assertion that Jesus did not die upon the cross, it needs to do so with great clarity and precision. Add to this another amazing fact: for two hundred years after Muhammad no one could remember a single comment the Prophet ever made about this text! Not a word! This only increases the need for perfect clarity on the part of the Qur'an at this point.
but they killed him not, nor crucified him (وَمَا قَتَلُوهُ وَمَا صَلَبُوهُ) The only "they" is the Jews, so, what is being said? That the Jews did not kill Jesus, but, the Romans did? Or that He was not killed at all? And the next phrase says they did not crucify Him. Does this simply acknowledge that the Jews did not crucify? Or that the Jews did not instigate the crucifixion of Jesus? The normative use of "crucify" is a means to execution. Is the repetition simply a matter of emphasis, or, as Shabir Ally wishes us to believe, is it possible that the text is saying the Jews did not kill Jesus, but, they did crucify Him, but, He did not die due to crucifixion? (Though it is outside the strict examination of this text, I remind the reader that even hypothetically assuming the Romans failed to make the crucifixion of Jesus a successful execution is betting on the 1 in 10,000 longshot percentage). It is hard to imagine that the text is saying "they did not do this, but, they did do this...just not to the point of execution." As Shabir Ally admits, the classical interpreters of the Qur'an, who were far closer to the time of Muhammad than he, understood this to be a blanket denial that the Jews killed or crucified Jesus. The rasool of Allah would never be subjected to such humiliation! This is surely the majority understanding of Muslims down through the history of Islam, but, evidently, the majority view can be wrong, even though the text is so very clear and perspicuous.
but so it was made to appear to them (وَلَـكِن شُبِّهَ لَهُمْ) If the preceding text allowed for a bevy of interpretations, this one sets a new standard for "lack of clarity." So what was made to appear to them? What is the referent? That Jesus died? It could be "he" was made to appear to them, and that has been the basis of the majority interpretation of the "substitution theory," that someone else was made to look like Jesus and was crucified in His place. Muslims have confidently asserted that Judas, Simon the Cyrene, a Roman soldier, or one of the apostles (as a volunteer) were made to look like Jesus and crucified in His place. But clearly, the text is far too obscure, far too brief, to even begin to provide a foundation for such a far-reaching concept. Indeed, I would suggest that the substitution theory only proves that even the Muslims who developed it could not imagine that someone had not, in fact, died upon the cross of Calvary.
Next, what does "appear" mean? "It was made to appear" would seem to indicate that this is something Allah did. Indeed, it has been observed rightly that if you accept the majority Islamic view that Allah made someone to appear as Jesus, then Allah started Christianity. Whether He did so inadvertently or not doesn't really matter, Allah is still the one who "made it appear."
Further, made it appear to them. To who? The Jews? Romans? Everyone there? Did the disciples know? The text would seem to indicate it was made to appear to the Jews, but, majority Islamic opinion has been that it was made to appear to anyone who was observing, if, in fact, the substitution theory is correct. But again, who can say? The text is not clear, it is not perspicuous. It leaves all sorts of options and, given the unique character of this ayah, leaves room for massive confusion.
and those who differ therein are full of doubts, with no (certain) knowledge, but only conjecture to follow (وَإِنَّ الَّذِينَ اخْتَلَفُواْ فِيهِ لَفِي شَكٍّ مِّنْهُ مَا لَهُم بِهِ مِنْ عِلْمٍ إِلاَّ اتِّبَاعَ الظَّنِّ) To whom does the text refer? Who is "those who differ"? Jews? Christians? Who? What kinds of doubts? Doubts about what? Without any definition these words have no meaning. Who has "no certain knowledge"? Knowledge of the identity of who was made to look like Jesus? No certain knowledge of what "it was made to appear" means? What conjecture are they following? Conjecture about a substitute? Conjecture about what? We simply are not told. Muslims have read this section in light of what they read into the previous portion, normally making some connection to substitution. But the fact is, these words could bear any number of meanings.
for of a surety they killed him not (وَمَا قَتَلُوهُ يَقِينًا) It seems that placing this here re-iterates the preceding assertion, which, in most normal situations, would mean the intervening assertions are limited to the Jews as well, but that is hard to understand. We can affirm that this source, written long, long after the New Testament, denies the Jews killed Jesus. What this means we cannot determine: it could be a simple statement that others were responsible for Jesus' death. It could be a denial that Jesus died in any way. It simply isn't clear. This can be seen in the words that follow.
Nay, Allah raised him up unto Himself (بَل رَّفَعَهُ اللّهُ إِلَيْهِ) Those who hold to the substitution theory take this to mean that Allah raised Jesus up to Himself rather than allowing Him to die on the cross. However, others point out that the verb here, rafa'ahu (رَّفَعَهُ) "has always, whenever the act of raf ("elevating") of a human being is attributed to God, the meaning of "honouring" or "exalting." Nowhere in the Qur'an is there any warrant for the popular belief that God has "taken up" Jesus bodily, in his lifetime, into heaven" (Muhammad Asad, The Meaning of the Qur'an, p. 154). So even here there is confusion as to the meaning of these texts.
So what has just this brief examination of this key text revealed about the Qur'an's own claims about itself? If part of the apologetic argumentation of Islam is that the Qur'an is the final revelation of Allah, superseding all that came before, and that part of its perfection is found in its clarity, that argument simply cannot stand. On one of the most important historical and theological claims the document makes, we can only conclude that it makes the claim in a muddled, unclear fashion. Any number of clearer, better expressions could have been provided. A fuller explanation could have been given, or other texts in the Qur'an could have provided context and clarity. But this is where Surah 4:157-158 stands apart from any possible parallel in the Bible: it stands alone in announcing one of the key denials of Christian believe. While difficult texts exist in the Bible, in that context they never announce a vital, definitional doctrine in only one place, let alone in one place in exceptionally confusing ways. But this is the situation with the Qur'an, and the results have indeed been far reaching.


09:00:00 - Category: Islam - Link to this article -

A Future Eschatological Event
11/16/2007 - Jeff Downs
While eschatology is not an issue I've spent any considerable amount time studying, I am looking foward to a future event. Perhaps you will as well. The seminary I attend will be holding their annual conference on the topic A Reformed View of Eschatology The Website for this conference is now up and you can check things out by clicking here.

Topics to be addressed are:

An Overview of Millennialism (Dr. Morton Smith), Old Testament Eschatology: A People, A Place, and a Time (Dr. Benjamin Shaw) Hell: Whatever Happened to It? (Dr. Derek Thomas), New Testament Eschatology: A Reason to Live (Dr. Sidney Dyer), The Westminster Confesssion & Eschatology (Dr. C.N. Willborn), "isms" in Eschatology Critqued (Dr. Cornelis Venema), Heaven: The Saint's Rest and Victory (Dr. Joseph Pipa), Romans 11: Who is Israel? (Dr. Benjamin Shaw), and Romans 11: Who is Israel? (Dr. Cornelis Venema).

--
On a side note, I received word today that Dr. Pipa's debate with Dave Hunt (Particular Atonement vs. Universal Atonement) is now available on DVD. The audio for the debate is listed here although I can't tell if it is still working. If interested in the DVD contact me.


09:45:32 - Category: Misc - Link to this article -

Bauckham Lecture
11/16/2007 - Jeff Downs
Just the other day Alan mentioned lectures by Dr. Richard Bauckham (Ph.D., Professor of New Testament at the University of St. Andrews). Alan's post was updated, which states that there are no recordings of the lectures.

Dr. Bauckham also spoke at Westminster Theological Seminary this week on the topic "The Four Gospels and the Other Gospels: Is Our Canon Right?" Go here to download lecture.

Dr. Bauckham is also the author of the new book The Testimony of the Beloved Disciple: Narrative, History, and Theology in the Gospel of John (Baker, 2007), which contains is a collection of essays that have appeared in theological journals over the years. Go here to read an excerpt.

One may also want to pick up James' book Scripture Alone: Exploring the Bible's Accuracy, Authority and Authenticity.


09:19:47 - Category: Misc - Link to this article -

5 Good Reasons to Own a Gospel Synopsis
11/16/2007 - Alan Kurschner
The most valuable tool that I use when I study the gospels as a whole or just a single passage ("pericope") is a synopsis. It is truly at arm's reach from my desk. The concept of a synopsis is very simple. It is a format that arranges the gospel parallel stories, teachings, parables, etc. in parallel columns (hence, sun 'together,' opsis 'seeing'). Here is a pdf example of two gospel pericopes. There are five good reasons to own a synopsis.

(1) You never have to ask yourself, "Is this story in Mark also found in Matthew, Luke, or John as well? Or "How does Luke's account describe this same parable in Matthew?" A synopsis allows you to see the parallel accounts on a single page. Are you aware that the story of the feeding of the 5000 is the only miracle recorded in all four gospels? Again, a synopsis format conveniently lets you see all four accounts together and their different details and emphases. Another example, the story of Jesus calming the storm has Matthew's account with Jesus saying, "O men of little faith." Mark has "Have you no faith?" Luke has "Where is your faith?" Reading this story in a synopsis would make these differences observable.

(2) Learn the theological emphases of each gospel. Reading the gospels "vertically" is the most common way--Matthew through John, one at a time. But reading them "horizontally"--Matthew, Mark, Luke, John at the same time--will allow you to compare the theological differences with much more effectiveness because you are viewing the accounts together.

Indeed, we have to be careful not to read unwarranted theological hues that may not be there. It can be subjective to theorize why a writer "omitted" an entire pericope that the other writers "included" (or a "portion" of it). Synoptic analysis is often more an art than a science. But that is not to say that we cannot learn certain theological emphases if the proper principles are employed (e.g. genealogies of Jesus by Matthew and Luke). By the way, it may come to a surprise to many to learn that of all the gospel writers it is John who is most concerned with chronology and geographical location (a synopsis would point out this emphasis in John).

(3) To be aware of the distinctives in the gospel stories. Can you tell me which gospel account of the birth narrative contains the story of the "Wise Men"? Matthew or Luke's account (or both)? Answer: only in Matthew. What about the "Shepherds out in the field keeping watch over their flock by night?" Answer: only in Luke's account. (And Mark and John do not contain a birth narrative). If you use a synopsis, all these facts would be conspicuous on a single page!

(4) Read all four gospels in chronological sequence. Have you read the gospels before and noticed that the writers are often "inconsistent" with the chronology of events in the life of Jesus? That is not because they were careless and making mistakes in recalling the life of Jesus. Rather, they were more often concerned with thematic development than with a mere chronicle (and historicity for these ancient writers did not always require chronological sequence.)

Nevertheless, a synopsis organizes each pericope in chronological fashion as best as possible, which is very helpful when studying a particular passage and knowing which stage of Jesus' ministry it unfolded. Indeed, there are some notorious pericopes and their sequence that scholars debate in respect to chronology and geography. But, all in all it's convenient to have that framework. And in the synopsis that I am going to suggest you purchase, if you do not own one, there is an "Index of the Gospel Parallels." It is worth the price of the book because at a bird's eye view you can see all the headings of the gospel parallels in their chronological order along with their scripture references.

(5) Read a synopsis in one year by reading one pericope every day! By coincidence, the synopsis has 367 pericopes (That is, all four gospels combined contain 367 units.) If you read one pericope a day next year, plus two additional days (but it is a leap year), you will have read all 367 units of all four gospels in a full year.

The edition that I recommend for English is the Synopsis of the Four Gospels Edited by Kurt Aland. There is also a diglot edition of both Greek and English by Kurt Aland. And if you want to impress your friends at the next cocktail party and make them think you are really smart just ask them in a Latin accent if they own the latest Greek-only edition, Synopsis Quattuor Evangeliorum.
Quick addition from JRW: this is the edition we have been using in the adult Sunday School classes at PRBC for the past four years.



00:01:00 - Category: Exegesis - Link to this article -

Today on the Dividing Line
11/15/2007 - James White
Another truly eclectic program today. Read the story about J.P. Moreland's paper at ETS from yesterday about evangelicals being too committed to...the Bible. Had a few comments to make there, for some odd reason. Then I went over the Bauman post, which led us to some discussions about Steve Ray, Robert Sungenis, etc. Here's the program (free/high quality).


21:23:29 - Category: The Dividing Line - Link to this article -

"Enough. No more pearl casting for me, and no more dusty sandals." --Michael Bauman
11/15/2007 - James White
It seems Dr. Bauman has concluded his participation in the thread noted earlier. But his means of doing so has surely left me bewildered. Evidently, charity in accepting a revert's confession of faith is a good thing, but it seems to leave no charity left for anyone who would dare to ask you biblical and logical questions concerning your position.

Michael Bauman said...

1.) I don't see the wisdom or untility of continued engagement on the subject of Frank Beckwith's alleged apostasy from Christianity with folks who do not know the definition of apostasy.
I am uncertain who Dr. Bauman might have in mind here, to be honest. While some may differ in their definitions, it has been rather clear that the issue revolves around whether a person can confess a Protestant faith and then confess a Roman Catholic faith without committing an act of apostasy. I have challenged Dr. Bauman on this point, insisting that biblically, limiting a "Christian confession" to an orthodoxy theology proper (i.e,. Trinitarian confession) is a sub-biblical definition, and, unless he is going to assume the Judaizers were still to be appropriately identified as "Christians," though anathematized ones, it does seem that one's view of the gospel is definitional to one's confession of faith. Hence, to have once confessed what Rome declares anathema, and then to go back to Rome and confess Rome's dogmas, would inevitably involve an act of apostasy. I suppose I missed someone in the seventy plus comments who missed the meaning of apostasy, but I sort of doubt it.

2.) I don't see the wisdom or utility of continued engagement on the subject of Frank Beckwith's alleged apostasy from Christianity with folks who cannot distinguish between first century Judaizers and modern Roman Catholics.
Again, it is difficult to know who Dr. Bauman could be referring to. I clearly see the difference: the Judaizers were less heretical. In fact, that has been my point all along: the Judaizers did not have nearly the time Rome has had to come up with all sorts of unique additions to the gospel so as to limit the grace and glory of God and insert the control of man. Those poor fellows were pikers in comparison to Rome! So again, everyone I have seen in the conversation has been able to distinguish between the Judaizers and the Roman Catholics.
Now, it is just possible that Dr. Bauman does not have a meaningful response to the questions based upon the anathematization of the Judaizers by Paul based upon a soteriological heresy, rather than a strictly theological one. In that case, maybe, just maybe (though we would surely hope this is not the case!), this is a rhetorical shot meant to cover such an inability? Let us hope not.

3.) I do not see the wisdom or utility of continued engagement on the subject of Frank Beckwith's alleged apostasy from the faith with folks who cannot distinguish between the gospel (faith in Christ, which Frank clearly affirms) and assent to sola fideism (a theory of justification, which Frank does not affirm). Failure to distinguish between them means you do not know the gospel.
Let me see if I can grasp this: the gospel does not involve anything about the work of Christ, His death, His burial, and His resurrection; it has nothing to do with law, merit, or works or even grace. The gospel is "faith in Christ" and nothing else! Hence, Paul had not the first reason for his actions in Galatia, yes? Such would be the inevitable conclusion one would draw from this radical redefinition of the gospel as being naked faith in Christ---without the slightest element of what Christ did and why.
But please note, aside from this amazing assertion, we here have an alleged Reformed Evangelical not only defending the authenticity of a Roman Catholic as his "brother in Christ," but beyond this, if anyone questions that Roman Catholic's faith in Christ, it is a "serious sin" (as he first said) and now, amazingly, Dr. Bauman has concluded that he can conclude someone "does not know the gospel" if they do not make the same artificial distinction he makes between the Christ who is the object of faith and the Christ who died upon Calvary's tree (i.e, Person and Work go hand in hand)! Let's make sure we get this: confess that Marian dogmas are part of the gospel, and that's OK. You are still a brother in Christ. Confess that there can be those who claim to believe in Christ but who deny Him by their additions to his work, and you do not know the gospel at all! To call this reversal amazing is to confess the limitations of human language, to be sure.
This kind of rhetoric might be a little more bearable if we had some meaningful answers to the question asked on the basis of the apostolic example of Paul's dealings with the Judaizers in Galatia. But, those answers, evidently, are not forthcoming. But let us hear clearly the voice of modern American academia: sola fide is a mere theory of justification. Confess it to be a part of the gospel, and you are thereby cut off from the gospel itself!

4). I do not see the wisdom or utility of continued engagement on the topic of Frank Beckwith's alleged apostasy from faith in Christ if Frank is not allowed to affirm in his own words whether or not he has faith in Christ. His personal testimony to faith in Christ is every bit as full and compelling as any such confession of faith recorded for us in the Gospels or in Acts. At least the Inquisitors let the accused speak for himself before condemning him. Not here.
What an amazing image to conjure here, given how many saints died at the infallible hands of Mother Rome for their refusal to confess the very same additions Bauman now seeks to make irrelevant to true confession of faith in Christ. I tremble at the thought of those who gave their lives for simple faith in Christ when such language can be used by a modern "heir" of their sacrifice.
It is ridiculous to say that anyone has refused to "hear" Beckwith's confession. I can only conclude that Bauman would join the many who, a few years ago, were ushering John Paul II into the heavenly realms on the very same basis. False gospel? No worries. Prayed to Mary for your salvation? That's cool. All is well. (Of course, if you actually confess sola fide as part of saving faith you are anathema! To the fire with you!).
So we are now told by this "Reformed" theologian that a Roman Catholic confession of faith is "every bit as full and compelling as any such confession of faith recorded for us in the Gospels or in Acts." Would that include, or exclude, the confession of faith obviously made by the Judaizers, Dr. Bauman? Oh, I forgot, that question has been dismissed out of hand, no reason given. OK, how about the proto-gnostics at Colossae? No? OK, those who went out from the fellowship in 1 John, but who denied the reality of Christ's incarnation? Wait, that's more of that theology stuff, and we really can't get past just saying "I believe in Jesus" can we? If we start asking "Who is Jesus?" or "What did He do?" that seems to be too much.
Of course, Bauman is simply making things up when he says Beckwith was condemned before being allowed to speak. I would imagine almost everyone here has listened to Beckwith's comments in a number of forums---I certainly have. This is just rhetoric without substance at this point.

Enough. No more pearl casting for me, and no more dusty sandals.
Goodness, I do believe Jesus used that terminology to speak of "swine," did He not? In fact, both references have to do with separation from unbelievers and the judgment of God. And upon what basis does Bauman aim such strong language at those who does not even identify directly in his comments? Evidently because they dare to ask him questions that reveal that his formulations on the matter of saving faith are muddled and unbiblical, and that he is grossly inconsistent in calling down such condemnations not upon those who have added every kind of falsehood to the gospel under the guise of Rome, but upon those who would dare to identify Rome's gospel as a false one! If you are left gasping at such incoherence, welcome to the wonderful world of post-evangelicalism. "This isn't your grandfather's gospel." And how.


13:21:13 - Category: Roman Catholicism - Link to this article -

The New Catholic Answer Bible (Part two)
11/15/2007 - James Swan
I have the New Catholic Answer Bible sitting under a pile of books on my desk. A while back, I posted my initial review, The New Catholic Answer Bible (Part One). After documenting this "Answer Bible" did not contain the answers about the particular aspects of Roman Catholicism that I've been looking for, it easily made its way to the bottom of the book pile.
Not hearing back from the publisher when I wrote them also was a factor in rotating this book to the bottom. I simply wanted to find out who wrote the verse-by-verse commentary . The verse-by-verse commentary is not representative of current trends in popular Catholic apologetics, so I am curious to know who authored these notes. On the other hand, the plentiful inserts (with drawings reminiscent of Watchtower literature), do represent the typical argumentation prevalent in Catholic apologetic materials.
There are 88 pages of insert apologetic material placed throughout this Bible. These are to equip Roman Catholics to "better respond when challenged about the Catholic Church and its teachings." I would guess that in a Protestant /Catholic dialog, a Protestant bringing up a verse may get the response, "Let me turn to one of the inserts in my New Catholic Answer Bible for your answer." In other words, this Answer Bible doesn't provide a Catholic with what is needed: a concise verse-by-verse commentary presenting a coherent modern Catholic apologetic.
As evidence the inserts and verse commentary is mismatched, I often noticed the verse commentary seems to steer away from typical Catholic apologetics, while the inserts present the typical current trend of Catholic pop-apologetics. For instance, the verse commentary on Luke 1:28 says nothing about Mary being immaculately conceived, while the insert uses it as its prime proof-text. The text of the Bible used (NAB) translates kecharitomene "Hail, favored one!" and the verse commentary explains it simply as an announcement paralleling that given to Zechariah about the birth of John. The insert though translates kecharitomene as "highly graced" or "full of grace," and is an "...indication of an unparalleled grace given by God to our Lady: She was conceived without the defect of original sin" (Insert R-1).
Commenting on Matthew 1:25, the verse commentary states, "The Greek word translated 'until' does not imply normal marital conduct after Jesus' birth, nor does it exclude it," while insert Q-1 defending the perpetual virginity of Mary, says, "[W]hen St. Matthew in his gospel says that Joseph 'had no relations with [Mary] until she bore a son' (1:25), he does not necessarily imply that such relations followed afterward." Notice what's different between the two answers? The insert leaves out anything that would suggest "nor does it exclude it." The insert goes on to argue that "until" should be understood to give credence to perpetual virginity.
Insert H-2 asks "Is Purgatory in the Bible?" It immediately cites 2 Maccabees 12:38-42 as scriptural proof. The verse commentary though points out only that what is being mentioned is similar to the Catholic teaching of Purgatory, "...but not quite the same." Well, is the verse teaching about Purgatory or not?
Such is the schizophrenic nature of this "Answer Bible." A number of examples similar to this could be be provided. It's no wonder the publisher never wrote me back. I would be interested in actually contacting those who wrote the verse commentary to get their reviews of the apologetic inserts. Recall, in my previous entry I mentioned the authors names of the inserts weren't provided either. The inserts appear to be some sort of collaboration between Dr. Paul Thigpen, editor of The Catholic Answer magazine and My Daily Catholic Bible (Our Sunday Visitor) and Dave Armstrong (a self-proclaimed Catholic apologist).


00:01:00 - Category: Roman Catholicism - Link to this article -

Willful Blindness? You Decide
11/14/2007 - James White
I noted this morning the "Keyboard Carpet Bombing" techniques of Phil Porvaznik. You have probably never heard of ol' Phil, since Phil has a major problem standing up and being counted when he is challenged to do something more than sit behind a keyboard. He won't do debates, won't call in to programs where he would be challenged, etc. But he has links, lots and lots of links! And he seems to think it is funny to climb into any exchange on the net and derail it through KCB (Keyboard Carpet Bombing).
In any case, he claims to be a great expert on yours truly. Yet, after all these years of listening to my debates, listening to the Dividing Line, etc., Phil still doesn't get it. I was just checking the combox where Dr. Beckwith posted the long quotes from the Council of Orange and where Dr. Bauman commented on his view of apostasy, and found this from Phil's keyboard:

James White "creates" grave differences by misrepresenting Catholic doctrine. For example, he continues to say we are not "perfected" by the Catholic gospel. But we are likewise not "perfected" by the Protestant gospel either since sanctification in Protestant theology is an ongoing process. We are still being sanctified or made holy (Heb 12:14), becoming perfected. So we not "perfected" yet in either Catholic or Protestant or Reformed theology.
Notice the game plan here. First, accuse me of misrepresentation. Yet, where does he document the misrepresentation? He doesn't. He knows that he can go to Mass repeatedly and not be perfected by so doing. So watch the bait-and-switch. He makes the (false) accusation, and then as evidence, presents an irrelevant observation that, evidently, he hopes will suffice---at least for his target audience. If Porvaznik has listened to all the debates he claims to have, he knows the vast difference between Rome's parceled-out-through-the-sacraments concept of grace, and in particular, the limitation of the forgiveness offered in the Eucharist, and my presentation of the God-centered gospel wherein the elect are united with Christ in His death, so that His perfect righteousness is imputed to them, so that, as I explained here, for example, years ago, they are perfected by that work. He would know that the Bible uses "sanctify" both positionally (and hence in a way parallel to "justified," especially in Hebrews) and experientially, and that he is equivocating, discussing experiential sanctification (parallel to being conformed to the image of Christ throughout our lives) as if it was identical to positional sanctification (brought about through our union with Christ in His death, burial, and resurrection). The knowing reader will find Phil's attempt disingenuous and even insulting, but like so many pop Roman Catholic apologists, he doesn't seem to be concerned about those who will detect his errors. His audience seems to be a willing accomplice in his schemes, and hence doesn't mind the linguistic shell-game.
So is Phil just the product of his many years of suppressing the truth that is right before his eyes? Or is this willful blindness, purposeful in its intents? I do not know. But I know Phil won't defend his claims in any context where he actually has to respond to direct criticism, because Phil knows what I know: he can't. Let's pray God will convict the gentleman of his ways.


21:41:56 - Category: Roman Catholicism - Link to this article -

Steve Ray Parrots the "Baptists at Nicea" Line
11/14/2007 - James White
Evidently Steve Ray doesn't have much to say. Though he was quite proud of himself when he posted his many page pdf a few months ago (cobbled together, obviously, from pre-existing materials lurking in the recesses of his hard-drive), he quickly decided that though he had spent the weekend doing that, I wasn't worth responding to, so, he wasn't going to reply to the refutation of his claims. Fair enough. Yet, this morning, out of the blue, he links to the single most embarrassing thing Patrick Madrid has ever put in print: Envoy's decade old hit piece against me regarding a footnote in my article on the Council of Nicea in the Christian Research Journal. You know, the article that set the standard for Roman Catholic pop apologists, where you don't mention the writer you are lampooning, and don't even give your readers a reference to the original article so that they can see how badly and obviously you are misrepresenting them? Yes, that one. Even if Ray has taken note of the easy refutations of this article that have been around for a long time, and how even referring to such reprehensible writing decimates one's credibility, I truly doubt he would allow that to stop him. Cheap shots are easy and quick, and as long as you have no respect for your audience, they are quite useful.


09:34:27 - Category: Roman Catholicism - Link to this article -

Dr. Bauman on Beckwith and the Concept of Apostasy
11/14/2007 - James White
Dr. Michael Bauman of Hillsdale College has responded to my comments on the blog entry noted earlier. I provide my response here for the simple reason that once again we have an excellent example of why comboxes are antithetical to meaningful theological exchange. As soon as I posted the link to that blog discussion, Phil Porvaznik saddled up his donkey and meandered on over, dumping a pile of his tired, worn-out, "I will keep saying this, but run for the hills and never defend myself because I know I can't" garbage into the thread, producing a flood of "go look at this link and I refuted White over here and look at this by this guy" stuff. Hence, it is simply not worth the effort for folks to try to fight their way through all the spam produced by the Porvazniks of the Internet. So I provide my reply here, a theological spam free zone:

Jim,
As someone with a PhD in Historical Theology from a Catholic university, and as someone who taught both Roman Catholic and Protestant theology at that university, I can assure you that you do not dissent from Rome more than I do. But your (and my) dissent from Rome is not the issue when it comes to accusing Frank Beckwith of apostasy

Dear Dr. Bauman:
Oh, but I believe it is, unless you believe that one can profess fealty to Rome without professing fealty to her Gospel.
If Frank Beckwith once truly made a gospel profession wherein he embraced the absolute sufficiency of Christ to save outside of all human additions, eschewing Rome's man-centeredness and proclaiming the sole glory of Christ in salvation, and then knowingly embraces Rome, how can this be anything other than an act of apostasy? How can one say "faith alone, Christ alone, to the glory of God alone" and then say "propitiatory Mass that never perfects, grace mediated through Mary, temporal punishments, purgatory, and satispassio"? Or to return to the Galatian context, what basis does anyone have to believe that one can say "faith alone in an all sufficient Christ" and "circumcision necessary to have true faith in Christ" at the same time without involving such a contradiction as to render words meaningless? What is it about the Galatian heresy that rendered its proponents anathema that is not present in the pantheon of Roman additions to the gospel? How many times does Rome have to say "no, no, faith alone is not sufficient, you need sacraments, you need the priesthood, you need indulgences, confessions, penances, and a never-perfecting re-presentation of Calvary" before she catches up with the Judaizers in Galatia?

Because apostasy is the rejection of one's faith in Christ, and therefore a rejection of one's Christianity, the issue of apostasy is whether or not Frank is a Christian. The issue is whether or not he has saving faith in Christ. If you'd like to know the answer to that question, then ask him. If you ask him if he is a sinner who deserves Hell, I suspect he will say "yes." If you ask him if he has faith in Christ crucified, buried, resurrected and ascended, I suspect he will say "yes." If you ask him if anyone can be redeemed apart from the saving work of God in Christ, I suspect he will say "no." If you ask him if he has left his saving faith in Christ, I suspect he will say "no." The only way to know if any of my suspicions above are correct is to let him speak for himself.

And if I ask if he believes the Mass is a propitiatory sacrifice that does not perfect? If I ask him if he goes to a man who is identified in his ordination as an "alter Christus" to find sacramental forgiveness? Does he pray to Mary, and believe she was bodily assumed into heaven? Does he believe those dogmas are part of the gospel? Does he believe he will go through purgatory and undergo satispassio so as to be perfected before entering the presence of Christ?
Dr. Bauman, every single Judaizer in Galatia could have answered your questions above "correctly." Yet, they were pronounced anathema by Paul. Why?

In other words, Frank Beckwith himself gets to make his own profession of faith, not you or I, and not anyone else on this blog.

Of course, but unless one is willing to make Christianity a matter of merely personal opinion, the issue of apostasy cannot be turned into a matter of personal predilection. Words have meaning. Scripture defines truth. Rome's gospel remains contradictory to grace alone, faith alone, Christ alone, and if Dr. Beckwith once professed those things (and I have often noted I have yet to find a clear confession of those things on his part in his post-Rome but before going back to Rome period)and now professes faith in Rome's teachings, which cannot but include the necessary negation of these beliefs through confession of such concepts as transubstantiation in the Mass, purgatory, etc., there is no other meaningful term for such a reversal than "apostasy," is there?

If we Protestants can set aside the self-congratulatory and triumphalistic imposition of Reformed scholasticism and its competing theories of justification for just a moment, and let the man make his own testimony to faith in Christ in his own words, then I suppose that we can put an end to the scurrilous and baseless public denigration of a valued brother in Christ, a denigration that characterizes too many of the entries on this thread. But we'll have to be quiet long enough to let him speak for himself about his faith. Hopefully that deferential, respectful, and teachable silence is not too stiff a challenge.
Frank Beckwith is not the Pope, Dr. Bauman. He does not get to define Rome. I know it is very popular to make everything about the individual today, but the fact is, he is the one using the phrase "full communion with Rome." So, is it full, or partial, with the extent being dependent upon what he "feels" is appropriate? If you are in full communion with Rome, you believe her dogmas, do you not? Does Frank Beckwith confess the dogmatic necessity of the Immaculate Conception and the Bodily Assumption of Mary? Papal Infallibility? If he does not, that is wonderful! I hope he will tell the folks at Catholic Answers that. And Envoy Magazine. And mention it this weekend in talking with Scott Hahn. And I would encourage him to speak out against purgatory and indulgences and priests who call themselves "another Christ" and all that heresy that Rome has encrusted herself with. But I really don't expect to see that happen, do you?

It comes down to his testimony in his words; not yours, not mine, not anyone else's. It comes down to Frank's profession of faith, not to your or my objections to Catholicism.
No sir, that's just not the case. Frank Beckwith does not define Roman Catholicism. Rome gets to do that. If you truly believe that as long as a person says they are a Christian, it matters not what the substance of their profession is, then I must believe you find the Mormons and Jehovah's Witnesses good "brothers in Christ" as well? Why draw any lines at all? Maybe the Christian/Muslim woman up in the Northwest has it right?
I'm sorry, but that kind of thinking is muddled and confused. If you can't tell the difference between "faith alone in Christ alone by grace alone to the glory of God alone" and Rome's man-centered, peace-robbing, soul-destroying "gospel," then God has not spoken, He has not even mumbled, and we are of all men most to be pitied.


09:11:55 - Category: Roman Catholicism - Link to this article -

A Couple of Quick Notes
11/14/2007 - James White
For those working in the Islamic field, Lane's huge 8-volume lexicon is now on line here. The hard-bound set is quite impressive, but take it from me...it also gives off an odd odor. Seriously. Its permanent home in my library is only a few feet from my keyboard.
Frank Beckwith, apart from showing up on blogs quoting the Council of Orange (but not Trent), will be participating this coming Saturday in the first meeting of the "Intra-Christian Conversion Study Group," joining Paul J. Griffiths and Scott Hahn to discuss his conversion. Ironically, in announcing these things, Beckwith concluded with the Reformation slogan, Soli Deo Gloria, a phrase that cuts directly at Rome's inclusion of all sorts of impediments to the glorification of God alone. In particular, these days, the insertion of Marian dogma is so prevalent, and unchecked, by Rome, that the late John Paul II could canonize Maximillian Kolbe in 1982, a man who wrote,

Still, their union is so inexpressible, and so perfect that the Holy Spirit acts only by the Immaculata, his spouse. . . .The third Person of the Blessed Trinity never took flesh; still, our human word spouse is far too weak to express the reality of the relationship between the Immaculata and the Holy Spirit. We can affirm that she is, in a certain sense, the incarnation of the Holy Spirit.
And,

The union between the Immaculata and the Holy Spirit is so inexpressible, yet so perfect, that the Holy Spirit acts only by the Most Blessed Virgin, his Spouse. This is why she is the mediatrix of all graces given by the Holy Spirit. And since every grace is a gift of God the Father through the Son and by the Holy Spirit, it follows that there is no grace which Mary cannot dispose of as her own, which is not given to her for this purpose.

Both citations are found in Mark Miravalle's Mary: Coredemptrix, Mediatrix, Advocate, Queenship Publishing, 1993, 53-54. In any case, I wonder when Beckwith is going to deal directly with Rome's Marian dogmas? I haven't seen any evidence of it so far.
In a related development, Steve Ray posted a brief comment on his blog about what verses the Roman Catholic Church has defined "definitively." The fact that you can't even get a straight answer as to which verses have been infallibly interpreted should be kept in mind by every wide-eyed convert who is trotting happily toward Rome. But check out the listing he gives in the link in the blog article. Compare the "interpretation" provided with sound biblical exegesis as found in godly churches. The contrast is striking. But note as well the comment by one "Carlos" at the top of the combox:

You are starting from a scripture verse leading to defined dogma. IMHO, it would make more sense to start with the defined dogma and show what scripture verses supports it. One verse can support many teachings, and should not be limited.
Talk about the very essence of eisegesis! Truly incredible. Let us be thankful we are not trapped in such a system as Rome, and let us pray for those who are. May they come to have the same confidence in Scripture illustrated by the Psalmist in Psalm 119.



00:01:00 - Category: Misc - Link to this article -

Today on The Dividing Line
11/13/2007 - James White
Went just a little long today to get our last caller in on apologetic methodology. Before that, Frank from Dallas had some thoughts on the issue of apostasy and Rome. Prior to that, we discussed a number of issues, including Rome's view of the gospel, Mormon/Christian dialogues, etc. Here's the program (free/high quality).


13:06:01 - Category: The Dividing Line - Link to this article -

Richard Bauckham Lectures
11/13/2007 - Alan Kurschner
The past week at Gordon-Conwell Theological Seminary, I had the opportunity to sit in on three days of Bauckham lecturing on the "Gospels as History." He distilled some important elements of a future book, and some of his research found in his book, Jesus and the Eyewitnesses: The Gospel as Eyewitness Testimony. Here is a pdf of his handouts and notes. Although, they should be supplemented with his audio lectures (I will update this post once I find out when the mp3 lectures will be available for those who are interested. Update: I just learned that there were no recordings made of the lectures, sorry.) Update: On a different subject Bauckham lectured at WSC on "The Four Gospels and the Other Gospels: Is Our Canon Right?" Here is the audio lecture.












00:01:00 - Category: General Apologetics - Link to this article -

On the Sinfulness of Calling Apostasy...Apostasy
11/11/2007 - James White
Some comments were made regarding the ever-developing Beckwith saga (including Frank Beckwith posting canons from the Council of Orange) here. Beckwith dares to reduce the issue of Rome's gospel to mere theories regarding imputation versus infusion. Another comment was left by Dr. Michael Bauman, accusing anyone of sin who would identify Beckwith as an apostate. I provide here the comment I at least attempted to leave on the blog. It begins with a citation of Dr. Bauman:

You're missing the point, Shane. Despite your repetition to the contrary, Frank Beckwith has not denied the gospel. The gospel is salvation through faith in Christ. The gospel is not assent to sola fide. Frank has moved away from your (and my) view of justification. Movement from that is not movement from the Christian faith. One begins to think that you, not Frank, has forgotten gospel content: Salvation comes by faith in Christ, not faith in sola fide. He has it, and he has it just as clearly as anyone you or I know.
No, Frank does not need me to speak for him; nor has he asked me to. But then, he doesn't need you to speak TO him. He already gets it. He's a Christian, a man with faith in Christ. To call him an apostate is a serious wickedness on your (or anyone's) part, and an exercise in bearing false witness against your neighbor.

Dear Paul:
In reviewing your letter to the churches of Galatia, we, the modern men of the 21st century, have come to the conclusion that you truly missed the point in your very pointed and, may we say, unloving comments regarding the faithful brothers with whom you had but a minor theological difference. We are in particular offended that you would identify men who clearly confess faith in Christ and who have risked their lives for their faith "false brethren." Who are you to make such a harsh judgment, in light of their many evidences of faith? These men are Christians, and to call them false brethren is a serious sin! You are bearing false witness against them! And to dare to read the intentions of their hearts so as to say they were "sneaking" into the fellowship is simply beyond the pale. You should be ashamed of yourself! All you disagree on is a minor point of theology! They believe in Christ! They believe in His resurrection! They simply believe one should be circumcised so as to be a part of the covenant people of God! How narrow of you to exclude them from the fellowship of faith simply on the basis of such a minor thing as this! Why won't you focus upon the areas of agreement you have? Why focus only upon differences, the negatives? Don't you realize you will never win people to your views if you continue to act in this fashion? We seriously request that you apologize to the faithful brothers you anathematized in your ill-advised letter to the churches of Galatia. By this, true peace and unity might be achieved!
Dr. Bauman says that it is "a serious wickedness on your (or anyone's) part" to say that a person who moves from confession of the solas to that of Rome is an apostate. May I ask what then constitutes apostasy in Dr. Bauman's world? Evidently, the gospel is no longer a part of what defines the Christian faith? So now we only identify as apostates those who engage in formal heresy regarding, say, the Trinity? Hopefully the resurrection? But now it is "OK" to confess that the Mass is a propitiatory sacrifice that can be approached 20,000 times without bringing perfection, that celibate priests can be called "alter Christus" in their ordinations and that they can, by sacramental power, render Christ present upon Rome's altars, that the Pope is the Vicar of Christ and infallible in teaching authority, that no grace accrues to anyone outside of Mary by God's design, and that Mary was Immaculately conceived and Bodily Assumed into heaven, and that if you die with temporal punishments of sin upon your soul you undergo satispassio in purgatory, and it's all just a slight difference over imputation versus infusion? All these dogmatic definitions of the gospel itself are just so much minor theological drivel, so that one can confess them, or not, and all is well? This is the clarity of modern theology?
Let me make it plain and clear: if I ever confess such things, and deny the perfection of the work of Christ in my behalf, consigning my Lord and Savior to the role of merely making salvation possible if I cooperate enough, please, I beg of my brothers in Christ, have the intestinal fortitude and love of God and His gospel to call me what I would be: an apostate. To refuse to do so is to show that you fear the face of men more than you honor God Himself.
Do we have such a low view of Scripture that we do not believe the gospel has been revealed with sufficient clarity to identify Rome's abomination for what it is? Can we be so easily duped as to think that the difference between Rome's religion and the gospel is merely a matter of a theory of imputation vs. infusion? Are we so blind?
I suppose we can surely admit that Rome does not add to the clarity of the situation given the massive confusion that now reigns in the highest halls of her leadership. Inclusivism and universalism exists side-by-side with "old time Rome" so that identifying Rome's current orthodoxy is next to impossible. And it surely makes it challenging to attempt to hold Rome's apologists to any consistent standard, for they can switch back and forth between various positions as the need arises.
Dr. Beckwith posted a number of canons from the Council of Orange. I'd like to provide another citation and see if Dr. Beckwith likewise accepts this one:

It firmly believes, professes, and proclaims that those not living within the Catholic Church, not only pagans, but also Jews and heretics and schismatics cannot become participants in eternal life, but will depart "into everlasting fire which was prepared for the devil and his angels" [Matt. 25:41], unless before the end of life the same have been added to the flock; and that the unity of the ecclesiastical body is so strong that only to those remaining in it are the sacraments of the Church of benefit for salvation, and do fastings, almsgiving, and other functions of piety and exercises of Christian service produce eternal reward, and that no one, whatever almsgiving he has practiced, even if he has shed blood for the name of Christ, can be saved, unless he has remained in the bosom and unity of the Catholic Church. (Denzinger 714).

I would invite Dr. Beckwith to examine the context, historically, of these words. Look at the beliefs of the men involved in writing these words. What they mean is obvious. So, does he believe these words? Does it really sound like the Council of Constance viewed the difference between Rome and "schismatics" as a minor thing? Surely, this came before the Reformation, but to try to reduce the differences between the Reformation and Rome to a mere difference of "theory" regarding justification is not only laughable, it is, in my opinion, simply reprehensible. To refuse to see Rome's view of justification within the full context of Rome's soteriology is either deceptive, or just plain ridiculous.
Since it has been said that it is sinful to identify a convert (or revert) to Rome as an apostate [and please note, I have often said that I do not know if Dr. Beckwith is actually an apostate, since I have yet to find any solid evidence that he ever abandoned Rome's views of man and grace to begin with], let me say that I believe it is sinful to accept the calling of God's people in a truly Reformed congregation, swear fealty to such Reformed standards as define that faith, and then at the same time refuse to have the honor and integrity and love for truth to speak the truth plainly regarding Rome's false gospel. If you do not believe the gospel is clear enough to distinguish from Rome, then I suggest you are not Reformed, period. Please stop adding to the confusion by saying you are. It would be much appreciated.
James White
www.aomin.org


21:24:49 - Category: Roman Catholicism - Link to this article -

More from the Hallowed Halls of Academia
11/09/2007 - James White
Not much commentary needed here. These speak for themselves in the main.

This story is critical of the kind of brain-washing, the kind of creation of blind followers, that religion causes...that most religion causes. (Many references to blind following in "authority/obedience model religions").
And if you're willing to settle, out of fear, for any kind of garbage, whether it's the fundamentalist Islamic kind, the fundamentalist Christian kind, the George Bush variety, the Osama Bin Laden variety, the Adolf Hitler variety, the Mussolini variety, the Genghis Khan variety---that's your fault. If you are willing to listen to someone's lies, and not examine it for yourself, [unintelligible] transformation model ideas, accept nothing you cannot decide for yourself, accept nothing you cannot prove for yourself, yes, and rely on nothing outside yourself, if you simply take somebody else's word for it, then you are very much responsible for that....The number one criticism of the transformation model of the authority/obedience model is this: that the authority/obedience model turns people into pod people, turns people into blind, believing robots, who not only do not question themselves, but they do not question their masters, they do not question life. They are people who are basically cowards. They have allowed their fear to rule over them so much, that they just accept whatever the Pope tells them, or whatever their Christian minister, or their priest tells them, or their imam tells them, or their Hindu priest, or whomever is telling them that. They don't try to live life at the front lines. They let someone else taste for them.
Dr. Carter shows not the slightest familiarity with a major portion of Christian theology and paints with a brush so broad that the results are predictably inaccurate and prejudiced.

It's a very interesting question to ask: Gee, why is it, that the Western religions, Christianity being the most murderous religion by far, by far, and second Islam, being the second most murderous religion in history...
Of course, a little closer examination of the facts of history would show that the majority of those murdered by "Christians" were...Christians, because Rome is being lumped in without any recognition that most of those she murdered were Christians. And of course, all of this ignores how communism in a single century put all religions to shame in the murder department.

In fact, that's the primary concern about where the Third World War is going to come from, between the Christian fundamentalists and the Muslim fundamentalists. Because the Christian fundamentalists are scarey from my point of view because they want Armageddon. They want atomic warfare. Their ready for the end of the world. They want to be jumped up into heaven so that they can laugh at all the rest of us scumbags who are going to be down here suffering. And they are arrogant enough to believe that's going to happen. And if you're arrogant enough to believe that's going to happen, then you are arrogant enough to try to elect a President who is going to bring it on---and I do mean bring it on. You remember the phrase "bring it on"? Yes? That's scarey stuff, that's quite scarey stuff, at least from my point of view it is.
I suppose there might be a nutball or two out there looking to help Armageddon along by voting for George Bush, but I get a very, very strong feeling that Dr. Carter is just a tad bit lacking in his knowledge of the variety of eschatological viewpoints expressed in Christian scholarship. Only a few weeks ago I recall my fellow elder saying in the Sunday morning sermon, "Therefore, if we take this text in its historical context, there is no such thing as a coming Battle of Armageddon." I guess that entire spectrum of biblical interpretation doesn't fit into Carter's definitions of Christianity. Or, if he does actually know something about such things, we have another example of "let's not show Christianity enough respect to actually tell the truth about the situation." And since I heard him earlier in the lecture correctly differentiate between the Sunni and Shiite uses of "imam" (though he then later incorrectly said the Qur'an says the Bible is full of errors), he surely knows how to show enough concern to make proper distinctions. He just doesn't want to do so when it comes to the primary objects of his disdain.
And so we press on....


20:40:32 - Category: Christian Worldview - Link to this article -

Baptism Debate Audio Posted
11/09/2007 - James White
As I noted, we pre-empted our normal Thursday evening Dividing Line so as to bring you the two hour debate on baptism between myself and Dr. Gregg Strawbridge. This is the first time I have been involved in a debate using Skype as the mechanism, and I must admit, that outside of one or two break-ups (at least from what I heard on my end), it worked quite well. The sound quality was very good. Of course, we live webcast it as well. I have seen some very interesting comments on the web concerning it. Some were surprising, most were exactly as you would expect. Here's the program (free/high quality).


19:23:14 - Category: The Dividing Line - Link to this article -

Recent "Iron Sharpens Iron" Broadcasts
11/09/2007 - James Swan
This past Tuesday Chris Arnzen's Iron Sharpens Iron show had Dr. White as a guest giving an overview of his recent debate with Muslim apologist Shabir Ally. For those of you who want to prepare for dialoging with Muslims, this show provides excellent introductory material and lays out the basic issues. The show can be found here.
This week, Steven Lawson returned as a guest to continue discussing his book, The Expository Genius Of John Calvin. This show can be found here. Steve Camp discussed "The Immutability Of God." This show can be found here. Dr. Charles Curtman discussed "Modern Evangelicalism's Departure From Biblical Christianity," which delved into such things as "easy believism" and "decisional regeneration." This show can be found here.
Finally, why are there so many Protestant ministers swimming the Tiber? Chris wrote a helpful answer, found here.



07:27:19 - Category: General Apologetics - Link to this article -

Baptism Debate: 8pm EST
11/08/2007 - James White
Just a reminder that we have worked it out so that we can webcast the baptism debate this evening between myself and Dr. Gregg Strawbridge, editor of The Case for Covenantal Infant Baptism. Some will remember that this was the book noted at the beginning of the baptism debate last year with Pastor Bill Shishko, and it is likewise the book containing the chapter by Pastor Jeff Niell that I interacted with in my Reformed Baptist Theological Review article on Hebrews 8 as well. I think we are scheduled for two hours, as far as I can tell, but I'm not 100% certain yet. In any case, the program will come to us from the folks at Covenant Radio. If the technology functions as it should, the quality should be very high. Of course, evening time is high traffic time in the US on the net, so the Skype factor could be a wildcard. We will see! We are scheduled to begin at 6pm MST, 8pm EST. Remember, this will take the place of our regular Thursday Dividing Line, but will be available at the regular webcasting URL, here. May the Lord be glorified in all that takes place this evening!


10:24:55 - Category: Reformed Baptist Issues - Link to this article -

Baptism Debate: Thursday, 8pm EST, to Take Place of Thursday Dividing Line
11/07/2007 - James White
The live debate we will be doing Thursday evening, 8-10pm EST, with Gregg Strawbridge, on the topic of baptism, will take the place of the regular Thursday evening Dividing Line. You will be able (Lord willing!) to listen to the debate live at the regular DL link. We will start webcasting a good bit early to test the connections. See you then!


16:30:20 - Category: The Dividing Line - Link to this article -

Justification Does Matter
11/07/2007 - Jeff Downs
Read John Piper's latest book The Future of Justification: A Response to N. T. Wright (Crossway, 2007) by clicking here.


13:37:10 - Category: Theology Matters - Link to this article -

That Group Picture I Promised You! And a Test
11/06/2007 - James White
Formal night is always fun on a cruise. Folks clean up pretty good! Here's most of our group, minus, sadly, Rich and his family (who got sent the wrong direction by someone on the ship's staff!). The sun was setting and coming through the huge windows at the back of the Mercury (it's a gorgeous dining room), so the colors are off a bit, but still, not too bad for a bunch of...Calvinists! We had a great time with the whole group, and look...we are multiplying! Children even! (Quick Update: Chris Bence sent me a much improved version of the picture, for which I'm thankful!)
A few folks have been asking about the next major event like this, and we are, in fact, in the planning stages. Just pray that we follow the Lord's leading and provide the most useful and beneficial conference and debate for Christ's people. That is always our goal: a time of great blessing that will have benefits for a long time here on earth, and, of course, likewise for eternity.
Some probably did not even notice it, but I inserted an Arabic term into my last blog article. Obviously, dealing with Islam and the Qur'an requires the use of Arabic just as I at times provide Greek and Hebrew terms as well. But getting these to display for folks isn't overly easy. We have linked to the BibleWorks fonts I use for those of you who read this blog regularly so that you can follow the use of those languages. Hopefully, we are utilizing the unicode settings of your browsers and systems, for so far, at least on Windows and Unix systems, the fonts have displayed properly. Here is another test, this time posting the words of Surah 112:



قُلْ هُوَ اللَّهُ أَحَدٌ
اللَّهُ الصَّمَدُ
لَمْ يَلِدْ وَلَمْ يُولَدْ
وَلَمْ يَكُن لَّهُ كُفُوًا أَحَدٌ



Hopefully this displayed properly on your system! Obviously, I do not intend to flood the blog with Arabic anymore than I have flooded it with Greek or Hebrew. But at times, it is helpful to provide the original language so as to clarify a point.


14:37:57 - Category: Misc - Link to this article -

Today on the Dividing Line
11/06/2007 - James White
Started off with some comments on the Fred Phelps cult out of Kansas, took a call on Robert Sungenis appearing on the WHI, and then tackled some more of Shabir Ally's comments post-debate. Here's the program (free/high quality).


14:35:00 - Category: The Dividing Line - Link to this article -

Do This in Remembrance of Me: Luke 22:19
11/06/2007 - James White
Recently Shabir Ally posted the following as part of his response to our debate in Seattle:

Did Jesus Really Say, "Do this in remembrance of me!"?
These words are attributed to Jesus in the Bible in Luke's Gospel 22:19b-20: "Do this in remembrance of me!" In this way, we learn, Jesus instituted the regular observance of the Eucharist, the use of bread to symbolize the eating of Jesus' flesh; and wine to symbolize the drinking of his blood. I pointed out in the debate that these words are missing from some very important early manuscripts, and for this reason many scholars deem it a later addition. Hence this cannot be taken as a reliable proof that Jesus said these words.
James seems to have forgotten what the point was. On DL he asserts that I reject these words simply because they disagree with Quranic teaching. He then uses this as a starting point to launch an attack on the prophet Muhammad. But I think it is important that we do not become side-tracked. These problems exist apart from Muhammad and the Quran. If I reject the words on the basis that they disagree with Islam, on what basis do many Christian scholars reject them? And on what basis were they removed from the 1952 edition of the Revised Standard Version of the Bible?

Last Thursday on the DL I mentioned that I wanted to listen to the recording of the debate to hear what Shabir had actually said at this point in the debate. My recollection was that he had said that "scholars feel this is a later addition," which I took to be an assertion of redaction criticism, i.e., a claim without documentary evidence to back it up. I did not recall Shabir saying "this is a textual variant in the Greek texts, and some reject the reading as it appears in the printed Greek texts." I would have immediately responded to that claim by grabbing my critical Greek text and checking the manuscript evidence. Though Rich hasn't been able to get me the audio of the debate quite yet (we are both digging out from under the backlog that develops when either of us is away from the office for any length of time at all), one of those in attendance had an mp3 recorder going. The sound is a little muffled and very bassy, but I believe this is an accurate transcription of the comment made by Shabir about 58 minutes into the debate:

But that saying in Luke's gospel where He says do this always in remembrance of me is thought by many scholars to be a later addition into the gospel according to Luke. And if it is a later addition into the gospel according to Luke, then we must ask, "Where did it come from?" It actually comes from one of the letters of Paul. Paul was the first person to have said this. And so you see where the inference (evidence?) is going. Paul say something, and now we are trying to put it into the gospel to make sure that in fact Jesus said it.

Now, Shabir Ally has a tendency to use the phrase "thought by many scholars" as a catch-phrase for almost anything he has found in his reading and research. So, he can say that "scholars" view the Gospel of Thomas as earlier than the Gospel of Mark, when, in fact, he is referring to a single scholar, a liberal professor at Boston College, who believes that certain sayings in Thomas predate Mark. The vast majority of scholarship sees Thomas, as a literary work, being much later than Mark, but, that one phrase "scholars think" or "scholars have discovered" can cover a whole lot of less-than-compelling documentation. Now normally when Shabir talks about "scholars" concluding that such-and-such a text is a "later addition" he is referring to the fact that some scholars treat the text of the NT as a jig-saw puzzle, freely deciding that any texts that do not fit into their own personal paradigm of what they think the early church would have written can be dismissed as a "later addition" without a scintilla of physical or even literary evidence. This is how I took his comments above, and since he never mentioned the key concept of "textual variant," I responded to that assertion. He did not point out that there is a textual variant in the manuscripts, so I can only reply to the assertions as they are made.
Surely, had Mr. Ally noted the textual variant, I would have gladly addressed the topic. As I mentioned on the DL, I would have jumped at the opportunity to address something that actually smacks of factuality, something you can dig your teeth into, rather than "Well, this one scholar has this theory, see, and based on this one person's theory, then, we can assume that this book went through this many permutations, though, of course, we don't have any evidence of this historically, but, still, this scholar had a paper published at a symposium for coming up with this theory, and so..." type of "scholarship." You eventually become tired of this scenario:

"Where does the NT teach this?
"Right here."
"That passage was added later."
"Who says?"
"My scholars."

So let us take a look at the assertion that Jesus never said "do this in remembrance of me," but that, instead, this is the creation of Paul.
First, what would we have to believe for Mr. Ally's theory to hold true? Few have yet come to realize that the recent re-statement of what had been a historically understood reality--specifically, the presence of eyewitnesses in the Christian community for decades on end, and in a wider locality than just the environs of Jerusalem--by Richard Bauckham has a wide impact in the apologetic area as well. The theories that present the early church as a hive of redaction critics producing numerous "versions" of the stories of Jesus is simply naive, despite how often it is repeated in modern Western academia. Aside from the fact that the persecution of the early Christians hardly produces a context in which such editorial activity is a likelihood, the fact is that the core of Jesus' words was the common property of the entire community, and not just in one location, either. Just as the purposeful emendation of a written manuscript leaves evidence of when compared with other manuscripts, so too the redaction of the "oral tradition" of teaching that can be seen in Acts would produce conflict with the continuing ministry of eyewitnesses all through the apostolic period. The idea that someone could just come along and willy-nilly change the very substance of such things as the institution of the Lord's Supper flies in the face of the existence of this shared, core message, supported by multiple witnesses. It presents a mythical early church where there is no community, no shared confession of faith, and no one with the discernment to say, "Wait, that is not what we have believed, that is not what the apostles of Jesus taught."
So, to hold Shabir's view, we would have to once again accept the idea that the early followers of Jesus were so cowardly, so weak, so without commitment, that an evil, scheming Jewish rabbi named Saul could come along and completely destroy the nascent Christian movement. He could pervert it from its true Muslim nature to something completely different, so much so that Paul could lead literally billions astray, causing them to commit shirk, the very sin of idolatry! And that in the midst of this take-over, somehow Paul could alter the very words of Jesus Himself in the inauguration of the most primitive Christian celebration, the Eucharist, the Supper! Imagine that! And somehow, no one said a word about it. Or, at least, if they did, somehow Paul managed to suppress their words, too!
So we move from the highly speculative to the fact that there is, indeed, a textual issue to be addressed regarding Luke 22:19-20. And on the simple textual critical level, Shabir Ally is correct: there are scholars who would question the originality of the text due to "parallel corruption," i.e., the influence of 1 Corinthians 11:24-25. However, it should be immediately pointed out that the form of the text found in, say, the NA27 and in almost all English translations is that which is found in all Greek manuscripts (except D) and most of the ancient versions. In almost all instances this overwhelming manuscript concensus would be sufficient to conclude the issue. 19b-20 is missing primarily in Latin (i.e., Western) versions, and D is notorious as a Greek/Latin manuscript for having, to put it mildly, odd readings (its exemplars were obviously not exactly mainstream, and just how much one language influenced the other is obviously difficult to determine). But since Luke stands alone in providing the words "do this in remembrance of Me" in the Synoptics, focus has been put upon this text. However, I think it is important to note that the only clear relevance to our debate was with reference to the phrase "do this in remembrance of Me." In fact, look at the parallel texts in Matthew and Mark:

Matthew 26:26-29 While they were eating, Jesus took some bread, and after a blessing, He broke it and gave it to the disciples, and said, "Take, eat; this is My body." 27 And when He had taken a cup and given thanks, He gave it to them, saying, "Drink from it, all of you; 28 for this is My blood of the covenant, which is poured out for many for forgiveness of sins. 29 "But I say to you, I will not drink of this fruit of the vine from now on until that day when I drink it new with you in My Father's kingdom."

Mark 14:22-25 While they were eating, He took some bread, and after a blessing He broke it, and gave it to them, and said, "Take it; this is My body." 23 And when He had taken a cup and given thanks, He gave it to them, and they all drank from it. 24 And He said to them, "This is My blood of the covenant, which is poured out for many. 25 "Truly I say to you, I will never again drink of the fruit of the vine until that day when I drink it new in the kingdom of God."
It is very, very obvious that this is sacrificial language, the very language that Shabir Ally has to cast back upon the Apostle Paul, asserting that even a source as early as Mark is in fact corrupted by Paul's influence. So if that is his explanation for this sacrificial language in Matthew and Mark, why even bother trying to make the case that the phrase tou/to poiei/te eivj th.n evmh.n avna,mnhsinÅ ("this do in remembrance of Me") is based upon Paul? Isn't all of the sacrificial language due to Paul in the first place, according to his theory? Why even focus upon this singular phrase? What is its over-all relevance, given that in reality, what Shabir needs to do is prove his allegation of gross corruption on Paul's part, and the complicit acceptance of Paul's authority by Matthew, Mark, and Luke?
To the right I have reproduced the text of Codex Bezae Cantabrigiensis, i.e., Codex D, the only Greek manuscript lacking the reference to doing remembrance of Christ in Luke 22. This image is taken from Scrivener's transcription of the manuscript. My translation of the relevant portion follows:

And when He had taken bread and given thanks He broke it and gave it to them saying, "This is My body. But behold the hand of the one betraying Me is upon the table."
Now, what is odd is that the text as it stands in D is very awkward. Plh.n ivdou., where D picks up again in line with the rest of the Greek manuscript tradition, simply doesn't fit where it stands in D without the preceding text to give it context. Even in English translation the break between "This is My body" and "But behold..." is jarring. When a single manuscript goes out on its own like this, it is far more likely it is either a glaring scribal omission, or, it is being influenced by something else (in this case, the Latin text). Further it is not simply the phrase tou/to poiei/te eivj th.n evmh.n avna,mnhsinÅ ("this do in remembrance of Me") that is omitted in D and the Latin families, and the rest of what is missing has parallel in Matthew and Mark; that is, it is not merely from Paul in 1 Corinthians 11. So while the possibility of parallel corruption must be kept in mind and examined, the fact that D's break includes material not found in Paul alone has to be acknowledged as well.
So what was Mr. Ally's point? He insisted that the first person to say the words "Do this in remembrance of Me" was Paul. The context would then be, "not Jesus." Assumption? Paul is an innovator, an evil corrupter of the truth about Jesus. Yes, I know, Mr. Ally may wish to be less strident in his terminology than, say, an Ali Ataie would be, but let's face the facts. If Paul is putting words in Jesus' mouth that from the Islamic perspective spawn idolatry (شرك, shirk) and cause people to move away from the true worship of Allah, how can Paul be described as anything other than evil? So, if something is found in the New Testament, and it can in any way be connected to Paul, Mr. Ally's perspective is that it must be rejected. Given that he acknowledges Paul's writings to be the earliest in the NT, then it follows that anything he finds in the NT that contradicts his Islamic beliefs can be traced back to Paul and thereby rejected. It is any wonder, then, that he concludes that the only things in the NT that are still inspired are those that agree with Islam? And does it not follow inevitably then that he will interpret the NT in the most contradictory, fragmentary way, again because of Islamic Anachronistic Eisegesis, reading the NT through the lens of the Qur'an? This is surely the case.
The fact of the matter is that there is every reason to see that in Paul's letter to the Corinthians he is, in fact, passing on to them what had been passed on to him in his instruction by the early days of his conversion and in his visitation with Peter and the Apostles in Jerusalem. Just as Paul did not "invent" the death, burial, and resurrection of Jesus (1 Corinthians 15:1-5), but was passing on the most primitive core of the Christian gospel which preceded him in the faith and which was the common possession of all believers, so too he was simply passing on that which had been entrusted to him (VEgw. ga.r pare,labon avpo. tou/ kuri,ou( o] kai. pare,dwka u`mi/n( "for I received from the Lord that which I also delivered to you" may mean this was part of a divine revelation, but could just as easily mean that he received this tradition "from the Lord," i.e., it had its origin in the Lord's words, but without precluding the mechanism of it being passed on to him from the Apostles) and which was likewise the common possession of the faithful. Once the assumption is made that we are free to chop the NT text up in any way we see fit to make it amenable to our pet theories, the sky is the limit (as modern scholarly writings demonstrate). But let it not be forgotten that one does not have to buy into such flights of fancy. One can maintain one's intellectual integrity and continue to treat the ancient texts with the respect that is due to them.


09:24:50 - Category: Misc - Link to this article -

Gary DeMar of American Vision Interviews My Daughter Summer
11/05/2007 - James White
Gary DeMar wanted to hear about Summer's encounters with Dr. Lee Carter, so we did an interview this past week. Summer surely proves "the apple doesn't fall far from the tree." In the second half of the program Gary and I discussed Islam. Gary and I met for the first time in June while we were both speaking for Coral Ridge Ministries in Hawaii. Enjoy the program!


14:55:21 - Category: Christian Worldview - Link to this article -

Baptism Debate Thursday Evening
11/05/2007 - James White
I will update you on the details a bit more later, but I am doing an on-line "debate" with Gregg Strawbridge on baptism this Thursday evening, 8pm EST. At the moment I am uncertain of all the details as to whether we will be able to webcast it or not. It seems others will be using Skype, so I'm wondering if I can somehow manage to do the same thing on my laptop, and then feed all that to our webserver. Details, details. Anyway, I'll let you know how that is going to work out on Thursday.


11:29:10 - Category: Reformed Baptist Issues - Link to this article -

Yesterday on The Dividing Line
11/02/2007 - James White
Yesterday I replied to a number of points raised by Shabir Ally in the "post-debate discussion." In fact, I rambled on...for an hour on the subject. I promised to post the textual data on one of his assertions from Luke 22, and I will do that later today. Here's the program (free/high quality).


11:25:23 - Category: The Dividing Line - Link to this article -

On Tuesday's Dividing Line
11/01/2007 - James White
I don't think I've ever been this late blogging the DL. Summer and I were interviewed for Gary DeMar's program with American Vision yesterday morning, and for some reason I just spaced noting the DL. A pot-pourri of calls and topics. Here's the program (free/high quality).


11:31:03 - Category: The Dividing Line - Link to this article -

More Defense of the Cross: Response to Shabir Ally Continued
11/01/2007 - James White
I continue with my response to Shabir Ally's post debate writings. I note an even longer response has been posted by Mr. Ally, and since many of these issues are relevant to a wider range of apologetic concerns, I will continue focusing upon these materials before moving back to Steve Ray and Ali Ataie.

Matthew's Gospel shows that Pilate granted their request to have the tomb sealed up. But there is a lapse in the logic of the report. Matthew does not say that they actually checked to see if Jesus' body was still in the tomb before they sealed it up.
Note the assumption: that there was even the slightest question as to the death of Jesus to begin with. Shabir is completely missing the impact of one term here, as it was heard in those days: crucified. He has created a greatly unrealistic view of this method of execution, and, as a result, has placed the entirety of his argument on the probability that the Romans could fail to execute someone by this means. As I have pointed out, the Romans were experts at death. There was a reason why they were the supreme military power in the world. So I would ask Shabir Ally to give us an estimate of how often the Romans pronounced someone dead by crucifixion, as the centurion himself testified to Pilate, who was then buried and...somehow extricated himself from the grave? I have heard Shabir make reference to people who had been buried being found alive in the grave in ancient times, but none of these referred to death by crucifixion. They seemed to have been related to mistakes being made due to long illnesses, not to the extreme violence of execution by crucifixion.
This reminds me of Shabir's major error in his debate at Regent University when he attempted to establish the point that possibly Jesus had been tied to the cross, not nailed to it. As I have mentioned on The Dividing Line, Shabir's opponent bested him in this discussion, for the single source Shabir noted actually used the more scholarly source Licona was citing on the crucifixion, and Licona was rightly challenging Shabir to go beyond secondary sources and actually provide direct primary sources in defense of his assertion. The fact is, Shabir will find any factoid he can dig out of history to try to prop up what is truly an amazing claim: that the Romans in the first century blew it and failed in their task to crucify Jesus of Nazareth, and it is this fact that accounts for the rise of the Christian religion! While he does not want to embrace the common "substitution theory" that most Muslims promote, is it really any less anachronistic and a-historical to attempt to establish such a theory on the basis of picking at the edifice that is the historical reality of the crucifixion of Jesus? "Well, ancient people did not have the complex medical technology we have, so, maybe Jesus didn't die!" Well, let's be clear: not having complex medical technology did not increase the number of survivors of crucifixion. And people still died, in even greater numbers, without said technology. It is next to impossible to hide the movement of breathing while hanging on a cross, and you still die if you don't breathe. So consider the probability hill Mr. Ally must climb: 1) percentage of folks the Romans messed up killing by crucifixion x 2) the chances all the eyewitnesses who knew Jesus had faked it on the cross could be silenced for, say, at least 600 years x 3) the chance all the apostles were a bunch of deceiving liars or, simple-minded men easily deceived by Jesus (or Paul?). I don't know about you, but the math I would apply to that equation comes out with only one answer, "Desperation."

I believe that reviewers of the debate will find that James did not answer these points. His numerous citations of historians who asserted that Jesus had died by crucifixion do not answer the specific point I am making. In response to these citations, I explained that from the point of view of history Jesus died by crucifixion on the assumption that he did not again appear alive to his disciples. The moment anyone begins claiming that he appeared alive again we would have to ask, as E. P. Sanders in his book Paul: A Very Short Introduction suggests that we would naturally ask: "How do you know he was really dead?"
If Mr. Ally's followers can be convinced by an argument with no historical probability behind it, this only proves that the real authority in their thinking is, in fact, those 40 lonely Arabic words written six centuries later. It is surely not the conclusion one will come to by any even semi-unbiased examination of the available information that can be placed in the first century after the events themselves. Further, it is not the case at all that the conclusion of historians is based simply upon the assumption that someone would be dead by now had they lived back then; even critical, skeptical scholars recognize the wide testimony to the crucifixion of Jesus under Pilate. Shabir's dismissal of these sources is gratuitous, inconsistent, and clearly based upon his fidelity to Surah 4:157, even in his minority reading of it.

My presentation on this question shows that there was considerable doubt as to whether Jesus really died on the cross. And this, I maintained, is what the Quran meant when it said:
And those who differ about the matter are in doubt concerning it. They have no knowledge of the matter, but follow only a conjecture. They killed him not for certain. But God raised him to himself. And God is Mighty, Wise. (4:157)
As we have seen, there is no substance to Shabir's assertions. There was no "doubt" at all, let alone "considerable" doubt, and only by a clear misuse of sources, together with a gratuitous dismissal of all counter-evidence, can such an argument be put forward. This was clearly demonstrated in the debate, and is being more clearly demonstrated in the follow up conversation. Remember, in the portion not quoted above it was said, in parallel with "they did not kill him," "they did not crucify him." We need to factor into the micro-sized probability of Mr. Ally's argument the idea that "they did not crucify him" actually means "they did crucify him....just not to death."

In the cross examination, I pointed to another piece of evidence to indicate that Jesus did not die on the cross. According to John's Gospel, the crucifixion occurred outside of Jerusalem. But Luke's Gospel has a remarkable episode in which Jesus says he must press on to Jerusalem, because "it is impossible for a prophet to die outside of Jerusalem" (Luke 13:33). I asked James if there were not prophets who did in fact die outside of Jerusalem. He answered that indeed there were. But he added that Jesus meant only himself as the prophet who could not die outside of Jerusalem. Now, logically, if Jesus cannot die outside of Jerusalem, and the cross was outside of Jerusalem, then Jesus did not die on the cross. James explained that when Jesus mentioned Jerusalem he did not mean strictly Jerusalem. In that case, he claims, it does not matter that he actually was crucified and died just outside the city gates. I leave it to reviewers of the debate to comment on this part of our discussion.
At this point, I truly must comment that I find this argument completely without value or weight, on any level, and I believe the majority of readers would have to agree. First, it requires us to believe that though the New Testament writers are all attempting to deceive us into believing in the death of Jesus (which they either knew didn't actually happen, or, they believe happened erroneously due to Paul's lies), yet somehow they "gave evidence" about a conflict they didn't even know about. It is very hard to take this kind of "interpretation" seriously. Next, as I explained in the debate, this is a judgment narrative, as the parallel in Matthew shows. The point is that it is Jerusalem that has killed the prophets, and it will be Jerusalem that once again carries out this task, demonstrating the hard-heartedness of the leadership and the righteousness of God's judgment that is to come upon the city. It is true that Golgotha is technically outside the city walls of Jerusalem. It is just as plain and obvious that the entire environs around Jerusalem can be properly subsumed under the name of the city as well. This is common linguistic convention. If speaker were scheduled to speak at, say, Arizona State University, no one would fault them for saying they were flying to "Phoenix" when, technically, they would be speaking in Tempe, a suburb of Phoenix. I say I have lived in Phoenix since 1974 when again, technically, I lived in Glendale a number of those years, another suburb. "Outside of Jerusalem" would first be outside of Jerusalem as defined in this pericope, that is, Jerusalem as the center of Jewish power and authority; secondarily it would be the location of the Temple mount and the capital city, and no one could seriously mount an objection that this would not, for the hearers of Jesus' words, include Golgotha.
Once again, the application of this kind of strained argumentation to anything in the text of the Qur'an would, of course, be immediately dismissed by Mr. Ally. The inconsistency of his position is, therefore, once again illustrated.

On the whole, I do not believe that James came anywhere near to proving the first part of the topic: that Jesus died on a cross. I will have much more to say on the other parts of the topic, especially about the difficulty James had in dealing with the logic of God killing his son. But I really think that this sort of analysis should be done independently of James or me. I only felt it necessary to respond to James's incredible claim that I did not in fact respond to his points about the Quran's denial of the crucifixion. I hope that reviewers will find that the response I have given here corresponds roughly to what happened in the debate itself.
Let's put Shabir's claims in context: he admits that all of the first century evidence, as it exists today, says Jesus died upon a cross. This includes not only the New Testament writings, but the early Christian writings, and even the few secular sources that have come down to us. He likewise admits that on the positive side of the equation, he has nothing to present in defense of the claim that Jesus lived after the crucifixion. He has no first century denials. He cannot explain why those who knew the truth, whoever they were, never made their views known. His attempt to say that the original real followers of Jesus were illiterate and hence could not write does not explain why they could not even speak or preach. So we have "all available data says X" versus "no available evidence says Y." But, this is not all: Y, Shabir Ally's theory, requires us to believe an extensive conspiracy theory; it requires us to believe that men who were willing to give their lives for what they wrote and proclaimed were either liars, or deceived; and it likewise requires us to believe that the Romans were lousy executioners. The entire probability of Y involves taking all of these issues together. I do indeed leave it to the reader to determine who has laid out the best case.
Two days after posting this portion, Mr. Ally posted a much longer article, to which I will turn in my next installment.


00:01:00 - Category: Islam - Link to this article -