Alpha & Omega Ministries Apologetics Blog

Our Anniversary: And You
09/30/2008 - James White
This month marks the 25th anniversary of the founding of Alpha and Omega Ministries in October of 1983. We are not planning anything spectacular...just keeping our nose to the grindstone and preparing for London, Duke, and Bart Ehrman---the things we need to be doing. We are not big on blowing our own horn, but that doesn't mean we do not need encouragement and support like anyone else.
So we have set up an e-mail address, testimonies@aomin.org. I would like to invite our supporters to drop us a line about what Alpha and Omega Ministries has meant to you over the years. I'd like to read these notes myself, and then pass some along here on the blog during the course of the month. So if this ministry has been used of the Lord in your life, let us know. Drop us a line at testimonies@aomin.org!
17:14:12 - Category: Misc - Link to this article -

Pictures from the Bellflower Debate
09/30/2008 - James White
I noticed him sitting off to my left. A photographer with a big camera and a big lens. I really did not give it much thought, though, it was a bit unusual. I was focused on other things, so by the time I got to my hotel that night, I had pretty much forgotten about it. Until he contacted me after I got home and directed me to a web page with his pictures on them. I've done a lot of debates, but I've never had a truly professional photographer there to take pictures. Or, if I did, I've forgotten all about it! In any case, Brandon Adams took some great shots during the debate. He managed to position himself so as to use the background perfectly. These are probably the best debate shots I've ever seen, so, I thought I'd share a few with you. They turned out a whole lot better than the debate itself did! Too bad he couldn't be at the debate the next day with Farhan Qureshi. In any case, here they are....
16:51:55 - Category: Misc - Link to this article -

Today on The Dividing Line
09/25/2008 - James White
Today I started off with Osama Abdullah's allegation that Jesus "ran" from His own creation when He fled to Egypt. Of course, He was an infant in His mother's arms at the time, but hey, let's not let reality get in the way of a good argument! Then we took a call on the role of presuppositions in the study of Scripture, and then dedicated the last half hour to the 1993 sola scriptura debate with Patrick Madrid. Here's the program (free/high quality).
22:26:29 - Category: Misc - Link to this article -

A Wish List at Solid Ground Books?
09/22/2008 - James White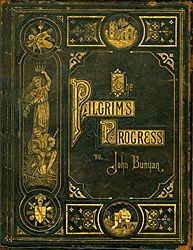 You know how Amazon has a "wish list"? I wish Solid Ground had a "wish list," because this volume would be right up at the top of mine. With such swill as The Shack being promoted by non-discerning "evangelicals" today, oh how wonderful it would be if Bunyan's work had a re-birth amongst those so desperate for sound reading and instruction! This 920 page behemoth looks like a real coffee-table edition that will beg to be read. So note to Mike at Solid Ground---you need a wish list!
12:01:24 - Category: Misc - Link to this article -

Did Jesus Claim to be God? James White and Farhan Qureshi
09/22/2008 - James White
The last debate of the weekend took place outside Escondido, California. I had the privilege of engaging young Farhan Qureshi. I hesitate, honestly, to speak of how much I respect this young man, and pray for this young man, simply because I know he might take heat for my doing so! But I truly did find in him a debater who, like Shabir Ally, actually listens to what I am saying and who seeks, as best he can within the parameters of the epistemology forced upon him by his religious faith, to respond to my position as I enunciate it. This is unusual in Islamic debaters, as my debates with Osama Abdullah showed, for I had to come to the conclusion that once I stood at the podium, Mr. Abdullah turned on his iPod and listened to music or...something, since one thing was obvious, he was not listening to me. Mr. Qureshi sought as best he could to respond to what I was actually saying, and that made this a worthwhile debate.
I only have the video clips from my now famous "audience cam," and those only of the rebuttals, cross-ex, and closing. The professional video will be available...when it is available. The recordings of the Jalal Abualrub debate took about five months to get to me, so, I hope these come more quickly, but I really have no control over that. Despite this, I can guarantee you that I will find in the comments on YouTube, "Why don't you play the Muslim debater's comments? You are deceptive! You are scared! Blah blah blah." Happens every time.
I will address the debates more fully in my comments on The Dividing Line tomorrow. Be listening!
11:30:49 - Category: Misc - Link to this article -

The Irony of Challenges
09/19/2008 - James White
As most of you know, this coming weekend will be filled with opportunities to proclaim the Gospel of our glorious Jesus Christ. I will be presenting and defending the Christian view of sin and redemption Friday evening, the atoning work of Christ and the accuracy of the New Testament documents on Saturday, and the deity of our Lord Jesus on Sunday. I am working day and night to get my presentations ready (please pray for me!), and I pray that the resultant debates will be useful to the people of God all around the world and in particular the persecuted believers who suffer under Islamic oppression. Pray that the recording of the debates will go well.
Of course, only a few weeks in the future is London, more debates and preaching, and then, just a few weeks after that, Florida and the encounter with Bart Ehrman and my defense of the inspiration of the New Testament.
Truly, the next four months will be a tremendous challenge, and a tremendous blessing. In just a few weeks we will celebrate twenty five years of ministry. Alpha and Omega Ministries started in October, 1983. We have seen many come and go during those years. We have been around a while now, but we are still a small ministry in the eyes of the world. We like to think of ourselves as "lean" rather than small, content with God's provision, not seeking the large facilities and all the attendant distractions. Yet, for such a small ministry, the opportunities before us are amazing. Truly, when two young married couples got together and started this ministry twenty five years ago we never could have dreamed of the outreach that would be accomplished. At the time, we just wanted to witness to Mormons. But the Lord had larger plans.
The irony of challenges is that in my experience, right as the pressure reaches maximum is when something else will come along that makes you realize your utter dependence upon God and your own self-limitations and incapacities. I would imagine we have been less impacted by the economic down-turn than most, simply because we do not have almost any "major" donors. Our support comes from people just like us who see the unique nature of this ministry and, after taking care of their duties to their local church, seek to help us as well. We don't have any high-flying Wall Street folks pouring money through our mailbox. So, when those high-fliers are getting shot down, that's not a major issue for us.
But $4 gas and $4 milk gets to everyone eventually, and so yes, we've felt it as well. Now unlike some, you won't be getting six copies of the same e-mail from me seeking to scare you into giving or all your children will end up in some kind of cult group. But we have new folks coming to our website and listening to The Dividing Line all the time, and since we almost never mention support and donations, sometimes they figure we are already "set." So let me explain that like most everyone else, we do what we do through the generosity of God's people. I take many very unpopular stands on tough topics, so it is hard to "market" a ministry like this in a compromising, frightened evangelical context. So we stay small so we can stay truthful. But even the smallest ministry needs support. So please remember us when you are considering your role in the support of Christ's kingdom. We are not a church, and we strongly believe that believers should support their local fellowship first before looking anywhere else. If that is all the Lord enables you to do financially, then would you please pray for us? And if, after doing what is right regarding the church, you choose to assist us in continuing our work in proclaiming and defending the Gospel, we would be deeply appreciative. We promise to use those funds to the glory of God and the furtherance of the kingdom of Christ. You can go here to help us as we move into this very challenging and exciting period of ministry and proclamation.
12:00:00 - Category: Misc - Link to this article -

May I Highly Recommend....
09/15/2008 - James White
Sometimes I wonder at the level of theological dialogue and discourse today, especially when I have those precious few moments to rummage through the words of the giants of the past. One of those men was John Owen. I have been greatly blessed by his writings, and greatly challenged as well. He calls us to think far beyond the level that passes for "normal" in our day.
Logos is close to closing its pre-publication sale on the entire set of Owen's works. You can get the details here. If you have the Libronix library system, this is one set that is worth three modern sets of theological writings in worth, simply because Owen does not struggle with the mind-numbing, heaven-minimizing, earth-chaining burden of humanism that has so infected us today. He can speak of God's truth as a whole, God's purposes as true, and hence, he speaks with power and authority. I highly recommend his works, and as many of you are indeed building a library in Libronix format, this is a set to consider getting while it is still on sale.
17:56:42 - Category: Misc - Link to this article -

Humorous Note from New Mexico
09/14/2008 - James White
I am speaking at the Discern 08 Conference in Santa Fe, and we just had a Q&A section. Some of the panel included Rob Bowman, Bill McKeever, Ron Rhodes, and myself. At one point Ron Rhodes was asked about Calvinism and Arminianism. Since the question was not addressed to me, I did not intrude upon the response. But toward the end of our time Ron Rhodes had to leave to catch his flight. So, after he said his goodbyes but was still walking down the aisle toward the back of the sanctuary, I quipped on the microphone, "Now that Ron is gone...can I talk about Calvinism?" Thankfully, everyone laughed, nothing was thrown toward the stage, and Ron seemed to appreciate the humor as well.
15:58:08 - Category: Misc - Link to this article -

Monday Morning Miscellaneous
09/08/2008 - James White
Just a couple of quick notes. We will be continuing our review of the 1993 sola scriptura debate on the Dividing Line tomorrow. I have to chuckle when I see people commenting on the video, "Hey, let it go! It was 15 years ago!" The double standards are amazing. Madrid is free to make claims about the debate that simply do not correspond to the reality, but if I dare point it out and review the material, I am the one who is doing something wrong. Truly amazing. Besides, have the real issues of biblical authority versus papal supremacy changed in the 0.7% of church history that has passed since our debate? I think not.

I would like to thank Todd Lindstrom for permission to use his wonderful music in the new introduction and outro for my videos on YouTube. We have Todd's albums available in our bookstore, and you can visit his website here.
Next, I'm headed off to Santa Fe, New Mexico this weekend. Here are the details. I will be speaking on the reliability of the New Testament, the Marian dogmas, and Islam's denial of Christian truth. I hope to see my friends from the New Mexico area there!
Finally, we got a call from Joel Hemphill at our offices last week. He wanted to talk to me about this article. I wasn't in, so Rich took the call. Mr. Hemphill wanted to complain about the article, so Rich asked him what was inaccurate about what it said. So then he said he wanted to discuss the Trinity. He did object to the final line about wolves who sing, so Rich asked him if he felt it was moral to sing for money in Trinitarian churches. So he said he wanted to talk about the Trinity again. Evidently, going from being Oneness to being Arian causes a great deal of confusion. I wish I had been here to talk with him, but should he see this, I would like to remind him that I take phone calls, live and toll free, for two hours a week during The Dividing Line at 877-753-3341, so he would be welcome to call in and express his viewpoint during the program! I'm sure our listening audience would find that most interesting indeed.

12:16:42 - Category: Misc - Link to this article -

Yesterday on the DL
09/05/2008 - James White
Sorry to be so slow in getting this linked. I like posting the video with the audio, and it took me all day to get around to uploading the video (I wonder how many will be able to notice why?). In any case, yesterday we had a fairly technical program. Alan Kurschner and I discussed his paper on the textual variant at Luke 23:34, "And Jesus said, 'Father, forgive them, for they do not know what they are doing.'" We devoted the entire hour to the subject (as you can see from the earlier blog entry providing graphics on the subject). Here's the program (free/high quality).
22:46:14 - Category: Misc - Link to this article -