Alpha & Omega Ministries Apologetics Blog

An Appropriate Reformation Day Post
10/31/2009 - James White
There are some topics that really do not require much effort in the way of argumentation. Frank Beckwith's recent "pet peeve" article about the use of such terms as "Roman church" and "Roman Catholic church" is so easily refuted from Rome's own official documents that it is amazing the discussion is still going around the net. I was directed to an article by Scott Windsor commenting on the topic, and ironically, Beckwith commented as well. But let's start with a simple experiment. Open up www.papalencyclicals.net and use the search function. Let's just search for "Roman," shall we? And lets just look at, say, Vatican I, given that this was the Council that proclaimed Papal Infallibility (over against the witness of history itself). Did the Council share Dr. Beckwith's "pet peeve"? Do we find them sticking solely with the term "Catholic"? Let's see:



I, Pius, bishop of the catholic church, with firm faith believe and profess each and every article contained in the profession of faith which the holy Roman church uses, namely:




I acknowledge the




* holy,





* catholic,




* apostolic and




* Roman




church, the mother and mistress of all the churches.




The holy, catholic, apostolic and Roman church believes and acknowledges that there is one true and living God,
...
[Click Here to Continue Reading]


13:24:00 - Category: Roman Catholicism - Link to this article -

Papal Primacy versus Scripture
10/31/2009 - Tur8infan
Pope Boniface VIII, in Unam Sanctam, stated: "Now, therefore, we declare, say, define, and pronounce that for every human creature it is altogether necessary for salvation to be subject to the authority of the Roman pontiff."

Scripture, in contrast, gives universal jurisdiction to Christ alone: "the blessed and only Potentate, the King of kings, and Lord of lords" (1 Timothy 6:15) and the Psalmist declares: "Thou madest him to have dominion over the works of thy hands; thou hast put all things under his feet" (Psalm 8:6) which the Apostle tells us plainly refers to Christ: "And hath put all things under his feet, and gave him to be the head over all things to the church" (Ephesians 1:22).

-TurretinFan


11:00:40 - Category: Roman Catholicism - Link to this article -

If You Did Not Read This, You Should
10/30/2009 - James White
Mohler said it far better than I could. "The wicked freely strut about when what is vile is honored among men" (Psalm 12:8).
17:33:21 - Category: Christian Worldview - Link to this article -

Atheism: Fulfilling Romans 1
10/30/2009 - James White
God is the source of life. The heart and soul open to His guidance and light will be a heart full of life. I think of pictures I've seen of those who suffer for the testimony of Christ, and the life that you see in their eyes despite their pain is a testimony to us all. And you look at the truth-starved, worldlings in Hollywood, and under all the plastic and make-up is a shallow deadness that speaks directly to the result of love for the things of the world.
But nothing sucks the life out of someone like atheism. Especially when you are living every day to promote your hatred of God. In the case of Richard Dawkins, it must be particularly galling to be the smartest man in the world (in your own estimation) and have to constantly speak down to the mindless gnomes who continue to choose to remain in the darkness of theism. I mean really, shouldn't the Flying Spaghetti Monster illustration be enough to rid anyone of such a foolish belief?
When Paul said that those who are suppressing the knowledge of God twist the Creator/creature relationship, and as a result profess themselves to be wise, yet, in the most important realm of human knowledge, that of the Creator, are fools, he could not have hoped for a clearer fulfillment of his words than Richard Dawkins. And here is an example straight from the professor's mouth. I found this via Mark Shea, who really detests me, but I have a feeling there won't be much that I wrote above that he would take issue with.
16:05:19 - Category: Christian Worldview - Link to this article -

Yesterday on the Dividing Line
10/30/2009 - James White
I listened to a "debate" of sorts between Tim Staples and Mike Gendron recently. I do not know when it took place, but it could not have been too long ago. In any case, it was very, very brief. Tim Staples has a pretty much set presentation in those situations, and he does the rapid-fire "carpet bombing" routine of using isolated texts to create the illusion that Rome's gospel is truly biblical. And while you can't really provide much in the way of contextual exegesis in a brief radio "debate," the fact is that if you slow it down and look at each text, Staples' house of cards collapses in a heap. I took the first 50 minutes of the program to go through his presentation on the gospel verse by verse, and then took one call on what questions I would ask William Lane Craig if I had the opportunity. Here's the program.
15:11:16 - Category: The Dividing Line - Link to this article -

The Spirit Directed Magisterium?
10/29/2009 - James White



What I am suggesting in Return to Rome is that the Nicean orthodoxy offered by the Puritan divines was only possible because they had the benefit of a Spirit-directed Magisterium that had secured this orthodoxy as normative over 12 centuries prior to the Westminster Confession of Faith. (reference)



Converts (or in this case, reverts) to Roman Catholicism tend to adopt a view of history that is rosey at best, and grossly anachronistic at worst. High language about the "Spirit-directed Magisterium" sounds great in academic circles, as long as it never has to deal with the harsh, messy facts of history. But we surely have the right to ask, "just how did this Spirit-directed Magisterium produce Nicene orthodoxy?" There is this little problem of history in the way: Rome was not in charge at Nicea. In fact, Rome had next to nothing to do with the Nicene definition, and in fact, it was Alexandria, in the following decades, even in the face of Roman capitulation to the rise of Arianism, that stood firm for the Nicene formulation, and that against the entire weight of the "formal" church of that day. Did the Spirit-directed Magisterium move to Alexandria for a few decades in the middle of the fourth century? And if this Spirit-directed Magisterium is not to be equated with Rome itself at that time, why should it be today?

Of course, if Rome gets to take credit for Nicea, does she take credit for Nicea II and its incredible mishandling of Scripture? For the many errors of the medieval period, or the promotion of the Malleus Maleficarum? How about the theology behind the Inquisition? Was that part of the Spirit-guided Magisterium, too?
19:01:55 - Category: Misc - Link to this article -

Debate Info for Next Week!
10/29/2009 - James White
"Jesus in the Qur'an & the Bible":

A Live Muslim-Christian Dialogue



Saturday, November 7th, 7pm



United Presbyterian Church



62-54 60th Place



Ridgewood, Queens, NY


Dr. James R. White is Director of Alpha & Omega Ministries, a Christian Apologetics organization based in Phoenix,

AZ.

He is the author of numerous books, a professor and an accomplished debater, having engaged in more than seventy-five moderated, public debates and dialogues with leading proponents of Islam, Roman Catholicism, Liberal Protestantism, Jehovah's Witnesses and Mormonism.

Imam Syed Z. Sayeed is Religious Life Advisor



for the Muslim Campus Ministry and Office of the University Chaplain at Columbia University in New York City. Has been affiliated with Columbia for more than ten years and is an alumnus of Teachers College. He has also taught Psychology and Education at the college level both in India and the United States. He retired as an educational administrator in 1996.


Admission is FREE!!
(718)417-9562 (Directions Only)
(631)991-1226 (All Other Details)
18:46:09 - Category: Misc - Link to this article -

Timothy George Gets the Gospel Wrong---Again
10/29/2009 - James White
From Christianity Today:
"The gaping divide between evangelicals and Catholics is ecclesiology and authority, not justification and salvation, as important as that debate remains," George said. "There is enough commonality that evangelicals and Catholics with a living faith can recognize one another as brothers and sisters in Jesus Christ with a common Lord and common grace that brought them together. The hard issues are questions related to the church, such as the Petrine office [the papacy] and the Eucharist. Those discussions will occupy us for the next 100 years."



Bulletin flash: "the Eucharist" is about as central as you can get to salvation on either side of the divide. Even a good Catholic should shake their head in disbelief at such a statement. The siren call of compromise seems to be sounding ever louder in this day of apostasy.
13:43:48 - Category: Roman Catholicism - Link to this article -

Truth Rot Example #Bazillion and Two
10/29/2009 - James White
See? The Gospel doesn't need to divide anymore. Whether you think Jesus died once for all or the Mass is a propitiatory sacrifice that perfects no one, and whether you have priests and purgatory and all the rest...it matters not! Read for yourself.
12:00:51 - Category: Roman Catholicism - Link to this article -

On Playing Nice with the Vatican
10/28/2009 - James White
Steve Hays had a great insight in responding to Frank Beckwith's offense at the term "Roman Catholic" (which, ironically, seems odd being posted on a blog with the title "Return to Rome"):
I can't help noticing that the church of Rome only discovered the virtues of courtesy and charity rather late in the day. If, for example, you read the text of Exsurge Domine (available online), the language and countermeasures proposed by Pope Leo X to describe and suppress the nascent Protestant movement doesn't strike me as overly charitable or courteous.
I also can't help but notice that this discovery seems to time with the church of Rome's loss of temporal power. And therein lies a moral: the true test of charity is not to be charitable when you have to be, but to be charitable when you don't have to be.
Once his denomination no longer had state sponsorship to back its brass knuckle policies, then it suddenly discovered the virtues of tolerance. Funny how those in power are quick to advocate tolerance the moment they fall from power. But I'm sure that's purely coincidental.
15:01:05 - Category: Roman Catholicism - Link to this article -

The Wildest, Nuttiest Blog Article I've Read So Far...and Another in the "Runner Up" Category
10/27/2009 - James White
I know people will say this isn't meant seriously...believe me, it is. CT is a well known figure on the net. I ran into this person on the PuritanBoard originally, defending the Comma Johanneum. Since then there have been various odd encounters here and there, but never anything like this. Click and read.
Yes, friends, not only is yours truly a "liberal academic" with a "womanishly tone" (wha?), but our intrepid blogger is able to find demons appearing in the flames of a burning NIV! Yes indeed, this is one I have to post myself. Few things illustrate the mindset of the wildest extremes of the KJV Only crowd than the picture of CT going frame by frame through a YouTube video of a burning NIV looking for faces of demons! Now, that's actually Aslan, of course, but hey, I don't want to disrupt CT's visions!
Meanwhile, tomorrow I will be on Iron Sharpens Iron with Chris Arnzen to discuss the planned book burning at the 14-member Amazing Grace Baptist Church KJV on October 31st. Chris invited Pastor Marc Grizzard to be on the program (seen here) but he pointed out that "debate" is a bad thing (citing Romans 1:29, KJV, where ἔριδος is translated as "debate" but in modern translations is more accurately rendered "strife"---if Grizzard was consistent, he'd have to condemn the Apostle Paul for engaging in public debate in such places as Acts 17) and besides, James White is a "liberal, compromiser, and a heretic" as far as he is concerned. It is so great to be loved! I wonder if any of my books will get torched Saturday night? Sadly, I wasn't on the list, but maybe now I will be!
15:51:56 - Category: King James Onlyism - Link to this article -

A Ride Through the Stack-O-Stuff on the DL!
10/27/2009 - James White
I had a real "Stack-O-Stuff" to get through today, so I felt like I was moving at warp speed as I covered the past weekend in Southern California, and a failed Arminian attempt to refute my criticism of Middle Knowledge from last week's DL. Then we dealt with Patrick Madrid's significantly less than "in depth" comments on 2 Timothy 3 and our debate from 1993 on Marcus Grodi's "Deep in Scripture." Then I started responding to an article by anti-Trinitarian Anthony Buzzard, when in the middle of reading the article TurretinFan posted a link in channel that caught my eye. He posted a link where "Servetus the Evangelical" responded to some of the brief comments I have made on my blog. The nature of the commentary offered gives you a good insight into the mindset of this individual, and why his long-refuted arguments against the deity of Christ are hardly worthy of re-examination. I then finished up on the Buzzard topic (including noting that Dan Corner wrote an entire article attacking Calvin for Buzzard's most recent newsletter---and I thought Corner was at least a Trinitarian!) and took one call on the doctrines of grace and one fast call on inerrancy. Quite a range once again! Here's the program.
13:39:13 - Category: The Dividing Line - Link to this article -

Catholic or Roman?
10/27/2009 - Tur8infan
Dr. White has already blogged Francis Beckwith's comments on the term "Roman Catholic" (link to Dr. White's comments). Dr. White's comments were great, succinct, and to the point. I figured there was nothing left for me to blog about on this subject. However, subsequently I came across a very different response to Beckwith's comments and consequently I drafted the following response to a blogger who goes by the nick, "John Z." ...
[Click Here to Continue Reading]


08:08:44 - Category: Roman Catholicism - Link to this article -

Iron Sharpens Iron Interview: Did Martin Luther Believe in the Reformed Tulip?
10/26/2009 - James Swan
James Swan, who is involved in teaching ministry at the Pompton Plains Reformed Bible Church in New Jersey, will address " Did Martin Luther Believe in the Reformed Tulip?"

MP3 Available Here


James has a hobby of tracking down obscure Luther facts. Today we'll examine some of the recent claims about Martin Luther, as well as address the similarities between Calvinism and Luther's theology.

Because of the emphasis James places on the Reformation, his writing tends to attract defenders of the Roman Catholic Church. He spends considerable time interacting with the arguments and materials they produce, calling them to embrace the sole authority of the Scriptures, and salvation by faith alone through grace alone, because of Christ alone.

James is also a member of "Team Apologian", contributing articles to the blog on the web site of renowned Bible scholar Dr. James R. White's Alpha and Omega Ministries , contributes Reformation articles for Christian apologist Dr. Eric Svendsen's New Testament Research Ministries' website, and has had articles published in the Reformed periodical, The Outlook . He also runs his own daily blog, Beggars All: Reformation and Apologetics , dedicated to historical and Biblical research on the Protestant Reformation.



17:22:42 - Category: Reformed Apologetics - Link to this article -

Why "Roman Catholic" is Accurate, and Merely "Catholic" is Not
10/25/2009 - James White
Frank Beckwith recently wrote:

One of my pet peeves is the intentional overuse of "Rome," "Roman," "Romanist," etc. by Protestant critics of Catholic theology. Here's why: the Catholic Church is a collection of many churches in communion with the Bishop of Rome. It's catechism--The Catechism of the Catholic Church--is that of all these churches that are in communion with one another and with the Supreme Pontiff, Pope Benedict XVI. The theology found in that text, therefore, is not Roman Catholic theology. It is Catholic theology. That's the way the Church understands itself. Common courtesy suggests that those who are critical of that theology summon the respect to refer to it as such.

Please note what was said: all these churches "in communion with" whom? "The Bishop of Rome." Not the bishop of Constantinople, Naples, London, or Milwaukee. Rome. A local church that did not even have a monarchical episcopate until the middle of the second century. A single local church that has been, through a long process of political development elevated to the point of claiming infallibility for her teachings. A church that claims for herself any number of grossly unbiblical titles, privileges and powers. It is the Roman Church that makes these claims.
What happens when you drop the delimiter "Roman"? You are left with exactly what Rome claims for herself: universal sovereignty. The "catholic" church is not centered in Rome. Its theology and beliefs are not defined by Rome. And in fact, she can never defect from the gospel truth, no matter how hard Rome may press her to do so (and she has surely done so in the past). This is the very goal Rome has, the acknowledgement of her as universal sovereign, the Mother of all Churches, the Catholic Church. But the fact is, Rome is none of these things, and she is surely not truly "catholic."
So may I suggest that "common courtesy" would restrain the Roman Pontiffs from making the wild, extravagant claims they have made for themselves and their man-made office? May I suggest it is the follower of Rome who should summon the respect to refrain from arrogantly claiming sovereignty for his church over those who refuse to bow the knee to the Roman see?
21:17:49 - Category: Roman Catholicism - Link to this article -

Playin' Around with Providence: Part 2
10/25/2009 - James White
Here is the second portion of the Bible Conference from Trinity Reformed Baptist Church, La Mirada, October 23, 2009, specifically on William Lane Craig's presentation of Middle Knowledge from his book, The Only Wise God. A Reformed and, I pray, biblical response.
00:01:00 - Category: Theology Matters - Link to this article -

Playin' Around with Providence: Part1
10/24/2009 - James White
Here is the first portion of last night's Bible Conference in La Mirada at the Trinity Reformed Baptist Church. The second portion is already uploaded and can be seen on my YouTube page. I will have it post here Sunday morning.
10:04:01 - Category: Theology Matters - Link to this article -

Update on Conference Room
10/23/2009 - Rich Pierce
Just a quick update for those of you who have donated towards the conference room project here, we finished the ceiling today and here's a pic of the progress.




As you can see we have the lighting and the A/C in and working. Next step is carpeting and while that is going on we will starting hunting for the video mixing equipment.


16:34:24 - Category: Misc - Link to this article -

Today on the Dividing Line: A Review and Refutation of Middle Knowledge
10/22/2009 - James White
While I started out with a brief discussion of Frank Beckwith's claims about the Council of Trent, I spent the vast majority of the hour (even skipping the break) presenting William Lane Craig's understanding of Middle Knowledge from his book, The Only Wise God, and interacting with it from a biblical perspective. I haven't taken the time to do this to this depth in the past, so I hope this will be useful for folks. Here's the program.
19:26:15 - Category: The Dividing Line - Link to this article -

Molinism in perspective - Dr. James White in Southern California
10/22/2009 - Micah Burke

Dr. James White will be speaking at Trinity Reformed Baptist Church in La Mirada, California on Friday night 10/23/09 at 6:30pm. The church is located at 14407 Rosecrans Ave. in La Mirada, 30 minutes south of Downtown Los Angeles, 20 minutes north of Disneyland, and 2 minutes west of Biola University.

The topic of Dr. White's lecture will be "Playing Around with Predestination" focusing on Molinism, Middle Knowledge and the theology of William Lane Craig. Admission is free.


Many Arminians seeking consistency in their understanding of the divine sovereignty and human freedom and culpability of man are turning to the philosophy of Molinism. Molinism, named after 16th Century Jesuit theologian Luis de Molina, is a religious doctrine which attempts to reconcile the omniscience of God with human free will. William Lane Craig is probably its best known non-Roman Catholic advocate today and it is his views that Dr. White will critique. What does God know and when does He know it? Does the God of the Bible resemble that of Molinism?

If you live in the Los Angeles basin and would like to know more about Molinism, the views of William Lane Craig and the freedom of the divine Potter over his creation, attend this special conference!

On Sunday morning Dr. White will be teaching at 10AM at the Sovereign Grace Baptist Church in Ontario (directions) and speaking in the morning worship service at 11am. That evening he will be speaking for the Quarterly Gathering of the Southern California Association of Reformed Baptist Churches, which will be meeting at Colony High School, 3850 W. Riverside Drive in Ontario, CA at 5pm.


17:03:07 - Category: Theology Matters - Link to this article -

Servetus the Cowardly "Scholar" Continues Playing Games
10/22/2009 - James White
There are few things more disgusting to me than unwillingness to be honest and forthright in your faith. If you believe X, then confess X, and don't be ashamed of X. So when I was directed today to an "interview" that "Servetus the Evangelical" did recently about his apostasy and self-promotion, I was almost made ill by the fact that they used electronic means to mask his voice! Amazing, just amazing. Whoever this fellow is, one thing is for sure: he has a credibility rating of absolute zero, and has now begun digging downward into the negative numbers. Once again, if there is, in fact, anyone in the "evangelical" community who knows the identity of this apostate who is seeking to convince others to follow him in his denial of the deity of the Lord Jesus Christ, I implore you by all that is good and decent, expose this man for the sake of the fellowship of faith.
12:03:47 - Category: General Apologetics - Link to this article -

John 6 from the Great Falls Conference
10/22/2009 - James White
00:01:00 - Category: Reformed Apologetics - Link to this article -

Some New York Details
10/21/2009 - James White
We were thrown another curve on the exact participant from the Muslim side for the "Jesus in the Qur'an and the Bible" encounter on November 7th, but I have some other details to share with my friends in the New York/Long Island area.
Sunday morning November 8th I will be at the Lynnbrook Baptist Church, 225 Earle Avenue, Lynnbrook, NY for the morning services. Sunday evening I will be at Grace Reformed Baptist Church in Merrick, 36 Smith Street, Merrick.
Monday afternoon, 3PM, I will be giving my NT Reliability presentation (my most popular) at the Transformation Life Center located at 395 Floyd Ackert Road, West Park, NY. Then on Wednesday I will be giving the same presentation at 7:30pm at the New Hyde Park Baptist Church, 635 New Hyde Park Rd., New Hyde Park, NY. It is a relatively short trip, so that's it. I will be meeting with a man who is doing a film on conversion to Roman Catholicism on Tuesday who would like at least one voice "from the other side." Pray the Lord gives me clarity of thought and speech in that situation to speak a word of truth.
21:36:06 - Category: Personal - Link to this article -

Evangelical Atheists and the Gospel
10/21/2009 - Colin Smith
It seems the Fundamentalist Atheists are at it again. According to this news story, they are planning a campaign to plaster pro-atheist ads around New York subway stations. I'm not objecting to them doing this; it is, after all, their Constitutional right to exercise free speech. However, I think it is instructive to observe the Christian message (sure, they don't say they are counter-Christian, but let's not be fooled) they are seeking to address. According to the article, the posters say "A million New Yorkers are good without God." How many times have you heard Christian evangelists tout the benefits of becoming a Christian? "Jesus will make you happy, give you peace, restore your marriage, give you a healthy bank account, etc. etc." Perhaps you have found yourself pleading the same case with an unbeliever. The fact of the matter is that there are many happy, healthy, rich, atheists with good marriages that are contributing members of society. The problem is, this message of peace and prosperity is not the gospel. Sure, with Christ as Lord of your life, you might find peace, happiness, and other physical benefits. But this message would not have gone down very well in the first few centuries of the Christian church, when believers often found themselves persecuted, beaten, and humiliated for their faith. Faith in Christ often meant a loss of worldly privileges. Jesus Himself even promised persecutions to those that follow him (Mark 10:28-30); He even said that following Him would stir family rivalry (Matthew 10:34-35). Becoming a Christian is not a favor we do for God. Salvation is not an option on your health benefits. It is something that we must do if we are to have the only peace that really counts: peace with God. Yes, you can be happy, healthy, and prosperous as an atheist; but you will continue to be an enemy of God, which will profit you nothing in the end (Matthew 16:26).
I found it interesting that the group sponsoring the ads calls itself "the Big Apple Coalition of Reason." How many atheists have stopped to consider what reason is? Where did reason come from? How is it man can reason? This is not a skill we learn; and there are certainly no other animals on earth that are able to reason as man is able to. The glaringly obvious answer, which atheists (for obvious reasons) ignore, is that reason is a gift of God. As creatures made in His image, we have the capacity to think, to draw conclusions, and to express opinions founded on rationally-derived information. It is ironic, therefore, that a group founded to promote the denial of God would use in its name one of the strongest evidences of His existence.


17:18:31 - Category: General Apologetics - Link to this article -

Update on "Apologetics Without Gospel Unity" Conference
10/21/2009 - James White
Sorry, but that seems to be the way to identify it. I noted last night the 2009 National Conference on Apologetics, and how the one thing clearly not open for discussion would be...the Gospel. Why? Because Rome's gospel, evidently, is to be viewed as "acceptable" by those heading up the conference, since they are inviting Roman Catholics to speak and debate (not be debated). I asked last night how this works, since it of necessity dismisses the Gospel as being central to the apologetic task (let alone definitional of how you go about doing apologetics!). Well, Frank Beckwith, who is surely definitional of one who promotes the "Mere Christianity" model, just noted on his blog:
What a wonderful example of Christians working together to offer a reason for the hope that lies within us! I am talking about the upcoming apologetics conference in Charlotte, North Carolina, the 2009 National Conference on Christian Apologetics. Participants include many of my friends, including Protestants Gregory P. Koukl, William Lane Craig, Gary R. Habermas, and Hank Hanegraaff as well as Catholics Benjamin Wiker, Peter Kreeft, and Dinesh D'Souza.



Well, add Benjamin Wiker to the list of Roman Catholics speaking at the Conference. Think with me for a moment: "Christians working together to offer a reason for the hope that lies within us" must mean that a constituent part of the hope that is within us is not the Gospel, since we do not share a common Gospel. Or do we? I would have to ask those who will be speaking at the conference, including some I respect as sound apologists, do you share the same hope as Peter Kreeft? Dinesh D'Souza? Or am I the last odd-ball left who thinks Christianity without the Gospel is an empty religious system?

UPDATE: I am aware that some of the "good guys" at this conference may have committed to speaking without knowing that the leadership would go ecumenical on them and completely change the character of the conference from what it has been in the past. I see Chuck Colson's fingerprints on this, to be sure. For those in that position I truly hope that they will openly state their opposition to Rome's gospel, Rome's denial of Scriptural sufficiency, etc., and do what they can to alleviate the confusion that will surely be the result of the actions of the leadership who has put this thing together.



14:16:50 - Category: General Apologetics - Link to this article -

If You Enjoy the Dividing Line....
10/21/2009 - James White
...you might want to help it keep going! We've managed to do the DL on a shoestring for a very long time. Thanks to volunteers who know a great deal about computers and the net, and to the Lord's blessing of our equipment, we have almost never missed doing the program due to technical difficulties. But the reality is, we do the program for almost nothing with a minimum of equipment and cost.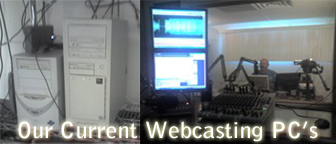 Now, here is our current webcasting computer setup (that's me back there doing the DL). These two units have been crunching along for ages (in computer time), and every time I hear them fire up I can tell the Day of Disaster is not far away. Check out that box on the right---that's a 3.5 inch floppy drive! We've coaxed these two ancient boxes to perform beyond their capacities for quite some time now, and wisdom says it is time to replace them with a single computer capable of handling the entire task without melting down. So if you enjoy the DL, please consider helping us make sure we can keep it going without interruption. You can contribute toward the new DL computer unit here. Thanks for considering us in your stewardship!
13:49:24 - Category: The Dividing Line - Link to this article -

More not Less Church as the Day of the Lord Approaches
10/21/2009 - Tur8infan
One of the questions that Mr. Arnzen asked Mr. Harold Camping, during the four-day discussion on Iron Sharpens Iron between Dr. James White and Mr. Harold Camping, was about whether the listeners of Family Radio have their own gatherings. Mr. Camping indicated that, aside from a small group in Almeda, California (where Mr. Camping resides), he does not encourage his listeners to gather together. As we will see below, this practice of abandoning the fellowship and communion of the saints is not only contrary to the historic creeds of the church, but also (and much more importantly) contrary to Scripture itself. In the current post we will see this shown from Hebrews 10:23-25. ...
[Click Here to Continue Reading]


07:59:03 - Category: General Apologetics - Link to this article -

Romans 9 from Great Falls Conference
10/21/2009 - James White
06:46:55 - Category: Reformed Apologetics - Link to this article -

2009 National Conference on Christian Apologetics
10/20/2009 - James White
I just took a look at the roster of speakers/presenters at the big apologetics conference in Charlotte next month. A few leave me scratching my head a bit (Kay Arthur?), but I was particularly troubled to see that they are going to have a debate with Christopher Hitchens. Nothing wrong with that, I'd jump at the opportunity myself---but who are they having debate him but Roman Catholic Dinesh D'Souza!?! For a review of D'Souza's apologetic methodology and its unbiblical nature, see this edition of The Dividing Line. Also speaking...Roman Catholic Peter Kreeft.
No, I wasn't invited, mainly because anyone in charge would know I would only come to debate half the people they are inviting as their presenters! But one can hardly be surprised to see William Lane Craig speaking at a conference replete with Roman Catholic speakers: the dividing line between Biblical, Reformed apologetics and the "Mere Christianity" apologetic of so much of today's evangelical church fits perfectly with his "modified Trent" version of the gospel.
21:50:48 - Category: Christian Worldview - Link to this article -

Today on the DL: Ergun Caner's "Debates," Spong Gives Up Debates, Lots of Calls
10/20/2009 - James White
First DL since Ergun Caner blocked me from following his insights on Twitter. I played a clip of him claiming that he has a standing rule to debate anyone, anywhere, any time. Then I briefly commented on John Shelby Spong's new manifesto in which he claims his side has won the homosexual debate, so, there's no reason to debate it anymore (as if he ever debated it meaningfully in the first place). Then we took calls on a wide variety of topics. Here's the program.


14:24:17 - Category: The Dividing Line - Link to this article -

Frank Beckwith Slams Frank Turk as a "Rabid Anti-Catholic Blogger"
10/19/2009 - James White
First, take a moment to read this short blog article by Frank Turk from July of 2008. Then note Frank Beckwith's description of him as a "rabid anti-Catholic blogger" here.
Note this section:

I had no idea that Mr. Turk was so gifted in the clairvoyant arts, able to not only jump the space-time continuum to observe my teenage years but to pierce the veil of cognitive and spiritual privacy in order to extract from my soul the reflections, contemplations, and judgments that were instrumental in my journey back to Catholicism. Given his unusual interest in comic book aesthetics, perhaps he possesses powers not unlike the mutants that populate the imaginary world to which he seems so drawn (pardon the pun). Or perhaps he is just ill-mannered and presumptuous.
Evidently, this is what anyone can expect as a response if you dare question Beckwith's "spiritual journey." It seems Beckwith does not believe he has provided sufficient information from his own writings and lectures to allow any meaningful observations regarding either his commitments when a non-Catholic or his return to obedience to Rome. So even if you listen carefully to his interviews since his return to Rome, or read his book, and carefully consider what he says, and just as importantly, what he does not, you will still be identified as "ill-mannered and presumptuous." I have a feeling I know what we will hear once we publish our response to Beckwith's biographical story of his return to Rome.


21:12:46 - Category: Roman Catholicism - Link to this article -

Die Like Men? A Response to Dr. Michael Heiser
10/19/2009 - Tur8infan
We are all going to die. I don't mean that in an imminent way, though perhaps some of us will pass shortly, but instead in a general sense. It is the condition of humanity that all men die. You and I will both die one day. If you are not righteous in God's eyes when you come before His holy judgment, you will be sentenced to hell. Now, while there is time, repent of your sins. Ask God for mercy, and seize hold of Christ as your mediator. But that's not the primary reason I wrote this post. After all, many of the readers of this blog already believe.

Instead, I wanted to focus on responding to something Dr. Michael Heiser has written. I hope to add a few points to the excellent points already presented by Dr. White in his earlier post (link). You may recall that Dr. Heiser wrote: "

If these elohim are humans, why are they sentenced to die "like humans"? A clear contrast is intended by both the grammar and structure of the Hebrew text (Prinsloo; Handy, "Sounds")

."

Dr. Heiser is referring to Psalm 82.

Background

Psalm 82 is a warning to unjust judges. God is the judge of judges, just as he is elsewhere described as the King of kings and Lord of lords. (1 Timothy 6:15; Revelation 17:14; and Revelation 19:16)
...
[Click Here to Continue Reading]


07:53:31 - Category: Exegesis - Link to this article -

Acts 13:48 and Evangelism: Great Falls, MT
10/17/2009 - James White
07:07:07 - Category: Misc - Link to this article -

I Guess That's My Answer
10/16/2009 - James White
Greetings from Great Falls, Montana! I really wish the wind was whipping and it was like 20 degrees, but alas, it is a gorgeous day in the 60s. Oh well!
So while traveling yesterday I started a little firestorm by asking a simple question: why does Ergun Caner claim to be a leading apologetic figure when he doesn't do apologetics? More to the point, if you make particular claims about what you have done in the field, shouldn't you be willing to back up what you claim about yourself? Seems pretty obvious to me, and I'd think everyone in the Christian community would agree that there needs to be some level of transparency on the part of folks in leadership, and whether you like it or not, Caner is the President of Liberty Seminary. I'm sorry folks don't like it, but when you claim to head up a program of "Global Apologetics," seek to get folks to study under you, etc., then you should be able to back up your self-promoting claims, should you not?
Folks, over the years I have gotten myself into a lot of trouble by seeking to be consistent. It would be easy to play the "everything is wrong on your side of the fence, but nothing is wrong on mine" game. Lots of people do it, and that is how you "get along." I could have ignored Dave Hunt's ignorance of Reformed theology and gotten a lot more invitations to churches as a result. I could have ignored Norm Geisler's Chosen but Free, and I could have ignored Chuck Smith's attacks just recently, too. But when I stand in front of a group of Muslims, or Catholics, or whoever, I want to have a clean conscience. If I say to a Catholic debater, "You are wrong because of your inconsistent exegesis of the text, and here is why," I don't want him to be able to come back, "Yeah, well what about all the folks on your side of things who do the same things? Why don't you ever point that out?" I do point that out, which is why I am rarely invited to the "Big Circuit" of conferences and get-togethers.
So when I first responded to Dr. Caner on "Reformation" of doctrine vs. "Revolution" in soul winning, I was simply addressing an important problem in synergistic evangelicalism today (and Caner, if he's anything, is a synergist). But when I saw his own self-promotion on his website, I simply had to ask a basic question: where's the proof? And when I asked Dr. Caner directly via Twitter, things went silent. Then I found out why. When you ask him to show you all these debates, in forty states, eleven countries, with leaders of all these religions (especially Muslims), this is what you get in response:
Given that the last tweet shown here, "Pray for bitter Christians but do NOT get infected by them. Remember: Mules cannot kick & pull at the same time" was the first one posted after my questioning of him, some have assumed that is all the answer I will get, and that, together with the action he took to block my following his tweets, would seem to indicate that this is the case.
Which leaves us with Dr. Caner's claims. I was just directed to a newspaper article on Caner in which it is reported that he claims to have done 61 debates with Muslims (this was in early 2006). That is very impressive. Since Dr. Caner will not answer the question for some odd reason, could the Muslims who have debated Dr. Caner contact me and provide me with details as to how I can obtain these debates? I know a large portion of the currently active Islamic apologists in the US, and not a one of them has ever mentioned debating Ergun Caner. In fact, I could not help but chuckle this morning as I watched a video link that was sent to me wherein Dr. Caner was giving his testimony as a former Muslim (who converted, it seems as a young teenager). The person who created the video was not fair to Dr. Caner, that is for certain. But, he did point out numerous mistakes in Caner's presentation (including confusing the opening lines of Surah Al-Fatiha with the Shahada), and right at the end Caner referred to one of "our leaders," Shabir Ally, "before he died." Shabir Ally isn't dead---if he is, someone is writing e-mails in his name since I've been in correspondence with him over the past month. Clearly, Caner was confusing Shabir Ally with Ahmed Deedat.
Now, the fact remains that Ergun Caner claims to have done many, many debates--at least 61 with Muslims alone--but when asked to provide any of these debates, what do we get? A smattering of "interviews" (none of which were with Muslims), and a few folks insisting that "debate" is a very vague word anyway, so that maybe he is just including every discussion he has ever had with a Muslim (if that is so, who goes around keeping track of exactly how many times they said "Howdy" to a Muslim?).
So why should anyone care about this? Well, let me tell you why I care. I labor in this field. I invest my life in apologetics, and I am working very hard to be a good student of Islam, and a good representative of the Christian faith to Muslims. So I have to be consistent. If there is someone running about the apologetic landscape making claims about his activities that simply do not stand scrutiny, then someone needs to speak up about it. The things that Ergun Caner says in his interviews and videos are often intended to create outrage. Speaking of "towel heads" and using the other kind of mocking language he does is hardly helpful. But here's the simple conclusion of it all: I have no reason to believe Ergun Caner has ever engaged in a formal, meaningful debate with any leading Islamic apologists, and I'll be perfectly honest with you: I hope he doesn't. I do not believe it would be beneficial. But at least I can look a Muslim in the eye and honestly say, "I have called for Dr. Caner to be open and above board about his actual history in debating your representatives, and he has flatly turned my requests for information on that topic down. I do not believe anyone should claim to have done such things when they cannot back up their claims, or when they have to so alter the meanings of words that every conversation they have ever had on a plane somewhere becomes a debate."
So, for all those who think that I'm a terrible, horrible, mean, nasty man for daring to challenge Ergun Caner to back up his own PR, you go right ahead and think that way. I happen to believe that it is far more important to be transparently honest in seeking to give a sound, consistent reason for the hope that is within us to the Muslim people than it is to cover over a professing Christian's as yet unsubstantiated claims.
13:55:30 - Category: General Apologetics - Link to this article -

Witnesses Now for Jesus (Live)
10/16/2009 - Jeff Downs
Every year, Personal Freedom Outreach put together a convention for former Jehovah's Witnesses in New Ringgold, PA (what a beautiful place this time of year*). If you are a Jehovah's Witness, a former JW, or simply interested, you can watch many of the sessions live online (this is the first time they are broadcasting live).

I am not familiar with all the speakers, so I can not account for everything you will hear. I do know some of them (e.g. Don Veinot, Bob Anderson, Dick Fisher, and others), who have been in Countercult ministry for quite some time.

Here is a brochure with all the sessions and speakers, and if you want to listen live go here (I believe you need to create an account, which is easy to do).

*Funny thing is, when we were living in PA I would travel up Saturday (with my wife) to the retreat center, stop in and say hello to a few folks, then leave. It is such a beautiful time of year in Mountains of PA, we couldn't resist simply driving around looking at the trees.

I do know that many are encouraged during this weekend. Last time I went, there were former JWs who traveled from Japan to attend the convention.


08:00:31 - Category: Jehovahs Witnesses - Link to this article -

The Ministry of John Frame
10/16/2009 - Jeff Downs
I have been hearing about a particular book for a couple of months now, and I believe it is finally available. The book is Speaking the Truth in Love: The Theology of John Frame (P&R, 2009), coming in at whopping 1232 pages. You can view the table of contents here (plus read chapter 2), but of particular interest to apologetics would be the following chapters:

Part 3 - Apologetics
"Frame the Apologist", by William Edgar; "Presuppositionalism and Frame's Epistemology", by James N. Anderson; "Van Til and Transcendental Argument Revisited", by Donald Collett; "Frame in the Context of Recent Apologetics", by William C. Davis; "Frame's and Van Til's Apologetic", by Steve R. Scrivener; "Frame's Apologetics and the Challenges of Our Time", by Joshua Perez; "Neopaganism: Stepchild of Secular Humanism", by Peter R. Jones; "Servant Thinking: The Polanyian Workings of the Framean Triad", by Esther L. Meek. ...
[Click Here to Continue Reading]


06:50:31 - Category: Resources - Link to this article -

Using Words....Differently
10/15/2009 - James White
Greetings from the Denver airport. OK, while I've been traveling today someone sent in a link to Dr. Caner's debates. Well, sorta. Here's the link. It is a total of eight "interviews." One with "Mormons," two with a female Christian scientist, two with a Bahai representative, two with Mel White (homosexual), and one with a representative of Eastern Orthodoxy.

Is that really it? Surely there has to be more than that! I mean, it's great to "interview" folks, but...when did an "interview" become "He has debated leaders in Hinduism, Buddhism, Islam, Bahai, Taoism, and many cult leaders in forty states and eleven countries"? Forgive my leaden literality, but, if you speak of "forty states and eleven countries," wouldn't that necessitate at least...54 debates? What does it mean to use language in this fashion? And if an interview is a debate, then, are reporters debaters?

This just can't be all there is. Words have meanings. I happen to know what a debate is. I have engaged in them all over the US. I've done a few in England, and a few in Australia. But you see, when I say I've done these debates, well, I provide a list (here), and you can listen to almost all of them. Watch a large number of them, too.

So I'm just going to have to ask Ergun Caner directly via Twitter: where are all these debates from forty states and eleven countries? What are the names of these leaders in Islam you have debated? How can the rest of us learn from your debates if we can't find them? Inquiring minds want to know.

18:12:01 - Category: Misc - Link to this article -

Resource Assistance, Please?
10/15/2009 - James White
Hacim, King of Graphics, improved my last post by adding a screen shot of the exact statement by Ergun Caner noted in my previous blog notes. Now, as I looked at it, I started reading the side bar, and I ran across this line:


He has debated leaders in Hinduism, Buddhism, Islam, Bahai, Taoism, and many cult leaders in forty states and eleven countries.

Now that's a bio line! I would love to hear these debates, especially the ones on Islam and the "cult leaders." So I went to Dr. Caner's website to look for how I can obtain these debates. And, just as it was in 2006, you can't find anything about all these debates he has done all over the US (well, 4/5ths of the US anyway) and in eleven countries. So, could someone please tell me how to get hold of all of these debates? Who has Ergun Caner debated on the Islamic side? Zakir Naik? Shabir Ally? Bassam Zawadi? Adnan Rashid? Zulfiqar Ali Shah? Who? What cult leaders has he debated? Where are the recordings, videos, etc.? I went to his YouTube page...only five videos, none of them debates. So, could someone help me?



11:21:56 - Category: Misc - Link to this article -

Post-Modern Emotionalism at Liberty?
10/15/2009 - James White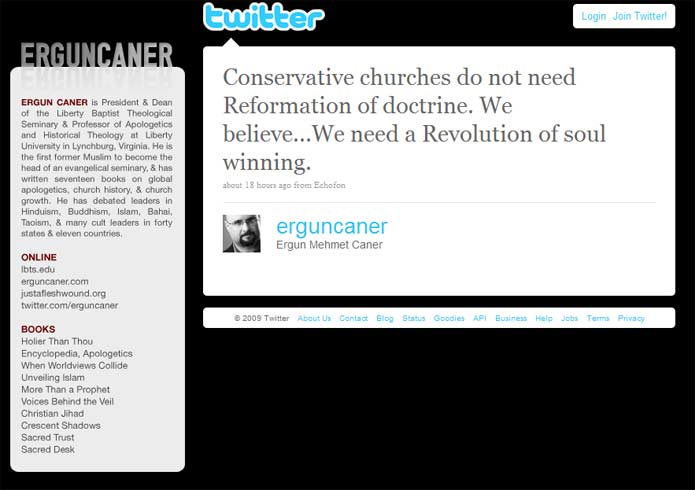 I have been informed that some students think I am "lying" about Ergun Caner's comment that I posted last night from Twitter. I'm not sure how you "lie" about someone when you quote their entire comment. Surely, a "tweet" has little context, but I think I know Caner's context (here's proof). But as I have read the argument (which, ironically, is coming from someone in the law school, who should know better), they disagree with how I am reading Caner's meaning (based upon our previous interactions) and are equating disagreement on that level with dishonesty and misrepresentation. This kind of muddled thinking is commonplace in our society today. We think with our hearts and emotions, not with our heads. Ask any teacher who happens to teach logic these days. Hard to find students. And even if a person studies the subject, one may know the formal means of reasoning without applying those in every day life.
Ergun Caner said we don't need a Reformation of doctrine. I disagree. Man's traditions have eviscerated the powerful gospel of Christ that presents a mighty and glorious Savior who commands men everywhere to repent. Man-centeredness has turned God's law into God's mild suggestions, so that those who love their sin feel no shame when they flaunt that sin in public. The wrath of God has become the slight annoyance of God (but He'll get over it). And once you come up with a gospel that is really not even "gospel lite," you can hardly be surprised that it doesn't change the hearts of men, since the only heart that is ever truly changed is changed by the Spirit of God in concert with the Gospel of Christ. And hence why I concluded with that line, "What you win them with is what you win them to." Reformation of doctrine is necessary for there to be a "Revolution of soul winning." The Spirit is the Soul Winner, and He uses the gospel He has enscripturated in Holy Writ to accomplish His task. Think about it.
09:45:38 - Category: Misc - Link to this article -

Barack Obama's Dream for a Secular, Non-Christian Nation
10/15/2009 - James White
00:01:00 - Category: Christian Worldview - Link to this article -

We Don't Need Reformation, We Need...Soul-Winning!
10/14/2009 - James White
Ergun Caner just tweeted this:

Conservative churches do not need Reformation of doctrine. We believe...We need a Revolution of soul winning.
Note the implicit separation of doctrine (the substance of the message preached) and the desired result, the conversion of sinners. As if churches that are confused on the substance of the faith (i.e., in need of reformation of doctrine) will actually produce lasting, true disciples of Jesus Christ. I would like to contrast this statement with a line we have used alot at PRBC:

What you win them with is what you win them to.
17:55:30 - Category: Pastoral Theology - Link to this article -

An Ancient Critical Text of the Qur'an
10/14/2009 - James White
The Ministry Resource List continues to be a tremendous blessing to this apologist doing his best to bless the people of God. Last week I listed a very expensive volume, one of the earliest Shia pieces of literature to have come down to us, the Kitab al-qira'at of Ahmad b. Muhammad al-Sayyari. This new edition, with extensive introduction and notes, contains some of the earliest documentation of textual variation in the Qur'an. It just arrived today, and I wanted to provide a scan of what it provides. I did my best to enhance the contrast in colors in this image, but especially those who cannot detect reds will not see that parts of the text are highlighted in a reddish color, indicating variation. The apparatus at the bottom of the page provides the variant information. For those who have looked at, or own, something like the UBS Greek text, of the Nestle-Aland text, this format is somewhat familiar. What is very, very unusual is seeing this kind of information for the Qur'an, at least, in modern times. While Islam had a period of time in its past when this kind of scholarship flourished, those times have long passed, and the vast majority of Muslims today have no idea whatsoever that this kind of information exists. More to come as time allows!


16:18:38 - Category: Islam - Link to this article -

What I Did Last Friday
10/14/2009 - James White
I planned on this for a few months. Thanks to Summer and tucsonmom for driving up the hill in support. 26 miles, 6,234 feet of ascent, topping out at 8,300 feet. Mt. Lemmon, Arizona. Next time I will plan to descend this monster. I didn't this time because I was planning on riding Gate's Pass the next day, and wanted to have something left in the legs with which to do so. And...it was pretty nippy at the top. So, here's the Google Earth rendering of the GPS data from my cycling computer.


16:09:30 - Category: Personal - Link to this article -

Traveling All Over
10/14/2009 - James White
This weekend I will be at Westside Baptist Church in Great Falls, Montana speaking at the Acts 13:48 Conference Friday night, all day Saturday (literally!), and then in both morning and evening services on Sunday. For more information you can call 406-761-3511. Their website is here.
The following weekend I will be in Southern California. On Friday night the 23rd I will be speaking at the Trinity Reformed Baptist Church in La Mirada on the topic, "Playing Around with Predestination." We begin at 6:30pm. The church is located at 14407 Rosecrans Ave. in La Mirada, 30 minutes south of Downtown Los Angeles, 20 minutes north of Disneyland, and 2 minutes west of Biola University. Hmm, only two minutes west of Biola? And I'm addressing what topic? Is there a connection? Hmm.
On Sunday morning I will be teaching at 10AM at the Sovereign Grace Baptist Church in Ontario (directions) and speaking in the morning worship service at 11am. That evening I will be speaking for the Quarterly Gathering of the Southern California Association of Reformed Baptist Churches, which will be meeting at Colony High School, 3850 W. Riverside Drive in Ontario, CA at 5pm. I look forward to fellowshipping with you all then!


10:39:59 - Category: Personal - Link to this article -

Barack Obama's Anti-Christian Dream for the US
10/13/2009 - James White
I went through Barack Obama's speech/sermon to a radical homosexual organization on Saturday on the DL today, demonstrating that Obama's dream for the US is for a nation without Christian morals or guidance. I didn't bother leaving my seat when it was over, for I then did the next hour on Iron Sharpens Iron with Chris Arnzen on the same subject. Here's the DL program. See here for the ISI program.


20:17:56 - Category: The Dividing Line - Link to this article -

Taking the Calvin Quiz....
10/13/2009 - James White

More about John Calvin at Calvin 500


20:11:03 - Category: Misc - Link to this article -

An Argument Against An Infallible Papacy, Luther Style
10/13/2009 - James Swan
Recently Concordia Publishing House released Luther's Works Volume 69. It's a new English translation of Luther's writing not previously available in English. While the volume is primarily a verse by verse commentary of John 17-20, interspersed are some interesting apologetic arguments against Romanism. (A word of caution: if you follow the above link to Concordia Publishing and fill out the form to receive the new volume of Luther's Works, it may arrive at your door in a few days, without paying for it first. The invoice arrived a day before the book showed up at my front door. Only fill out the form if you plan on buying the book).

One such argument concerns the papacy and infallibility. Without anything explicit establishing either Biblically, Roman Catholics read much into such texts like Matthew 16. Without anything explicit, the argument is typically one of inference. For instance, Catholic Answers states, "Whatever you bind on earth shall be bound in heaven, and whatever you loose on earth shall be loosed in heaven" (Matt. 16:19). Here Peter was singled out for the authority that provides for the forgiveness of sins and the making of disciplinary rules." " It was Simon, weak as he was, who was chosen to become the rock and thus the first link in the chain of the papacy." Of course, Luther dealt with similar arguments. The following is his response from Luther's Works, Volume 69, pp. 178- 181. Luther is commenting on John 18:13, concerning Annas and Caiaphas, the Jewish high priests.



But I want to come now to theology and doctrine. We should learn here that no one should place his trust in men, even if he is in an estate ordained by God. But if we are not to believe nor to put our trust in Annas and Caiaphas, how are we to believe or trust the devil, the pope in Rome, the monks in monasteries, or the godless bishops? God so thoroughly forbids putting trust in any man that one should not even trust in those who are in the highest, best, and most secure estates. For no estate on earth has been so gloriously confirmed as was the estate of Annas and Caiaphas. If Annas and Caiaphas became scoundrels in their order and estate, even though it was the most exalted on earth, then you should learn from this not to esteem any man on the basis of his estate or see. The papal jurists exalted their pope and said, "Non est praesumendum, quod tantae altitudinis apex possit errare"- "It is not to be presumed that the pope in such a lofty station can err." Against this claim I set the following: Annas and Caiaphas occupy a loftier position and sit on a greater throne than do the pope and the emperor. Yet they not only err but also are scoundrels and knaves-the worst scoundrels and knaves ever to have lived on earth, for they crucified the Son of God. We know this from the wicked things they did to Christ, so that we hold them in scorn whenever we speak their names. But we should recognize that they were the most exalted people according to Gods ordinance, and their estate was the holiest and highest that ever was. Therefore, I should not hesitate to pull off [anyone else's] mask and say, "I must not put my trust here, even if it is what the pope or a cardinal or the emperor says,for even the most exalted of men can err and go astray."

But if you now say, "Whom, then, are we to trust and believe?" read the First Commandment: "I the Lord your God am a jealous God"[Exod. 20:5]. There it is clearly written whom you are to trust: namely, the Lord God alone. So now if the pope says something, I am not obligated to hold to it unless,to be sure, he brings God's Word. For God says that we are to fear and trust Him only, even if He speaks to us through a donkey [cf. Num. 22:28-30]. For this reason you should say: "Dear pope, you are high, holy, learned. But that you cannot err on that account-that I don't believe." If, indeed, they say, "Do you think the councils can err?" answer them this: "Haven't you read about two men, Annas and Caiaphas by name, who were scoundrels? Now if such eminent people, in such a high, holy estate, ordained and instituted by God, have fallen away even to the point of crucifying God's Son, it follows that other men can also fall and err." Annas and Caiaphas were much more learned and wise, and the obedience due them was much greater than that due the pope. This is evident in that though everyone else among the Jews heard Christ's preaching and saw His miracles, no one dared acknowledge or follow Him publicly [John 12:42]; and when Christ was taken captive, no one dared to make himself known, so great were the respect and obedience accorded the high priest by the whole people.

So note well John's words: "Caiaphas was high priest for the year." And yet that same high priest may be such a scoundrel and knave that he crucifies the Son of God. The office of high priest was, indeed, the highest office and the most glorious title, and yet the worst scoundrels held this office and title. Now, since the high priests have done such things, we should not henceforth believe any man unless he brings with him God's clear, pure Word. St. Paul says in 1 Corinthians 4[:2], "Nothing is more requisite of stewards than that they be found faithful." You should pay close attention to whether such a one is faithful, for all kinds of shortcomings in a preacher or bishop can be tolerated, but unfaithfulness cannot and should not be tolerated in them.... Is it possible for the pope not to err when these two, Annas and Caiaphas, who were instituted in office by God much more gloriously than any pope, not only erred but lapsed so shamefully that they condemned the Son of God to death?

This was the glory of the high priests: that the people had been commanded to accept everything they said [Deut. 17:12].133 The pope does not possess such a glory. Now, if you conclude from this as follows: "The high priest's judgment must be accepted; Annas and Caiaphas are the high priests of the people, and they judge and decide that Christ must be slain; therefore, one must accept this judgment of the high priests"-then you have been deceived already! Therefore, the Holy Spirit put this here to teach the contrary-that Annas and Caiaphas were high priests at the time, and yet Christ was condemned to death by their judgment?so that no one would put his confidence in any human being, no matter how high and holy he may be.

Bishops, cardinals, and the entire papal clergy rest on this foundation: "The Christian Church cannot err; therefore, the pope likewise cannot err since he is the head of the Church." But you, forearm yourself against this and say: "Pope this, pope that! If Caiaphas could err, so also can the pope." And he proves this with his deeds as well. For the pope denies Christ and kills Him, just as those high priests denied Christ and sentenced Him to death. We would not have expected to read that the high priests Annas and Caiaphas crucified Christ. Rather, it should say, "Barabbas crucified Christ." But the evangelist says 'that Christ was led bound, first to Annas, and then to Caiaphas, who was the high priest for the year, in order to indicate this extraordinary and astonishing fact: that the highest and holiest of people on earth are often God's worst enemies. For this reason we should not put our trust in any human being, even if he occupies a high office and a position of great glory.
17:58:15 - Category: Roman Catholicism - Link to this article -

LouRugg Listens to the DL!
10/13/2009 - James White
As is so often the case, commentary would be superfluous:

Message: Dr. White,

I thought I'd send you a quick note to ask if you've considered
getting therapy for your obvious emotional breakdown?

I also wanted to thank you for playing a portion of my debate with
Turretinfan on your program yesterday (10/8/09) and making sure that
it was made available in its entirety on your end so more people can
hear it. And also for doing a little promoting for my upcoming book.

It's funny how a man like yourself who calls himself a Christian, who
is suppose to be an example to others, can go out of his way and mock
a highly respected fellow Christian like Dr. Caner (who you felt so
worthy to debate 2 years ago). I'm wondering how your listeners feel
about your behavior (not that you care)? But more importantly, I
wonder how Jesus feels about it? My prayer is that you won't find out
the hard way. You really do need to repent.

It must be nice to hide behind a microphone in your quaint little
office sending your subordinates out to get embarassed instead of
going out yourself and taking some of the heat. Then again, if you're
ignorant to the point of thinking that Turretinfan won that debate,
perhaps you'd be safer staying at home. Hey, what about the word
"REFUSE" in Ex 8:2 and Ex 10:3 do Reformers not understand? Oh and by
the way, when Turretinfan said that God hardened Pharaoh's heart by
taking away his common sense, I almost fell off my chair. Did he get
that stuff from you, or did he make that one up on his own?

Anyway, have a great day!

Sincerely,
Louis Ruggiero
17:58:01 - Category: Mail Bag - Link to this article -

Obama & Gommorah: Our President's pledge to Homosexual Activists to Bring the US closer to Sodom
10/13/2009 - James Swan
.
MP3 Available Here

James R. White, founder & director of Alpha & Omega Ministries, a theologically Reformed Christian apologetics ministry based in Phoenix, AZ, will address the theme: "Obama & Gommorah: Our President's pledge to Homosexual Activists to Bring the US closer to Sodom".

Today, Dr. White will air clips from Barack Obama's Saturday speech to the Human Rights Campaign, a radical group promoting super rights based upon sexual behavior, and will then provide a biblical, Christian response to each clip. Dr. White shares here the one line that, as he listened to the speech on Saturday evening, caused him to stop the recording and roll it back to make sure he heard it correctly. And though it has gotten next to no commentary (Dr. Mohler likewise saw it as the most important statement), it is without a doubt the most important part of the speech:

"You will see a time in which we as a nation finally recognize relationships between two men or two women as just as real and admirable as relationships between a man and a woman..." (Applause.) --- President Barack Obama, October 10, 2009

To which Dr. White responds:

"The wicked freely strut about when what is vile is honored among men." (Psalm 12:8, God)


15:35:51 - Category: General Apologetics - Link to this article -

President Obama's Promotion of Homosexuality on Today's Dividing Line and Iron Sharpens Iron
10/13/2009 - James White
I will be addressing clips from Barack Obama's Saturday speech to the Human Rights Campaign, a radical group promoting super rights based upon sexual behavior, on both the Dividing Line and then immediately afterward, Iron Sharpens Iron. I will share here the one line that, as I listened to the speech on Saturday evening, caused me to stop the recording and roll it back to make sure I heard it correctly. And though it has gotten next to no commentary (Dr. Mohler likewise saw it as the most important statement), it is without a doubt the most important part of the speech:



You will see a time in which we as a nation finally recognize relationships between two men or two women as just as real and admirable as relationships between a man and a woman. (Applause.) --- President Barack Obama, October 10, 2009



To which I respond:



The wicked freely strut about when what is vile is honored among men. (Psalm 12:8, God)




08:55:42 - Category: Christian Worldview - Link to this article -

Sorry This is Late...
10/12/2009 - James White
I will be on the Trinity Talk webcast today at 11pm CDT. You can listen here.


10:38:56 - Category: Misc - Link to this article -

Stunningly Silly
10/11/2009 - James White
I was directed to an amazingly arrogant, yet, "What do you expect from Northern European academics these days?" article, found here, that illustrates one of the problems we have in our modern day due to the Internet. In the "olden days," academics (a term that could, in some contexts, refer to someone with trained insights and disciplined study, but today generally means a liberal who lacks both meaningful insight as well as any and all discipline) would come up with some kind of new theory, publish it, and unless it was truly ground-breaking, solid, and meaningful, it would be shredded by the rest of those in the field. However (and this is key), that process always took time. The history of the academy is one of disproven, shredded, abandoned theories and ideas, with only a very few surviving (ostensibly, the truth). That is as it should be. But "back then" those theories and ideas that had not yet been thoroughly examined did not become the stuff of blogs and websites, YouTube and Twitter. And that is the problem.

This particular woman's theory (one which opts for ignoring the context of the Bible and instead importing the context of pagan religious documents of the time) is absurd on its face, at least as it has been reported (one must always leave open the possibility that the press is utterly clueless, though, her own quotations seem to be unambiguous). However, you will see it being repeated as solid, "academically proven" truth by many. Fifty years from now no one may even remember the woman or her theory, as a hundred others will have come along since then, and, in the slowly moving field of academia, various papers will have been published demonstrating the absurdity of the position (the process has already begun). But in the meantime, those looking for reasons to disbelieve will trumpet the "scholarly consensus" that the Bible does not proclaim God as the Creator, when, in fact, no such "scholarly consensus" exists.
One other thing. Note that our liberal professor has an incredibly high view of herself: "The traditional view of God the Creator is untenable now." What kind of hubris does one have to possess to come along at the beginning of the 21st century and decide that everyone else before you just didn't get it, and that your insights are so grand, so sweeping, that you can make such statements? Answer? The 21st century secular liberal, for whom there is no such thing as humility, let alone balance.


21:22:20 - Category: General Apologetics - Link to this article -

How To Prove The Immaculate Conception Without Biblical Proof #2
10/11/2009 - James Swan
Recently I examined how Catholic apologist John Martignoni attempted to prove the immaculate conception without biblical proof while using a Bible. In this mp3 clip Martignoni explains Roman Catholics can defend their beliefs and refute Protestants using just the Bible. He calls this scriptural apologetics, claiming particular Roman Catholic beliefs have both direct or indirect Biblical proof. Last time we saw just how this argumentation works. It amounts to using a Bible without Biblical proof: using meandering logic and inferences foisted upon the sacred text. Mr. Martignoni continued to present more of his scriptural apologetics to prove the immaculate conception. I have again outlined Martignoni's arguments in the order he presented them. My counter responses are in

red

.

Argument 1: "Many passages of Scripture can have different levels of meaning." Revelation 12 is one such passage. The woman described can either mean the church or Israel, but "at the most basic level of meaning, the woman is also a real person ? Mary, the mother of Jesus." The passage describes Jesus without metaphor: "the male child who is to rule all the nations with a rod of iron." Likewise, the ancient serpent, Satan, is not a metaphor. Protestants though insist that the woman is a metaphor because "because they do not want her to be Mary."

Swan's Counter: Note first that one of Martignoni's main proof texts for the immaculate conception comes from apocalyptic literature. That is, it's easier to take highly symbolic passages of scripture and read in what one wants to. Even if Mary is the intended meaning of Revelation 12, the text states "she cried out in labor and in pain to give birth." This would clearly contradict the immaculate conception.

Argument 2: In Revelation 12:14 Mary is given a special grace from God so Satan cannot catch her. This shows once again the enmity between Mary and Satan as earlier shown in Genesis 3:15.



Swan's Counter

: We looked at the enmity argument previously. Revelation 12:14 states, "The woman was given the two wings of a great eagle, so that she might fly to the place prepared for her in the desert, where she would be taken care of for a time, times and half a time, out of the serpents reach." Is Martignoni suggesting this special grace is the immaculate conception? If so, on what basis does one extrapolate that from the text, even indirectly? Even if what is given to the woman is a "special grace" she's only given that alleged special grace "for a time, times and half a time," that three and a half years, not an entire lifetime.

Argument 3: Neither Genesis 3:15 nor Revelation 12 is direct proof for the immaculate conception. Martignoni states, "I never say this or that passage of Scripture absolutely proves anything." Since Protestants believe they have the right to interpret scripture for themselves, they can't logically say Martignoni is wrong to claim these passages are indirect proofs. They can't claim Martignoni's wrong, they can only disagree with his interpretation.



Swan's Counter

: Here we find a telling admission: for Roman Catholics like Martignoni, Scripture is not the ultimate authority. It doesn't absolutely prove anything. The very book that men and women risked their lives for doesn't absolutely prove anything. Protestants do more than simply disagreeing with Martignoni's interpretation. They present reasons why they do. They can show Martignoni's interpretive reasoning is spurious. When the Lord chastised the Sadducees in Matthew 22, he stated they were in error because they did not know the Scriptures. He further states, "have you not read what God said to you?" (Mt. 22:31). The Lord Jesus clearly held these men responsible for knowing and understanding the Scriptures. Were the Sadducees supposed to respond, "That's just your opinion"?

In our next Installment, we'll take a look at more of Mr. Martignoni's scriptural apologetics.




07:16:59 - Category: Roman Catholicism - Link to this article -

Recent Text Critical Innovations
10/10/2009 - Alan Kurschner
Everyday we are introduced to new applications of technology in many scholarly fields. But I cannot become blasé about the recent technological innovations in text critical studies. The most well-known innovation is the Codex Sinaiticus project. Just last year one had to travel to four different libraries around the world just to view different parts of the manuscript. Now you can not only view it from the comfort of your home—for free!—but you can utilize its search and transcription features.

Then there is The Center for the Study of New Testament Manuscripts. Daniel Wallace is the Executive Director, and their primary mission is to make "digital photographs of extant Greek New Testament manuscripts so that such images can be preserved, duplicated without deterioration, and accessed by scholars doing textual research."

Another is the New Testament Virtual Manuscript Room. Its web-based search and collation features are unprecedented. Previous generations of text critical scholars were limited to libraries that only carried big, expensive text-critical books—in other words, before the real textual critical analysis could even begin, there were the logistics of accessing the material to work with. Not that every text-critical datum is at our finger tips right now, but we are witnessing the vanguard to this goal.

The latest innovation is by Daniel Wallace, which is a Textual Critical Chart Time Saver. I can envision this program becoming a very sophisticated tool in the near future when they add more textual data such as dates, character, and more manuscripts. A program that converts textual data into chart format is amazing, since we all take the time to do it now either in our head or on paper when working on a particular variant.

And for pastors who are always pressed for time, this will be a boon in their text-critical sermon preparation.






16:24:47 - Category: Textual Issues - Link to this article -

Covenant Community
10/09/2009 - Jeff Downs
Mark Herzer, the speaker in the audio I mentioned earlier, gave me permission to post his paper titled The Church: A Covenant Community. If you listened to the audio, you will want to download this document; much more is included. Click here for the PDF.


18:04:41 - Category: Theology Matters - Link to this article -

Baking Clay Pots - Subtracting Water or Adding Hardness?
10/09/2009 - Tur8infan
Louis Ruggiero (aka LouRugg) asked my friend Dr. White:
Oh and by the way, when Turretinfan said that God hardened Pharaoh's heart by taking away his common sense, I almost fell off my chair. Did he get that stuff from you, or did he make that one up on his own?
I answer:

One of the problems with the debate is that it does seem that LouRugg, despite apparently working on a book on Calvinism, has some significant gaps in his understanding of Reformed theology. That's why he was apparently shocked that I didn't argue that God zapped Pharaoh with hardening rather than withdrawing his blessing from him.

Where did I get the idea from? Well, I got it from Scripture. I got it from the fact that Paul contrasts hardening with mercy just as we might contrast light and darkness. Thus, I drew the inference that God's hardening of a man is God's act of not showing him some mercy. In the debate I called this God withholding from Pharaoh "common sense" though others might like the term "common grace."

The passage in Romans 9 gave me further confirmation of this approach through the analogy of the potter and the clay. As I was thinking about the hardening and the potter, I thought: how does a potter harden a pot? The answer is, at least in part, by baking the pot - removing the water from the clay. The water that provides the softness is removed rather than some additional chemical that causes hardness being added. Now, I know that there are other things that go into the hardening of earthenware vessels, but that aspect is a significant one.

And it is not as though this is just a conclusion to which I arrived, but upon which I am at odds with the Reformed churches. Quite to the contrary, it is the widely held Reformed position. To wit,

John Gill:
God may be said to harden and blind, by denying them that grace which can only cure them of their hardness and blindness, and which he, of his free favour, gives to his chosen ones, (Ezek. 36:26, 27) but is not obliged to give it to any; and because he gives it not, he is said to hide, as he determined to hide, the things of his grace from the wise and prudent, even because it so seemed good in his sight, (Matthew 11:25, 26).
- John Gill, Of the Decree of Rejection

A.W. Pink:
Thus it was with each of us whilst in a state of nature. Sin blinds and hardens, and naught but Divine grace can illumine and soften. Nothing short of the power of the Almighty can pierce the calloused conscience or break the sin-petrified heart.
- A.W. Pink, The Restoration of David

R.L. Dabney:
Again: it is said, Scriptures teach, that the sin of the non–elect was not the ground of their preterition. "In John 10:26, continued unbelief is the consequence, and therefore not the ground of the Pharisees preterition" (Matt. 11:25; Rom. 9:11 18). "God's will," they say, "and not the non-sin, is the ground of His purpose to harden." And "Esau was rejected as much without regard to his evil, as Jacob was elected without regard to his good deeds." To the first of these points I reply, that the withholding of God's grace is but the negative occasion of a sinner's unbelief, just as the absence of the physician from a sick man is the occasion, and not the cause, of His death.
- R.L. Dabney, Predestination

Edward Payson:
The inspired writers teach us, very explicitly, that after a time, God ceases to strive with sinners, and to afford them the assistance of his grace. He gives them up to a blinded mind, a seared conscience, and a hard heart.
- Edward Payson, Sermon 18

John Calvin (who, you will note, suggests that in the case of Pharaoh God not only removed grace but also sent Satan):
3. Ancient writers sometimes manifest a superstitious dread of making a simple confession of the truth in this matter, from a fear of furnishing impiety with a handle for speaking irreverently of the works of God. While I embrace such soberness with all my heart, I cannot see the least danger in simply holding what Scripture delivers. when Augustine was not always free from this superstition, as when he says, that blinding and hardening have respect not to the operation of God, but to prescience (Lib. de Predestina. et Gratia). But this subtilty is repudiated by many passages of Scriptures which clearly show that the divine interference amounts to something more than prescience. And Augustine himself, in his book against Julian, [The French adds, "se retractant de l'autre sentence;" retracting the other sentiment.] contends at length that sins are manifestations not merely of divine permission or patience, but also of divine power, that thus former sins may be punished. In like manner, what is said of permission is too weak to stand. God is very often said to blind and harden the reprobate, to turn their hearts, to incline and impel them, as I have elsewhere fully explained (Book 1 c. 18). The extent of this agency can never be explained by having recourse to prescience or permission. We, therefore, hold that there are two methods in which God may so act. When his light is taken away, nothing remains but blindness and darkness: when his Spirit is taken away, our hearts become hard as stones: when his guidance is withdrawn, we immediately turn from the right path: and hence he is properly said to incline, harden, and blind those whom he deprives of the faculty of seeing, obeying, and rightly executing. The second method, which comes much nearer to the exact meaning of the words, is when executing his judgments by Satan as the minister of his anger, God both directs men's counsels, and excites their wills, and regulates their efforts as he pleases. Thus when Moses relates that Simon, king of the Amorites, did not give the Israelites a passage, because the Lord 268"had hardened his spirit, and made his heart obstinate," he immediately adds the purpose which God had in view—viz. that he might deliver him into their hand (Deut. 2:30). As God had resolved to destroy him, the hardening of his heart was the divine preparation for his ruin.

4. In accordance with the former methods it seems to be said,174174 Ezek. 7:26; Psalm 107:40; Job 12:20, 24; Isiah 63:17; Exod. 4:21; 7:3; 10:1; 3:19. "The law shall perish from the priests and counsel from the ancients." "He poureth contempt upon princes, and causeth them to wander in the wilderness, where there is no way." Again "O Lord, why hast thou made us to err from thy ways, and hardened our heart from thy fear?" These passages rather indicate what men become when God deserts them, than what the nature of his agency is when he works in them. But there are other passages which go farther, such as those concerning the hardening of Pharaoh: "I will harden his heart, that he shall not let the people go." The same thing is afterwards repeated in stronger terms. Did he harden his heart by not softening it? This is, indeed, true; but he did something more: he gave it in charge to Satan to confirm him in his obstinacy. Hence he had previously said, "I am sure he will not let you go." The people come out of Egypt, and the inhabitants of a hostile region come forth against them. How were they instigated? Moses certainly declares of Sihon, that it was the Lord who "had hardened his spirit, and made his heart obstinate," (Deut. 2:30). The Psalmists relating the same history says, "He turned their hearts to hate his people," (Psalm 105:25). You cannot now say that they stumbled merely because they were deprived of divine counsel. For if they are hardened and turned, they are purposely bent to the very end in view. Moreover, whenever God saw it meet to punish the people for their transgression, in what way did he accomplish his purpose by the reprobate? In such a way as shows that the efficacy of the action was in him, and that they were only ministers. At one time he declares, "that he will lift an ensign to the nations from far, and will hiss unto them from the end of the earth;" at another, that he will take a net to ensnare them; and at another, that he will be like a hammer to strike them. But he specially declared that he was not inactive among theme when he called Sennacherib an axe, which was formed and destined to be wielded by his own hand.175175 Isa. 5:26; 7:18; Ezek. 12:13; 17:20; Jer. 2:.23; Isa. 10:15. Augustine is not far from the mark when he states the matter thus, That men sin, is attributable to themselves: that in sinning they produce this or that result, is owing to the mighty power of God, who divides the darkness as he pleases (August. de Prædest. Sanct).

5. Moreover, that the ministry of Satan is employed to instigate the reprobate, whenever the Lord, in the course of his providence, has any purpose to accomplish in them, will sufficiently appear from 269a single passage. It is repeatedly said in the First Book of Samuel, that an evil spirit from the Lord came upon Saul, and troubled him (1 Sam. 16:14; 18:10; 19:9). It were impious to apply this to the Holy Spirit. An impure spirit must therefore be called a spirit from the Lord, because completely subservient to his purpose, being more an instrument in acting than a proper agent. We should also add what Paul says, "God shall send them strong delusion, that they should believe a lie: that they all might be damned who believed not the truth," (2 Thess. 2:11, 12). But in the same transaction there is always a wide difference between what the Lord does, and what Satan and the ungodly design to do. The wicked instruments which he has under his hand and can turn as he pleases, he makes subservient to his own justice. They, as they are wicked, give effect to the iniquity conceived in their wicked minds. Every thing necessary to vindicate the majesty of God from calumny, and cut off any subterfuge on the part of the ungodly, has already been expounded in the Chapters on Providence (Book 1 Chapter 16–18). Here I only meant to show, in a few words, how Satan reigns in the reprobate, and how God works in both.
- John Calvin, Institutes of the Christian Religion, Book 2, Chapter 4

The bottom line, though is that LouRugg should at least have read the Westminster Confession of Faith (1646) which states the general Reformed position (the London Baptist Confession saying essentially the same thing):
VI. As for those wicked and ungodly men whom God, as a righteous judge, for former sins, doth blind and harden; from them he not only withholdeth his grace, whereby they might have been enlightened in their understandings, and wrought upon their hearts; but sometimes also withdraweth the gifts which they had; and exposeth them to such objects as their corruption makes occasion of sin; and withal, gives them over to their own lusts, the temptations of the world, and the power of Satan; whereby it comes to pass that they harden themselves, even under those means which God useth for the softening of others.
- Westminster Confession of Faith, Chapter 5, Section 6

While God can send Satan to render us even more obstinate, it is sufficient for God to remove his grace from us. Like the earth that God softens with his showers (Psalm 65:10) or hearts can become instead hard and parched simply by his removal of the water of grace. And he can turn that parched ground into a pool if He wishes as well (Isaiah 35:7), showing mercy on whom he will show mercy and hardening whomsoever he wishes (Exodus 33:19 and Romans 9:15&18).

-TurretinFan


14:51:14 - Category: Reformed Apologetics - Link to this article -

Presuppositions of NPP Advocates
10/09/2009 - Jeff Downs
One last item for today...

I just returned from a meeting in which Dr. Tom Holland, from Wales Evangelical School of Theology spoke on the New Perspective on Paul. Holland is the author of Contours of Pauline Theology: A Radical New Survey of the Influences on Paul's Biblical Writing (Christian Focus).

If you would like to listen click here.


13:00:22 - Category: Theology Matters - Link to this article -

Servetus Again
10/09/2009 - Jeff Downs
This might be of interest of our readers. This past Thursday, in Reformation Church History, Dr. James McGoldrick addressed the topic of Michael Servetus and John Calvin. This issue has been dealt with on this blog (most recently here); and this 10 minute audio clip will simply add to the collection. Click here to listen.

Dr. James E. McGoldrick is Professor of Church History at Greenville Presbyterian Theological Seminary and is the author of numerous books and articles include Luther's Scottish Connection (Madison, NJ: Fairleigh Dickinson University Press, 1989; Recently republished by Solid Ground); ; God's Renaissance Man: The Life and Work of Abraham Kuyper (Darlington, UK: Evangelical Press, 2000).

His recent article "John Calvin: Theologian and Pastor" appeared in New Horizons (the OPC magazine).


12:15:33 - Category: Reformed Apologetics - Link to this article -

Should You Be a Member of a Local Church?
10/09/2009 - Jeff Downs
In 1995 GPTS held a conference on the topic The Doctrine of the Church. One of the presentations was titled "Covenant Community" by Mark Herzer. This was the best presentations I've heard on this issue. Pastor Herzer's purpose was:


"...to deal with two major points in this paper. One is the necessity of membership in the visible church. The second is the priority of election in the visible church. The two are quite related. The first develops the need for membership in the visible church and the second addresses the status of members in the visible church. The first point argues against the modern disdain for the visible church and the second answers the question of presumptive regeneration and the purists' notions of the visible church. One group seems to say that you don't need the church at all to be a faithful Christian while another group seems to argue that you know you are a Christian because you are in the visible church. Both of these positions, we believe, are wrong."

Click here to be equipped and edified. You can also check out Dr. Joseph Pipa's message from the conference titled The Triumph of the Church.


04:29:28 - Category: Theology Matters - Link to this article -

A Wild Radio Free Geneva and More
10/08/2009 - James White
I intended to spend the whole hour doing a Radio Free Geneva, announcing that I had learned that Ergun Caner has written a foreword for Lou Ruggiero's new book, The God of Calvinism, but the first two calls that came in (early in the program) were on Camping (from a fellow who has called the ministry many times) and atheism (from an atheist who wanted to "review" the Barker debate). Rich told me ahead of time exactly what the Camping caller was going to do, and I mean, exactly. He knew since he has gone around and around with the fellow before, so, I decided ahead of time I wasn't going to invest a lot of time on that one. I spent a lot more time with our atheist caller, and though highly exasperating, I hope it was likewise educational. I have once again been struck with how atheists, who profess themselves to be such clear thinkers, are so often anything but, and how they will throw consistency to the wind as long as it assists them in their suppression of the knowledge of God. The longer I live and minister, the more I not only believe Romans 1 is inspired, I see it. Here's the program.



19:56:07 - Category: The Dividing Line - Link to this article -

LouRugg, Harold Camping, and an Atheist
10/08/2009 - Tur8infan
On today's Radio Free Geneva edition of the Dividing Line we discussed LouRugg and his planned book against Calvinism, with highlights from some previous interactions he's had with Dr. White and TurretinFan. Next we turned to a caller who seemed to think that Harold Camping didn't go far enough. Finally, we heard from an atheist/agnostic who thought Dan Barker edged out Dr. White in the most recent debate. Here's the program! As mentioned in the program, here as well are the links to the full audio of the debate between TurretinFan and LouRugg (mp3 format)(wma format).






18:27:15 - Category: The Dividing Line - Link to this article -

Dan Barker Continues to Object
10/07/2009 - James White
Dear Mr. Barker:


Thank you for your lengthy note. Your response to the events in Newberg strike me as tremendously non-reflective. You do not seem willing, or capable, of giving serious consideration to your own positions, and your own actions. You do not seem to see the obvious, and evidently, this is due to what might be called the apostasy syndrome. It came out when you made a passing comment to me in Illinois: when I noted to you that I had rehearsed your arguments to a campus group earlier that day, you replied that this made no difference, since they are "good arguments." Then you made the telling comment. Why are they good arguments? "They are the arguments that made me an atheist."




It seems that due to the fact that you have invested your entire life, your entire personhood, to your apostasy and your new religion (and surely you must realize it functions that way for you: you speak of doing atheistic "outreach," you have "tracts" promoting atheism, even your outrageous behavior in the debate, praying for the microphone, etc., all speak of the fact that you have simply changed religions, you have not ceased to be a fundamentalist in your thinking), that you cannot even begin to reflect upon those arguments that are your primary bulwark against the inherent reality of God's existence. If you were to seriously examine your arguments for coherence and consistency, you seem to know the result would be disastrous for your position. And so on the one hand you speak of rationality and care in thought, while on the other you engage in the most egregious violations thereof




I will take a few moments here to address, one last time, your allegations.




1) In making my opening presentation I made the egregious mistake of accurately representing the arguments of my opponent, arguments he had been making, in published works, and in public presentations across the United States (and possibly beyond: I have not invested the time in checking your past travel schedules!). I followed the rules of debate that do not require the second person to engage in mind-reading. You have been arguing that my opening statement should be limited to the arguments you presented in your opening, arguments other than those you were still promoting in your book, for sale in the foyer of the church where the debate was taking place. How I could possibly know what arguments you were going to present outside of taking the time to purchase, read, and study your own books, I cannot begin to figure out. But, the very idea that my opening is limited to rebuttal is without merit. You have produced nothing but your own predilections as a basis for this assertion. You have cited nothing from published works on debate that would indicate that a person's opening statement should not be focused upon his opponents published and established position on the very issue of the debate! And no matter how much dust is thrown in the air here, Mr. Barker, all reasonable, rational people can see that not only did I accurately represent your work, but I did, in fact, focus upon the issue of the debate itself.




2) I believe you are embarrassed by the exposure of the level of argumentation you have been presenting for seventeen years in your published works. There is good reason for this. Your arguments were shallow and showed no familiarity at all with published refutations of them. In other words, they demonstrated tremendous bias on your part, and this goes to your credibility as a writer, thinker, and lecturer. Unlike your raising issues about my own educational background (which includes teaching in these areas since 1991), I have consistently let the facts illustrate the problems with your argumentation. The one time I mentioned your undergraduate work, I did so by quoting...you! So the issue here seems to be that you were well aware of the problems in your argumentation and use of sources, but, you refused to raise these issues prior to the debate, choosing instead to raise this smokescreen of a controversy to allow you to save face as well as continue to sell your books without appropriate emendation and admission of fundamental error.




3) You likewise seem to think that I am somehow attacking you, personally, as an individual. I do not believe this vitally important issue is about individuals. Who I am, or who you are, is irrelevant. I have never made myself a component of my argumentation. When I have challenged you on your studies I have done so not by saying, "Oh, look, I went to Fuller Seminary" or the like, I have challenged you on the much more fundamental basis: when you say "the Greek says" you have no basis for substantiating your claims and, in fact, have made documentable errors in the field. So when you admit you had only in the past ten years come to know about the Comma Johanneum, I think that is quite relevant to a person's appraisal of your over-arching claims regarding biblical accuracy and reliability. I would gladly allow anyone to compare Godless with my works, such as Scripture Alone, The King James Only Controversy, etc., and come to their own conclusions. So, Mr. Barker, this isn't a personal matter on my side.




However, as anyone who has taken the time to listen carefully to your story knows (and that is one of the issues here: I took that time, I listened to your story, multiple times, to your university lectures, to your debates, before we first debated: you were not even sure who I was in Illinois, and had not, it seemed, even taken the time to google my name, which put you at a self-imposed disadvantage from the start), you, sir, are the one who has made Dan Barker an issue. You market yourself as a former preacher. You speak of your knowledge of the Bible. I can provide many, many examples of this, of course. Just listen to yourself in your debate recently with Kyle Butts. You claimed a high level of literacy of the Bible, and even of Greek, in that debate. So when anyone refutes your arguments, since you have made your own apostasy from Christianity the main selling point you are promoting, they cannot help but cast doubt upon your claims. It is impossible to do otherwise. So when you then complain that you are being "attacked," I suggest, sir, that you have made it impossible to completely separate the issues from the man. But that is a self-inflicted wound, Mr. Barker.




4) You object to my saying you abandoned the argumentation in your book. It is self-evident that you did. In fact, in just this point we see how truly irrational your stance in this matter has become. Anyone can listen to your initial objection. It was not rational. You said that you had not come to debate your book, as if my citation of your book changed the topic of the debate from your allegation that Jesus is a myth to your book. Your book contains an entire chapter on the topic of the debate. As I pointed out, you did not pursue the main line of argumentation in your book. You had eight possible naturalistic explanations for the "Jesus myth" in your book. How many of them did you present and defend in the debate, Mr. Barker? If you did not present them, how can any rational person object to the statement that you abandoned the arguments in your book, unless, of course, you wish to ignore the context of that statement (the context being the debate itself, and the specific arguments on Jesus as a myth contained in a specific chapter), and I fear you might well do that, in light of the fact that you continue to defend your misuse of Justin, though, I note, you cannot provide any contextual evidence for your abuse of his words.




I note as well that you have come up with a truly ingenious way of getting around the fact that you did not use the argumentation in your book in the debate: that you found "exciting and fresh" material to use instead. This ignores a major problem of fact and logic: you admitted in the debate that Richard Carrier warned you about the Walker material. Was it "exciting and fresh" news when Carrier informed you that the longest section of citation in your book on this topic was filled with holes, Mr. Barker? You admitted in the debate that during your preparation you had encountered this information. Is this not a clear admission that the reason you made the presentation you did was because you do not feel the material in Godless is actually defensible? And may I again point out what all of this means? You have now added a whole string of new (and, I would say, no more meaningful) "naturalistic explanations" to your presentation. That means you now present at least a dozen, probably more, possibilities all of which contradict the others! You have dropped the probability of any one of them being correct down to less than 10%, and yet do not even blink to promote more than one as being "compelling"! You may not see how this reveals an incredibly cavalier attitude toward history, but I truly believe the objective reviewer does.




5) I believe you are playing fast and loose with language in accusing me of putting words in your mouth. You refused to defend Walker's outrageous material, reproduced by you for seventeen years in print. Yet, if I call that "jettisoning" her arguments, you say I am putting words in your mouth. I will allow any rational person to examine the video and see for themselves what you did. Saying you are going to put her scholarship on a "lower level" is a nice, meaningless phrase. Either what she said is ridiculously anachronistic and false, or it isn't. Which is it, Mr. Barker? And just how clear and compelling was your comment, offered more than once, "Well, I might have changed my mind!" Classic avoidance answer. Those in the audience that day, and those who have watched the debate, well know that you rivaled Barney Frank trying to answer questions about Fanny Mae and Freddy Mac in your soft-shoe attempt to avoid admitting error. You seem to want to be able to avoid defending your own use of her material while at the same time accusing me of putting words in your mouth. It is the classic cake/no cake situation again.




6) You likewise keep saying I have been wrong in saying you did not want me to quote you in the debate. Again, the video recording is unambiguous. As soon as I began quoting you, you objected! You did not want me quoting Godless on the very topic of the debate, all based upon your insistence that I only get to rebut, not make a presentation based upon my opponent's published works. You did not want me quoting Godless and you made that very plain. I leave it to any honest person to watch the debate and decide for themselves.




And so I invite you to post your article. Make your arguments. For those who are not interested in clear, consistent thought, nothing I have to say is going to change their minds. But I truly believe, Mr. Barker, that you have no basis for objection whatsoever to anything I said in the debate, or anything I have posted since then. Please feel free to defend your use of Justin: I believe anyone who compares my presentation with your own will see the truth of the matter. Please go ahead and give us another explanation of what you were really objecting too: the cameras were on, the recordings taking place.




It has always been my contention, Mr. Barker, that atheists are creatures denying their Creator. This involves a fundamental twisting of reality, and the more you attempt to re-make very recent, video-recorded history, the more you are demonstrating the correctness of my observation.




Finally, as to any future debates: as I have said, I will not pursue such, but if a third party wished to arrange a debate on your list of alleged contradictions in the Bible, I would have to say: would I get to quote you then? I think this is an excellent example of just how irrational your objection originally was. Let's say we debate again and the topic is your famous list of alleged contradictions, such as you presented in Illinois (chapter 13, p. 222 of Godless), and let's say we throw in your attempted response to me on Acts 9/22. You go first, making your case against the Bible. But if we follow your line of thinking, I would not be allowed to create a presentation based upon your published list of contradictions found in your books, since, as you say, "I might have changed my mind"! Or, let's say you realize that you cannot really defend your attack on Acts 9/22 against someone who has actually taught the original languages of the Bible. By your own position I would not be allowed to even include a discussion of your published response to me unless you first raise it in your own positive presentation! Do you not see how your position destroys any meaningful debate over any important issue? And let me add one other item while I am at it, Mr. Barker. I read an e-mail from you that you wrote after your debate with Doug Wilson (a debate you think you won---a debate I do not believe was even close, mainly because you have yet to allow yourself to actually "hear" what Doug, or I, am saying) in which you rather smugly spoke of having been fully aware of Wilson's serving on a capital crime jury in Idaho, and how you tried to use this information to your advantage (though, again, I think Doug handled that very poor attempt at the creation of an alleged "contradiction" very well). In fact, here is the letter, and I think it is useful to quote your own words:



The debate was great! All of the freethinkers in the audience agreed that I
nailed Wilson on many points.

I think he was surprised that I was ready for him.

I actually was able to use his jury experience against him, and he fell
right into it. He doesn't know that I knew the story because I framed it
hypothetically and he volunteered that he was foreman of that jury, so I
just asked "innocent" questions. He eagerly stated that he would have
recommended the death penalty for the convicted murderer.

So let's compare these two incidents, Dan: in our debate, I accurately represented the published arguments of my opponent in my opening statement. These are arguments you made in a public setting. And I continue to assert that anyone who would make an opening statement on a topic of debate while ignoring their opponent's published positions is engaging in simple disrespect. Now, compare my actions in that debate with yours in your debate with Doug Wilson. You took private information, provided to you by an atheist in Idaho, and rather than openly using that information, pretended to present an "innocent" question so as to set up what? An alleged biblical contradiction during cross-examination so as to "nail" him. And that in a debate on the existence of God. And you say I have done something unscrupulous? I leave it to the unbiased reviewer to decide.

James White


14:34:23 - Category: Christian Worldview - Link to this article -

Two Quick Apologetic Tips on the Trinity
10/07/2009 - Alan Kurschner
The two most frequent objections to the Trinity can be illuminated with two simple, but effective, illustrations.

First, "How can there be three and one at the same time"? This question conflates two categories into one. But Christians understand that there are two categories involved. There is one "What" (Being/Deity) and three "Who's" (Persons/Father-Son-Holy Spirit).

Here is the best illustration that I think brings out this fundamental difference in these two categories that unbelievers can immediately relate to: There is only one humanity (Being) but many individuals (persons). Individuals share in the Being of humanity, and that does not mean that I am you, and you are me — we are different persons with the same single Being.

This illustration is not intended to exhaust or explain all the elements of the Trinity; instead, it serves to illustrate this single categorical difference between Being and persons. Someone may object by saying, "Does not this analogy support polytheism, since there are billions of individuals, there can be billions of Gods or divine persons?" Let me be clear: this illustration is intended to show a single distinction between two categories — Being and persons; the point is not intended to show how many persons there are. Only Scripture can provide us this latter truth.

Next, believers are often not as aware of this second most frequent assumption that unbelievers have about the Trinity. But if you are aware of this deep assumption by those who deny the deity of Christ, you can disarm them, aiding them to the vista of Trinitarianism.

Memorize and internalize the following Trinitarian truth:

Difference in function does not indicate inferiority of nature.
That is James White's statement and it will go a very long way in your Trinitarian apologetics.

There is a built-in assumption for many that if Jesus has a lesser role than the Father, he must therefore have a lesser nature. This is an illogical inference. Those who oppose the deity of Christ point to Jesus' submissive remarks about doing the will of his Father. For example, Jesus says, "the Father is greater than I am." They infer from this that Jesus does not share the same nature with the Father (this ignores that the context is talking about their relational roles, not their nature, John 14). Jesus also calls the Father, "My God." Yet those who oppose the deity of Christ ignore that this is a humble acknowledgment of the Incarnate Jesus, modeling for us humility and submissiveness (John 20:17). This exalting affirmation is exactly what we would expect from the Son of God.

Similarly, since Jesus is the agent of the Father in many respects such as the Creation, therefore Jesus cannot be fully God. And regarding the Spirit, they will make the similar false assumption: Since the Spirit is sent by the Father, the Spirit cannot have the same divine nature as the Father. Again, they will look at these statements and make the fallacious leap that difference in function indicates inferiority of nature.

By doing so, they also deny the freedom of the Divine persons to choose their roles. Or to put it another way: they assume that to be truly God, the Son and the Spirit must have the exact same roles as the Father. Do not allow them to accept this assumption. Probe them to ensure they see this point.

So a simple, but effective, illustration will show that difference in function does not indicate inferiority of nature: A husband and wife will have different roles in a marriage. Wives are to take on the submissive role, but this does not indicate that difference in function requires inferiority of nature. Does the wife have a lesser nature than that of the husband? Of course not. They both are fully human.

I hope these two simple illustrations will be staples when you come across these frequent assumptions. The former illustration depicts the difference between Being and persons; the latter illustration depicts the difference between Being and functions.

Let's praise God for the Incarnation, which itself presupposes a submissive role that brought about our salvation. We do not worship a unipersonal-Unitarian God, but instead a complementary-Trinitarian God.



11:35:30 - Category: General Apologetics - Link to this article -

A Gospel Worth Suffering For: Part II
10/06/2009 - James White
17:50:16 - Category: Exegesis - Link to this article -

Today's DL...and a Lost DL from Oregon
10/06/2009 - James White
I forgot to blog the DL we did up in Oregon on the 24th of September. As I recall, we finished off our review of the George/Beckwith ecumenical dialogue at that time. My apologies for not having gotten it blogged before. Here's that program.
Today on the program we started off wishing Rich Pierce a happy birthday, and then moved on to a discussion of the response I've received from commenting on the Chuck Smith/Calvary Chapel comments on Calvinism. I played, again, the allegation that Calvinism is "Christianity without Jesus," and commented on it. Here is that portion of the program:





We then took calls on a wide variety of topics, including the misuse of church history sources, Matthew 18, and more. Here's the program.


17:44:00 - Category: The Dividing Line - Link to this article -

My Calvinist Bike Ride
10/05/2009 - James White
Part of me says I shouldn't post this, but I figure those who don't like me will use anything anyway, so why not give them something fun? This morning I did a Calvinist ride. It didn't start out that way, but hey, it must have been predestined. I was originally focused on doing the steepest, toughest climbs I know of in the Phoenix area. But after doing the third such climb (which topped out above an 18% grade, which is incredibly steep), I started thinking that if I did one extra climb I hadn't intended to do, I would have...five climbs! And so the obvious thoughts began to hit me. Like, "Well, the third was the toughest climb, and that's like the L...and the last climb is the easiest, and that seems to fit, so...." And so I did the extra distance (total of 37.5 miles), and here is the resultant altitude/grade chart from my cycling computer to prove the point:




The U really is a pretty major hill, but since it is pretty close to the first one, it doesn't stand out as much. It is, however, very steep, holding a solid 15% grade for a while. But that L is a killer. I was completely red-lined by the time I got to the top, standing in first gear giving it all I had. I think the heart rate monitor was flashing, "Hey, stupid, eternity is just a few more pedal strokes ahead!" I had never climbed that particular wall before (Sweetwater Avenue in Phoenix, around 17th Street), and had in fact only seen it for the first time last week. Once I conquered that one, I figured the last two would be cake, and they pretty much were, in comparison.
So there you go. My Calvinist ride. Now let's see what Gail Riplinger does with that!


18:39:23 - Category: Personal - Link to this article -

Dan Wallace on NT Wright and the Righteousness of God
10/05/2009 - James White
Dan Wallace has published a fairly lengthy response to NT Wright's central assertions regarding the righteousness of God. The article is titled Δικαιοσύνη Θεοῦ and N. T. Wright. The first URL Dan provided contained unicode, like this: http://bible.org/article/δικαιοσύνη-θεοῦ-and-n-t-wright. While that is really pretty and all, I don't think the majority of folks would find that to work, and e-mail programs generally don't translate URLs containing unicode very well, so an alternative URL has been provided that should work for everyone, here.


09:32:40 - Category: Theology Matters - Link to this article -

God's Law and Life
10/05/2009 - James White
00:01:00 - Category: Christian Worldview - Link to this article -

How To Prove The Immaculate Conception Without Biblical Proof
10/04/2009 - James Swan
The constant dilemma of the Roman Catholic apologist is to insert doctrines into the Bible that aren't there to begin with. Their argumentation of meandering logic seeks to demonstrate: a) The Bible doesn't contradict the doctrine being inserted; b)There are indirect Bible passages that if interpreted by first granting the validity of the extra-biblical doctrine, actually support the extra biblical doctrine. Catholic apologist John Martignoni's most recent newsletter is a perfect example. He presents "Challenge/Response/Strategy" in defending Mary's immaculate conception. This argumentation is for his upcoming book on basic Roman Catholic apologetics.

In Martignoni's argumentation, the immaculate conception must first be brought to the biblical text. That is, by a plain reading of the Bible, one would not read from Genesis to Revelation and conclude Mary was born sinless and remained free of sin her entire life. Martignoni's apologetic then is to prove the immaculate conception is not disproved by anything the Bible states, and that certain texts can be utilized as indirect proofs. I outlined Martignoni's hypothetical challenges and his responses in the order he presented them. My counter responses are in

red

.

Argument 1: The Bible doesn't use the words immaculate conception. Therefore it is an unbiblical concept.

Martignoni's Response: The words Trinity and Incarnation are not found in the Bible either.



Swan's Counter

: I know of no serious Protestant apologist that actually uses such an argument. The question is not whether the phrase is found in the Bible, but are there specific direct passages that substantiate such a concept? To substantiate such a concept as a clear teaching of scripture one needs direct passages, not a few vague inference passages.

Argument 2: Trinity and Incarnation are concepts supported by the Bible, the immaculate conception has no such support.

Martignoni's response: There is no passage in Scripture which directly states that Mary was not conceived without original sin, or that she was not immaculately conceived.



Swan's counter

: Aside from the fact this response doesn't follow from the argument, this type of argument can applied to many individuals within the Bible. The Bible doesn't say Priscilla was conceived without original sin, or that she was not immaculately conceived, yet we don't assume she was. A lack of evidence does not bolster or further an argument.

Argument 3: Romans 3:9-12 and 3:22-23 says all are under the power of sin and that all have sinned, therefore Mary sinned.

Martignoni's response (four points):
A. Such an argument does not address Mary being immaculately conceived, it addresses whether or not she was sinless her entire life, which is a different question.



Swan's Counter:

Under the heading of "The Immaculate Conception," the Catechism of the Catholic Church states, "By the grace of God Mary remained free of every personal sin her whole life long" (CCC 493), so it is not a different question.

B. There is no passage in Scripture which directly states that Mary was not conceived without original sin, or that she was not immaculately conceived.

Swan's Counter: Luke 1:35 positively says Jesus was conceived by the Holy Spirit. There is no such verse about Mary's conception. There is no verse that states Mary must be sinless in order to bear the Son of God. Martignoni offers no similar positive evidence that would separate her from the rest of humanity described in Romans 3.

C. Some Protestants believe things not found in the Bible. Catholics likewise should be allowed to believe things not directly stated in the Bible. Example: The Bible nowhere says contraception is okay, yet most protestants believe it is.

Swan's Counter: Martignoni's argument would not work against Protestants who deny both the immaculate conception and contraception. To prove some Protestants may believe something not found in the Bible does nothing more than prove an inconsistency. To prove such offers no positive support for an extra-biblical belief in the immaculate conception.

D. Some Scripture passages indirectly support the Immaculate Conception, like Genesis 3:14-15. Mary is the woman described. Enmity exists between Satan and the woman. Martignoni says, "If you have sin in you, can you say that there is enmity between you and Satan?" Only a sinless being can be at enmity with Satan. Therefore Mary was not conceived in sin, and did not commit personal sin.

Swan's counter: This is Martignoni's only attempt to present positive argumentation. He candidly admits his Biblical proof is indirect. The argument has an unproven assumption: only a sinless person can be an enemy of Satan, at war with Satan. But, there has always been enmity between believers and Satan. One does not have to be sinless to be at war with Satan. Why would Paul exhort the Ephesians to put on the full armor of God "so that you can take your stand against the devil's schemes"? Wouldn't he first clarify that in order to put on the armor, one must be entirely sinless? Similarly, why would Peter exhort Christians to resist the Devil (1 Peter 5:8), or James to resist the devil (James 4:7)? Here we have direct proof that all Christians are enemies of Satan, at war with Satan. John warns us that "if we claim to be without sin, we deceive ourselves." Christians are sinners, and they are at war with Satan. Nothing could be clearer.

Martignoni states that he was limited with the amount of time he had to put into this argumentation. Then again, he states this argumentation is for a book (as if the world needs yet another book repeating arguments already put forth by other writers). If he's going to continue with a similar line of reasoning, perhaps he should back up a bit and explain his proofs are not proofs, but inferences. He claims to be presenting "biblical, historical, and logical perspectives" as to the immaculate conception. His reasoning though amounts to inferences and leaps of logic read into the text.




12:00:00 - Category: Roman Catholicism - Link to this article -

The Truth About Justin Martyr's Argument in the First Apology
10/04/2009 - James White
I fully expected Dan Barker to use (or, I should say, misuse), the quotation from Justin Martyr's First Apology, and so I had invested a fair amount of time reviewing the material prior to our debate. In fact, in the video below, watch my face during Mr. Barker's opening statement when he mentions Justin. That is the smile of "Another prediction comes true." In fact, either in the #prosapologian chat channel, or maybe even on the DL, I specifically said, "I have a feeling Barker is going to try to go a different direction than he did in his book." Not that you can mind-read such things, and hence must, if you are to be an honest scholar, respond to someone's published arguments, but I just had that feeling. But I fully expected Justin to make an appearance, and since the debate was not the place to go over the entire presentation, I provide the background material here that substantiates the claims I made in the debate. I hope this will assist Christians in rebutting this common (and false) claim, found so often in popular (but equally shallow) atheistic writings.







00:01:00 - Category: General Apologetics - Link to this article -

The Triune God of Scripture Lives
10/03/2009 - Micah Burke
16:11:53 - Category: Theology Matters - Link to this article -

Forbidding Marriage
10/02/2009 - Tur8infan
There is a very old error that derogates marriage and attempts to forbid marriage. In its extreme form, it forbids marriage of all Christians. In a less extreme form, it forbids marriage of office holders. It is that form that we see in the Roman Catholic church today.



Introduction



1 Timothy 4:1-3



Now the Spirit speaketh expressly, that in the latter times some shall depart from the faith, giving heed to seducing spirits, and doctrines of devils; speaking lies in hypocrisy; having their conscience seared with a hot iron; forbidding to marry, and commanding to abstain from meats, which God hath created to be received with thanksgiving of them which believe and know the truth.



Nuns, Monks, Priests, and Bishops are forbidden in Roman Catholicism (for the most part, though there are a few married priests in some of the other rites besides the Latin rite) from being married. This is an error and a point at which, while it has a lengthy tradition, the Roman Catholic Church stands against Scripture.

I know the usual objections, and they each have been answered.



Objection

: No one is forced to be a priest.



Answer

: Agreed. And yet, if one wants to be a priest, one is forced to sacrifice marriage. Furthermore, if God is calling a person to the ministry, one is not free to disregard that call.



Objection

: It's not a requirement.



Answer

: Yes, it is a requirement. It's a condition precedent to obtaining office.



Objection

: No one has a right to be a priest.



Answer

: If God has called a man to the ministry, then the man does not simply have a right but the duty to answer God's call.



Objection

: It's not against Scripture for the church to ordain only those men who are celibate.



Answer

: Yes, it is against Scripture. It's clear from the Scriptural requirements given for the offices of deacon and elder/presbyter/bishop that such men are anticipated ordinarily to be married men who have children (1Ti 3:2

A bishop then must be blameless, the husband of one wife, vigilant, sober, of good behaviour, given to hospitality, apt to teach;

| Tit 1:6

If any be blameless, the husband of one wife, having faithful children not accused of riot or unruly.

). To eliminate all married men from consideration is to render Scripture void through one's tradition.



Objection

: So, you're saying that celibacy is evil.



Answer

: No. Not at all. In fact, celibacy (if a gift given by God) can be a great help to ministers and especially to missionaries.



Objection

: So, you're saying that renouncing marriage is wrong.



Answer

: Not exactly. It is, of course, wrong to make an unconditional oath of celibacy, because God does not promise the gift of celibacy to every man who asks it. Furthermore, Scripture plainly teaches that it is better to marry than to burn. (1 Corinthians 7:9

But if they cannot contain, let them marry: for it is better to marry than to burn.

) Therefore, an unconditional renunciation of marriage is a sinful oath, and one that ought to be violated (through marriage, not fornication) to honor God, if one later discerns the absence of the gift of celibacy.



Objection

: Celibacy of bishops/priests/monks/nuns is just a discipline, not a dogma.



Answer

: There is errant doctrine that informs the errant discipline of celibacy. If the Roman Catholic Church followed the doctrine of Scripture, especially as taught in 1 Timothy 4:1-3, then it would not have this particular discipline.



Objection

: The Early Church Fathers did it!



Answer

: Agreed. The practice seems to have crept in rather early. It was wrong of them to do it, and it is wrong for folks now to follow them in doing it. Our moral authority is not ancient practice but Holy Scripture. Yet, if it were ancient practice, we'd be guided not by the Early Church Fathers, but by the Apostles who (for the most part) married:

1 Corinthians 9:5

Have we not power to lead about a sister, a wife, as well as other apostles, and as the brethren of the Lord, and Cephas?



That was the apostolic practice and Paul affirms that it is an elder's right to marry. It is his "power."



Conclusion



The practice of requiring those who wish to have office in the church to be celibate is wrong. It is contrary 1 Timothy 4:1-3, it is contrary 1 Timothy 3:2, it is contrary to Titus 1:6, it is contrary to 1 Corinthians 7:9, and it is contrary to 1 Corinthians 9:5. It was wrong when Rome used to require deacons to be celibate (an error that has been corrected, without - of course - admission that is was an error) and it will be good when Rome ceases to make that same requirement of priests (though we cannot say how soon that will happen, there are significant pressures pushing Rome in that direction). Rome is wrong to require such celibacy, Rome is wrong to forbid men and women from marrying, and Rome is wrong to teach that unconditional vows of celibacy are good. On this matter, Rome stands against Scripture. Perhaps this area is an area where Rome can heed the correction of Scripture without admitting its mistake (as it has with respect to deacons). Nevertheless, it should serve to demonstrate to the reader that Rome is not an infallible interpreter of Scripture.

-TurretinFan


06:12:37 - Category: Roman Catholicism - Link to this article -

Jeremiah 10:6-16, PRBC Sunday Evening Sermon, 9/27/09
10/02/2009 - James White
00:01:00 - Category: Exegesis - Link to this article -

James 2:14-26
10/01/2009 - James White
A decade ago I preached on James 2, a text often cited by those promoting works-salvation systems. Of course, they always say we have "no response" to the text, but, they have also rarely ever taken the time to actually hear how we understand and honor this text. For those who wish a written discussion, please see the lengthy exegesis offered in The God Who Justifies.






00:01:00 - Category: Exegesis - Link to this article -