Alpha & Omega Ministries Apologetics Blog

The Spirit Directed Magisterium?
10/29/2009 - James White



What I am suggesting in Return to Rome is that the Nicean orthodoxy offered by the Puritan divines was only possible because they had the benefit of a Spirit-directed Magisterium that had secured this orthodoxy as normative over 12 centuries prior to the Westminster Confession of Faith. (reference)



Converts (or in this case, reverts) to Roman Catholicism tend to adopt a view of history that is rosey at best, and grossly anachronistic at worst. High language about the "Spirit-directed Magisterium" sounds great in academic circles, as long as it never has to deal with the harsh, messy facts of history. But we surely have the right to ask, "just how did this Spirit-directed Magisterium produce Nicene orthodoxy?" There is this little problem of history in the way: Rome was not in charge at Nicea. In fact, Rome had next to nothing to do with the Nicene definition, and in fact, it was Alexandria, in the following decades, even in the face of Roman capitulation to the rise of Arianism, that stood firm for the Nicene formulation, and that against the entire weight of the "formal" church of that day. Did the Spirit-directed Magisterium move to Alexandria for a few decades in the middle of the fourth century? And if this Spirit-directed Magisterium is not to be equated with Rome itself at that time, why should it be today?

Of course, if Rome gets to take credit for Nicea, does she take credit for Nicea II and its incredible mishandling of Scripture? For the many errors of the medieval period, or the promotion of the Malleus Maleficarum? How about the theology behind the Inquisition? Was that part of the Spirit-guided Magisterium, too?
19:01:55 - Category: Misc - Link to this article -

Debate Info for Next Week!
10/29/2009 - James White
"Jesus in the Qur'an & the Bible":

A Live Muslim-Christian Dialogue



Saturday, November 7th, 7pm



United Presbyterian Church



62-54 60th Place



Ridgewood, Queens, NY


Dr. James R. White is Director of Alpha & Omega Ministries, a Christian Apologetics organization based in Phoenix,

AZ.

He is the author of numerous books, a professor and an accomplished debater, having engaged in more than seventy-five moderated, public debates and dialogues with leading proponents of Islam, Roman Catholicism, Liberal Protestantism, Jehovah's Witnesses and Mormonism.

Imam Syed Z. Sayeed is Religious Life Advisor



for the Muslim Campus Ministry and Office of the University Chaplain at Columbia University in New York City. Has been affiliated with Columbia for more than ten years and is an alumnus of Teachers College. He has also taught Psychology and Education at the college level both in India and the United States. He retired as an educational administrator in 1996.


Admission is FREE!!
(718)417-9562 (Directions Only)
(631)991-1226 (All Other Details)
18:46:09 - Category: Misc - Link to this article -

Update on Conference Room
10/23/2009 - Rich Pierce
Just a quick update for those of you who have donated towards the conference room project here, we finished the ceiling today and here's a pic of the progress.




As you can see we have the lighting and the A/C in and working. Next step is carpeting and while that is going on we will starting hunting for the video mixing equipment.


16:34:24 - Category: Misc - Link to this article -

Acts 13:48 and Evangelism: Great Falls, MT
10/17/2009 - James White
07:07:07 - Category: Misc - Link to this article -

Using Words....Differently
10/15/2009 - James White
Greetings from the Denver airport. OK, while I've been traveling today someone sent in a link to Dr. Caner's debates. Well, sorta. Here's the link. It is a total of eight "interviews." One with "Mormons," two with a female Christian scientist, two with a Bahai representative, two with Mel White (homosexual), and one with a representative of Eastern Orthodoxy.

Is that really it? Surely there has to be more than that! I mean, it's great to "interview" folks, but...when did an "interview" become "He has debated leaders in Hinduism, Buddhism, Islam, Bahai, Taoism, and many cult leaders in forty states and eleven countries"? Forgive my leaden literality, but, if you speak of "forty states and eleven countries," wouldn't that necessitate at least...54 debates? What does it mean to use language in this fashion? And if an interview is a debate, then, are reporters debaters?

This just can't be all there is. Words have meanings. I happen to know what a debate is. I have engaged in them all over the US. I've done a few in England, and a few in Australia. But you see, when I say I've done these debates, well, I provide a list (here), and you can listen to almost all of them. Watch a large number of them, too.

So I'm just going to have to ask Ergun Caner directly via Twitter: where are all these debates from forty states and eleven countries? What are the names of these leaders in Islam you have debated? How can the rest of us learn from your debates if we can't find them? Inquiring minds want to know.

18:12:01 - Category: Misc - Link to this article -

Resource Assistance, Please?
10/15/2009 - James White
Hacim, King of Graphics, improved my last post by adding a screen shot of the exact statement by Ergun Caner noted in my previous blog notes. Now, as I looked at it, I started reading the side bar, and I ran across this line:


He has debated leaders in Hinduism, Buddhism, Islam, Bahai, Taoism, and many cult leaders in forty states and eleven countries.

Now that's a bio line! I would love to hear these debates, especially the ones on Islam and the "cult leaders." So I went to Dr. Caner's website to look for how I can obtain these debates. And, just as it was in 2006, you can't find anything about all these debates he has done all over the US (well, 4/5ths of the US anyway) and in eleven countries. So, could someone please tell me how to get hold of all of these debates? Who has Ergun Caner debated on the Islamic side? Zakir Naik? Shabir Ally? Bassam Zawadi? Adnan Rashid? Zulfiqar Ali Shah? Who? What cult leaders has he debated? Where are the recordings, videos, etc.? I went to his YouTube page...only five videos, none of them debates. So, could someone help me?



11:21:56 - Category: Misc - Link to this article -

Post-Modern Emotionalism at Liberty?
10/15/2009 - James White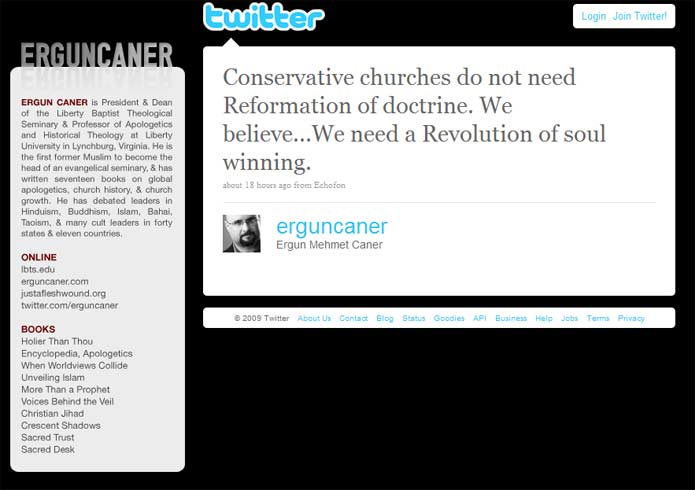 I have been informed that some students think I am "lying" about Ergun Caner's comment that I posted last night from Twitter. I'm not sure how you "lie" about someone when you quote their entire comment. Surely, a "tweet" has little context, but I think I know Caner's context (here's proof). But as I have read the argument (which, ironically, is coming from someone in the law school, who should know better), they disagree with how I am reading Caner's meaning (based upon our previous interactions) and are equating disagreement on that level with dishonesty and misrepresentation. This kind of muddled thinking is commonplace in our society today. We think with our hearts and emotions, not with our heads. Ask any teacher who happens to teach logic these days. Hard to find students. And even if a person studies the subject, one may know the formal means of reasoning without applying those in every day life.
Ergun Caner said we don't need a Reformation of doctrine. I disagree. Man's traditions have eviscerated the powerful gospel of Christ that presents a mighty and glorious Savior who commands men everywhere to repent. Man-centeredness has turned God's law into God's mild suggestions, so that those who love their sin feel no shame when they flaunt that sin in public. The wrath of God has become the slight annoyance of God (but He'll get over it). And once you come up with a gospel that is really not even "gospel lite," you can hardly be surprised that it doesn't change the hearts of men, since the only heart that is ever truly changed is changed by the Spirit of God in concert with the Gospel of Christ. And hence why I concluded with that line, "What you win them with is what you win them to." Reformation of doctrine is necessary for there to be a "Revolution of soul winning." The Spirit is the Soul Winner, and He uses the gospel He has enscripturated in Holy Writ to accomplish His task. Think about it.
09:45:38 - Category: Misc - Link to this article -

Taking the Calvin Quiz....
10/13/2009 - James White

More about John Calvin at Calvin 500


20:11:03 - Category: Misc - Link to this article -

Sorry This is Late...
10/12/2009 - James White
I will be on the Trinity Talk webcast today at 11pm CDT. You can listen here.


10:38:56 - Category: Misc - Link to this article -