Alpha & Omega Ministries Apologetics Blog

The Doctrines of Grace in St. Charles This Week
11/30/2009 - James White
For my tenth consecutive year I will be visiting the brethren at the Covenant of Grace Church in St. Charles, Missouri, beginning Thursday evening, 7pm. We have tried, a number of times, to arrange for a debate there, but can't find opponents. So, I will be playing clips from the folks we can't get to debate the subject, and responding to them, providing as close as a "debate" as we can. Join us at 7pm Thursday and Friday, and then 10am Saturday morning. Unlike past years, I won't be able to minister in the Sunday morning service, and I will really miss that! But I will be speaking briefly Sunday morning in the Tampa area, and then out of touch for a week, hopefully getting some writing done (finally!).
19:10:18 - Category: Misc - Link to this article -

Monday Misc.
11/30/2009 - James White
I am talking to Rich about doing another DL on Wednesday of this week since Thursday is a travel day and I will be out of touch all of next week (i.e., no DLs at all). We would do it at the regular Tuesday time.
I was on Mike Abendroth's "No Compromise Radio" program this past weekend. He rode 180 flat miles last week, and I rode 187 hilly miles. Of course...soon he will be sledding, not riding, so I guess I win! Anyway, just some friendly rider competition there. Here's the program.
Dan Wallace had some really interesting comments about the liberal bias, prejudice---nah, just plain closed-minded bigotry, of the "theological left" (if that is an even semi-accurate term) represented at SBL. You can read his article here.
14:28:32 - Category: Misc - Link to this article -

The Manhattan Declaration Examined: PRBC 11/29/2009
11/30/2009 - James White
00:01:00 - Category: Christian Worldview - Link to this article -

Reformed Redux
11/28/2009 - James White
Just a few more thoughts on yesterday's post on what it means to be "Reformed."
Dr. Clark has responded, and by doing so, confirmed that the comments I posted were, in fact, his. You can read his comments and how I have so "badly" misunderstood both he and the Reformed faith here.
You can also find a comment he made that is in some ways even more troubling relating to his false accusation that Baptists say he is not a Christian here. Evidently, being baptized makes you a Christian---shades of my debate with Doug Wilson in 2004. (Summary of my position in that debate: without the gospel, you don't have Christianity. Period).
Michael Haykin sent it over the fence here. Much appreciated.
Here's my final thought: the subjects and mode of baptism does not define what it means to be Reformed. If Dr. Clark wishes to so severely reduce that term so as to limit the number of the Reformed to a tiny few, that is his right. If he wishes to reduce my own faith in the same way to "particular Baptist," I can't stop him, but, I won't be joining him in his minimalism. Years ago I gave a seminar on why "Five points are not enough." Dr. Clark keeps saying being Reformed is more than the five points. Of course it is. It involves one's view of God, a view that sees Him as Holy and just and sovereign, and man as His creature. It stands apart from man's religions, and the vast majority of "Christendom," in acknowledging God's absolute right to do with His creation as He sees fit. It is absolutely theocentric, purposefully and willfully rejecting the impulse to focus upon man, instead acknowledging that the glory of God's grace is worthy to be praised for all eternity. To be Reformed means you believe in a Savior worthy of worship, One who actually saves, not one who just does His best. You believe the Gospel is Trinitarian, holy, lofty, awe-inspiring and worthy of the entirety of your life and being. You not only accept the five points, you accept the consistent exegesis and hermeneutics, let alone the view of an inspired, authoritative, consistent, sufficient Word from God, that leads to those five points. And as a result, your view of God, yourself, church, worship, and the world, is inalterably changed. To be Reformed is to worship God in a way the world just doesn't get, and which evangelicalism as a whole doesn't get, either. You long for the Word, you long to hear His truth proclaimed and honored, and you find anything that detracts from the glory of His truth reprehensible. You see God's grand decree in His Triune self-glorification from creation to consummation and your heart is drawn out in worship and adoration and awe as a result. That is what it means to be Reformed.
Now evidently you can believe all of that, but, if you don't think Calvin's unique means of connecting circumcision to baptism is compelling in light of a tremendous amount of counter argumentation, well, you just aren't Reformed. I leave it to my kind readers to decide if "Reformed" should be thusly restricted.
22:09:13 - Category: Reformed Baptist Issues - Link to this article -

This is Beautiful
11/28/2009 - James White
Yeah, no intelligent design here. Just random processes over time. Yup. Sure.
Just awesome.
17:25:51 - Category: Misc - Link to this article -

A Record Week
11/27/2009 - James White
Past seven days: 187.32 miles ridden.
6,431 feet of ascent.
11.25 hours in the saddle
53,325 pedal strokes
103,000 beats of the heart during exercise
4+ pounds magically transferred to...some poor guy somewhere
Multiple editions of The Deen Show, Albert Mohler Show, Faith Defenders and Unbelievable listened to on subjects ranging from Buddhism, Sikhism, Islam, Molinism, the Manhattan Declaration.
12:45:58 - Category: Personal - Link to this article -

Follow Up on R. Scott Clark and "Reformed"
11/27/2009 - James White
Well, at least Black Friday isn't completely boring for all of you who, like me, loathe being on the streets and highways today (I basically hide in the house, ride on the canals, do anything but be out in public). My response to R. Scott Clark's comments has certainly gotten everyone's holiday season off to a rousing start! Glad to be of service.
Seriously, I thought I had linked to Micah Burke's blog, but I'll be honest: I am using Ecto to blog in Mac, and...this program is definitely sub-par for a Mac platform. There are times it simply will not cooperate, and one of its quirks is sometimes it refuses to insert URL links. That is not nearly as annoying as the "edit this long, long post and I'll delete 80% of it and give you no way of recovering what you spent the past 90 minutes writing" bug. Anyway, here is the blog entry and comments:
http://radongas.blogspot.com/2009/11/thought-on-r-scott-clarks-definiton-of.html

Hey, it worked that time (though, I note, all formatting commands are now off line---weird).
Just a few thoughts in response to all the buzz out there.
1) Please read my words with the emphasis I placed in the article, not yours. I did not compare my Presbyterian brothers to cultists: I said a defective reading of a text is an indication of tradition trumping exegesis. Try reading my words with half the fairness I try to show toward others and all will be well.
2) This debate cannot simply go away. Our confessions force it upon us, our love for the gospel brings us into close proximity, and our common commitment to sola scriptura drives us to live consistently in light thereof. And I say both sides get to speak clearly and fully. There is a lot written out there that, if I were looking for a reason to be offended, would offend me as a Reformed Baptist. I do not go through life looking for reasons to be offended by brethren. I simply ask the same in return.
With that, I return you to your regularly scheduled programming.
09:58:22 - Category: Reformed Baptist Issues - Link to this article -

R. Scott Clark and "Reformed"
11/26/2009 - James White
I speak often on this blog of the need to be accurate in one's representation of others. As a sinner living in a fallen world, I fail my own standards, though not on purpose, to be sure. I seek to honor Christ by accurately representing those I oppose in debate, whether I consider the "other side" to be my fellow believers, or to be lost, even enemies of God's truth.




It strikes me that especially when we are discussing theological differences between believers, accuracy is important. How many times have I documented the most ridiculous misrepresentations of the Reformed position by famous Arminians? The number of straw-man arguments I have documented on the part of Norman Geisler, Ergun Caner, Dave Hunt, etc., is legion.




One of the oddest areas of constant straw-man argumentation that is very troubling to me, and very surprising as well, arises when I engage my dear Presbyterian brothers in the inevitable discussion of baptism. I have debated the subject a number of times, though, always at the invitation of others, never at my own instigation. When I have prepared for these debates (in particular, those of the most recent past, with Pastor Bill Shishko in New York, and with Gregg Strawbridge shortly thereafter on The Dividing Line) I have taken the time to listen carefully to the other side, and seek, as best I can, to accurately represent it. I listened to over 20 hours of Pastor Shishko's lectures on baptism. I have obtained the primary works on baptism published by the great Presbyterian scholars of the past, and of today, including that edited by Gregg Strawbridge. As with all of my debates, but even more so here since I am dealing with fellow believers, brothers in Christ, I seek to enter into their own understanding of the subject as accurately as possible.




But it is just here that I have seen---over and over again---an odd, but not unusual, phenomenon. My dear brothers will stand with me in defending the great doctrines of the faith, and we will stand arm in arm in using sound principles of exegesis and argumentation. But when it comes to this one, single topic---the baptism of their infants---all of a sudden the hermeneutic changes, and arguments are used that would never, ever be used in any other context. And, most troubling, in the vast majority of instances, my Presbyterian brethren refuse to hear the specifically covenantal argumentation I, as a Reformed Baptist, present. It is almost as if it is impossible for them to believe that someone who sees and accepts God's covenantal actions over time could possibly reject the conclusions they have reached since the days of Calvin. Sadly, as a result, many of these men choose to ignore the distinctions that clearly exist amongst Baptists on this topic, sometimes, to their shame, I believe, broad-brushing us all with the "Anabaptist" brush, hoping to impugn us with the specter of Munster! Such an action is reprehensible at its best, but sadly, I have experienced it numerous times.

...
[Click Here to Continue Reading]


21:32:45 - Category: Reformed Baptist Issues - Link to this article -

Zazzle Sale on Ties
11/26/2009 - James White
I just noticed that Zazzle is having a $9 off tie sale starting right now. Why should you care? Well, some of you have seen the ties I've designed for various debates that have biblical manuscripts or the like on them. For that biblical-geek in your life, might be a great Christmas gift, and $9 off is really good. I was going to add another design, and may still do so, but for the moment, here is what I have posted:



create & buy custom products at Zazzle



20:42:03 - Category: Misc - Link to this article -

Thanksgiving Miscellaneous
11/26/2009 - James White
May you and yours have a blessed day of thanksgiving and praise.
I would especially like to express my thanks today to DK, GM, and CR, all up in Canada, for all they have done. Over the past year all those who have provided assistance for me in my work through the Ministry Resource list have more than ever banished any feeling of being "alone at the front" shall we say. Those tangible acts mean the world to me.
To all who have come up to me at speaking events around the country and, this year, around the world (Sydney, Brisbane), and spoken of your appreciation for the ministry, the website, and especially The Dividing Line, again, thank you. It is humbling, and encouraging, on a level you cannot know.
There have been some interesting items that have "broken" on Twitter recently. If you use Twitter, or have been thinking about it, you can follow my feed at @DrOakley1689.
Devote yourselves to prayer, keeping alert in it with an attitude of thanksgiving; praying at the same time for us as well, that God will open up to us a door for the word, so that we may speak forth the mystery of Christ...(Colossians 4:2-3).
08:14:03 - Category: Godly Disciplines - Link to this article -

Further Thoughts on the Manhattan Declaration and a Response to Frank Beckwith
11/25/2009 - James White
I returned from a very enjoyable jaunt up and down South Mountain with my wife (on bicycles, of course) to discover that Southern Seminary President Albert Mohler had tweeted a link to my comments on the Manhattan Declaration. I am very thankful Dr. Mohler felt them worthy of notice. I said recently Dr. Mohler is the smartest Southern Baptist alive, and I gain much from listening to his podcasts (again while slowly cranking along on my quest to finish my second trip around the earth at the equator---only 2800 miles away now!).
Of course, one of the main questions I have received since posting my thoughts (and referring to those of John MacArthur) has to do with Dr. Mohler's defense of his signing the document. It has never been my intention to excite that spectrum of folks who exist on the fringes of meaningful apologetics who are constantly looking for a new conflict, a new battle. Yes, I had read Dr. Mohler's comments on why he signed the document prior to writing my article. I appreciate his position, but I beg to differ. I am thankful Dr. Mohler does not view the document as a theological manifesto requiring him to abandon a biblical view of the gospel. But as I and others have pointed out, it is difficult, if not impossible, to speak of what Christians should do, and in fact, must do, in the face of an ever increasingly hostile secularism, without doing so in the context of the gospel itself. In other words, a Christian who believes in the God-centeredness of the gospel of grace will respond differently to secularism than one who embraces a much more man-centered, works-oriented "gospel." And given the long history of Rome's violation of biblical teachings regarding the gospel (not just on the matter of sola fide, but the entire complex of doctrines that forms Rome's sacramental system, including its rejection of sola scriptura, its sacerdotal priesthood, and its perfection-denying doctrine of the Mass as a propitiatory sacrifice), I, and others, find it impossible to speak in unison with a Church that claims to define "Church," embody "Church," all the while perverting the gospel of Christ. Our social duties are not separate from the gospel. They are defined by it. Now I accept that Dr. Mohler honestly believes the following words are true, and as a result, signed the document:



My beliefs concerning the Roman Catholic Church and the Orthodox churches have not changed. The Roman Catholic Church teaches doctrines that I find both unbiblical and abhorrent — and these doctrines define nothing less than the Gospel of Jesus Christ. But The Manhattan Declaration does not attempt to establish common ground on these doctrines. We remain who we are, and we concede no doctrinal ground.






I agree that the document does not, explicitly, seek "to establish common ground on these doctrines." But that is part of the problem. Since it seeks to speak for the "Christian tradition," by isolating the gospel and the distinctives that separate biblical believers from the "traditions" of "Christianity," the document asserts that we as "Christians" can "stand" together apart from the very divine truths that create the only kind of lasting unity and power the Church has ever known. That was my primary concern, one shared by Dr. MacArthur. Yes, I am glad when a Roman Catholic says "Abortion is wrong," but why does the Roman Catholic say that? What is the theological grounding of his objection to abortion? And what is the believer to do when faced with the next question, "Now what?" Will the Roman Catholic offer the same positive solution to abortion that the biblical believer will? Isn't the issue of how one views life fundamentally an issue of the heart? And what power changes the heart? Rome's gospel? Priests and sacraments, never-ending Masses and confessionals and purgatory and indulgences? Surely not.




I understand Dr. Mohler's statement, "At the end of the day, I did not want my name missing from that list when folks look to see just who was willing to be listed." Dr. Mohler, believe me, sir, no one with a scintilla of common sense will be questioning where you were in the battle for righteousness. I fully understand the desire to stand against the hypocritical forces of secularism that are seeking to undermine everything that is good and godly in our society to the life-destroying detriment of all. For the moment I will leave aside the question of how much of this is simply God's wrath coming upon a very deserving nation. But I just have to wonder if there will not be a time, if the Lord tarries, when, as in the days of Athanasius, or the days of Wyclif, Luther, Spurgeon, Machen, etc., our children's children will look back and ask, "Who stood clearly for the gospel once for all delivered to the saints in those dark days of compromise when so many were willing to remove it from being definitional of the faith?" I want my name to be on the list of those who despite all the pressures and incentives stood firmly and clearly apart, not ignoring the cultural issues by so doing, but seeking instead to stand firm for the truth in those areas because of the gospel, not in spite of it.

...
[Click Here to Continue Reading]


17:00:53 - Category: Christian Worldview - Link to this article -

Yesterday on the DL: A Sikh/Atheist on Unbelievable, Apologetics Calls
11/25/2009 - James White
I played a portion of a debate from Justin Brierley's Unbelievable program in the UK where the Sikh representative turned out to be part of Dennis McKinsey's Biblical Errancy group. Then we took calls, including two on the subject of Jehovah's Witnesses. Made some hopefully helpful comments on the need to be grounded and balanced in studying the cults. Here's the program.
Don't forget that there will not be a live DL on Thursday, as Rich and I will be spending the day with our families. May God richly bless you all with a wonderful day of remembrance, thanks, and worship.
08:23:50 - Category: The Dividing Line - Link to this article -

John MacArthur on the Manhattan Declaration.
11/24/2009 - James White
Well, it's nice to have company on this. :-)
The Manhattan Declaration
(By John MacArthur)
Here are the main reasons I am not signing the Manhattan Declaration, even though a few men whom I love and respect have already affixed their names to it:
• Although I obviously agree with the document's opposition to same-sex marriage, abortion, and other key moral problems threatening our culture, the document falls far short of identifying the one true and ultimate remedy for all of humanity's moral ills: the gospel. The gospel is barely mentioned in the Declaration. At one point the statement rightly acknowledges, "It is our duty to proclaim the Gospel of our Lord and Savior Jesus Christ in its fullness, both in season and out of season"—and then adds an encouraging wish: "May God help us not to fail in that duty." Yet the gospel itself is nowhere presented (much less explained) in the document or any of the accompanying literature. Indeed, that would be a practical impossibility because of the contradictory views held by the broad range of signatories regarding what the gospel teaches and what it means to be a Christian.
• This is precisely where the document fails most egregiously. It assumes from the start that all signatories are fellow Christians whose only differences have to do with the fact that they represent distinct "communities." Points of disagreement are tacitly acknowledged but are described as "historic lines of ecclesial differences" rather than fundamental conflicts of doctrine and conviction with regard to the gospel and the question of which teachings are essential to authentic Christianity.
• Instead of acknowledging the true depth of our differences, the implicit assumption (from the start of the document until its final paragraph) is that Roman Catholics, Eastern Orthodox, Protestant Evangelicals and others all share a common faith in and a common commitment to the gospel's essential claims. The document repeatedly employs expressions like "we [and] our fellow believers"; "As Christians, we . . ."; and "we claim the heritage of . . . Christians." That seriously muddles the lines of demarcation between authentic biblical Christianity and various apostate traditions.
• The Declaration therefore constitutes a formal avowal of brotherhood between Evangelical signatories and purveyors of different gospels. That is the stated intention of some of the key signatories, and it's hard to see how secular readers could possibly view it in any other light. Thus for the sake of issuing a manifesto decrying certain moral and political issues, the Declaration obscures both the importance of the gospel and the very substance of the gospel message.
• This is neither a novel approach nor a strategic stand for evangelicals to take. It ought to be clear to all that the agenda behind the recent flurry of proclamations and moral pronouncements we've seen promoting ecumenical co-belligerence is the viewpoint Charles Colson has been championing for more than two decades. (It is not without significance that his name is nearly always at the head of the list of drafters when these statements are issued.) He explained his agenda in his 1994 book The Body, in which he argued that the only truly essential doctrines of authentic Christian truth are those spelled out in the Apostles' and Nicene creeds. I responded to that argument at length in Reckless Faith. I stand by what I wrote then.
In short, support for The Manhattan Declaration would not only contradict the stance I have taken since long before the original "Evangelicals and Catholics Together" document was issued; it would also tacitly relegate the very essence of gospel truth to the level of a secondary issue. That is the wrong way—perhaps the very worst way—for evangelicals to address the moral and political crises of our time. Anything that silences, sidelines, or relegates the gospel to secondary status is antithetical to the principles we affirm when we call ourselves evangelicals.
John MacArthur
20:01:22 - Category: Misc - Link to this article -

On True Unity
11/24/2009 - James White
I was directed to some comments made regarding the concept of unity and Rome's constant attack upon the Scriptures and the doctrine of sola scriptura. Someone had made mention of my home church, which is partly what drew my attention. A comment was left by Joey, who said,



Your comparison is not well structured. First, you are comparing a single "organization", i.e. the Roman Catholic Church, with "Protestantism" in claiming that the Catholic Church is more unified in doctrine. I think this is a false comparison since "protestantism" is not a single "organization". In my opinion, the more accurate comparison is that of "Phoenix Reformed Baptist Church" against the "Roman Catholic Church". If we allow comparing apples to apples, you will notice that unity in doctrine and teaching that doctrine to its catechumen in the "Phoenix Reformed Baptist Church" is no different from the unity claimed by the "Roman Catholic Church". In fact, there are more churches that are more united in their beliefs and stance than the RC Church. What I mean is that, if we look at the individual members of a particular church and asked them their beliefs, we will get a more united stance. However, ask Roman Catholic members and you will get a more diverse stance or understanding of a particular doctrine. The point is that, the problem of disunity within the Roman Catholic Church can be seen outright when individual members are examined.




This comment clearly reflects points I have made in the past, as well as Eric Svendsen and many others. I would only change the specific local body (PRBC) to Reformed Baptists in general, across the US and the world. I know those folks pretty well, having preached in their midst in the US, the UK, Italy, Brazil, and now Australia. A Roman Catholic, however, took umbrage:



Joey – you are treating Protestantism's fragmentation and lack of unity as a strength and Catholicism's institutional unity as a weakness. Because the First (second, or third) Reformed Baptist Church of Phoenix has repeatedly schismed from other Protestants until it formed itself into a small homogeneous group, is it then comparable to the universal Church in terms of unity? Far from it. The Catholic Church was not formed out of schism, and it is not a country club of homogeneous Christian saints, but rather a universal hospital for all of the sinners of the world. Yet in spite of this Catholic mission, she retains her unity and hierarchical structure.




I'm afraid Tim has missed the point, one that would have been a little clearer had my suggested emendation been included in the original statement. As I watch Nancy Pelosi, a Roman Catholic, promoting homosexuality and abortion as the Speaker of the US House of Representatives, I ask myself a question: what would a Reformed Baptist Church do if she claimed membership? And I can answer that one easily. The first time she promoted such godlessness the elders would have met with her and sought to bring correction. If she refused to repent, she would have been excommunicated. Period. Yes, that's why the world thinks we are so narrow minded, just like it thinks Paul was narrow minded and the Jesus of the New Testament was narrow minded. That is to be expected. But all Nancy Pelosi, or the Kennedys, or any of the rest of the Roman Catholic abortion promoters in politics have to do is go on down the road a ways to find a good liberal bishop who will assure them that all they need to do is keep dropping something in the plate and all will be well.
It is an indisputable fact that Reformed Baptists worldwide are far, far, FAR more united in doctrine, practice, piety and worldview, than Roman Catholics are. In fact, it is an indisputable fact that Reformed Baptists and Orthodox Presbyterians, for an example, are far, far more united in doctrine, practice, piety and worldview, than Roman Catholics are. Now how can this be, given the constant mantra that sola scriptura is the blueprint for anarchy? How could our common commitment to the Scriptures result in such unity in the gospel, such unity in worldview? Yet, we find a massively wide range of views expressed under the banner of Roman Catholicism, and, it seems, Rome lacks the spine, the simple intestinal fortitude, to do almost anything about it. It is very hard to give much credence to Rome's oft made claims of unity and infallibility when you know what is being taught at Boston College or any number of other such places, and how it is light years away from the confident assertions being broadcast over Catholic Answers Live. So how is it that our focus upon the Scriptures produces unity, while Rome's focus upon her traditions, her "living magisterium," etc., produces Nancy Pelosi, the Society of Pius V, Boston College, Gerry Matatics, and Catholics for Choice?
17:12:46 - Category: Misc - Link to this article -

The Collision of Apologetic Methods
11/24/2009 - Jeff Downs
I recently read Doug Groothuis's review of the new film Collision (the debate/discussions between Christopher Hitchens and Doug Wilson). Already knowing that Groothuis does not favor presupposition apologetics, I was still surprised to find this comment in this review:

"Those trained in apologetics, will note that Wilson uses the Van Tillian presuppositional method (with some help from C.S. Lewis on objective moral law). This approach, while helpful for critiquing non-Christian worldviews, has deep limitations in apologetics, since it can marshall no genuine constructive arguments based on natural theology, science, and history."

It reminds me that many who are critical of presuppositional apologetics, either have not read in the field (I'm assuming Groothuis has) or simply do not understand this method. I will admit, the method is certainly foreign to the way most of us think (i.e. the scripture being our principle starting point in all areas of life).

Today, my heart was made glad when Westminster Theological Seminary posted this video of Lane Tipton describing the apologetic method coming from WTS. However, I would take issue with one comment Tipton made and that is, that Westminster (as a school) is unique in this approach. You'll find this very same approach at Greenville Seminary. On the other hand, I was just telling our librarian a few hours ago, If I were to do any work after the M.Div. it would be in the field of apologetics, and WTS would be my one and only choice.

About a week ago, three videos of Dr. Scott Oliphint (professor at WTS) were posted on YouTube on the topic "Apologetics and the Doctrine of Scripture." Check them out here.

For a very good (recent) presentation of presuppositional apologetics in action, see Dr. White's debate with Dan Baker The Triune God of Scripture Lives.


11:03:51 - Category: General Apologetics - Link to this article -

The Troubling Aspects of the Manhattan Declaration
11/23/2009 - James White
Because we honor justice and the common good, we will not comply with any edict that purports to compel our institutions to participate in abortions, embryo­destructive research, assisted suicide and euthanasia, or any other anti­life act; nor will we bend to any rule purporting to force us to bless immoral sexual partnerships, treat them as marriages or the equivalent, or refrain from proclaiming the truth, as we know it, about morality and immorality and marriage and the family. We will fully and ungrudgingly render to Caesar what is Caesar's. But under no circumstances will we render to Caesar what is God's.



These words conclude the Manhattan Declaration, promulgated November 20, 2009. There is much in this document that any serious-minded Christian not only can agree with, but simply must agree with. There is no question that the forces of secularism are moving quickly, under the guise of "social advancement" and "equal rights," to attack, denigrate, and, in their highest hopes and aspirations, relegate the Christian worldview to the trash heap of history. Evil men, and women, hold positions of power in Western societies, and since it is inevitably true that the Christian witness enrages those who love the darkness (John 7:7), they are doing all they can to subvert and silence that witness which so exposes their consciences. The general statements of the document relating to life, abortion, marriage, sexuality, and religious liberty, are well stated and timely. There is something reassuring in realizing that the concerns we have had are shared across a broad spectrum.
But there are a number of troubling things that I cannot get past in examining this document and considering its implications. When I see some of the leading ecumenists in the forefront of the documents' production, I am made uneasy, and for good reason. Great damage has been done to the cause of Christ by those who have sought to promote the Kingdom by compromising the gospel, the only power given to the church that can change hearts, and hence change societies. By relegating the gospel to a matter of opinion and difference, but not something that defines the Christian faith, these ecumenists have left their followers with a cause without power, a quest without a solution. And though their open-mindedness fits better with our current post-modern culture, from a biblical perspective, they have truly betrayed the apostolic example.
This document presents a Christianity ostensibly based upon bare Trinitarianism. I listened to Chuck Colson speak on the Hugh Hewitt program this afternoon. He made it very clear that this is, in fact, a theological document, despite the assertions of others that it is not. He was asked why Jews, Mormons, and others, were not invited to sign the document. He said they were not asked because this is a specifically Christian statement, quoting from the Christian scriptures. Once again we are led to the inevitable conclusion that "Christian" then is "Trinitarianism plus agreed upon historical truths such as the crucifixion and resurrection, but, most importantly, without any gospel content." It does no good to muddle this discussion with "Well, what about the medieval church" questions, since we are talking about a day and age when the issues are well known. We are not talking about a dark period of biblical ignorance. There is more light available today than ever before. And for many, the gospel is simply no longer part of the "non-negotiables."
But I am left confused by the inconsistency of the document. Mormons are not invited. Understandable, given that the LDS faith is the most polytheistic faith I've ever encountered. Trinitarians only need apply. I can fully understand that. So...why are we told toward the end of this Declaration that Martin Luther King, Jr., wrote from an explicitly Christian perspective? A brief visit to Martin Luther King's writings will reveal he was hardly orthodox even using the limited definition utilized by this Declaration. For example, writing in a paper while in seminary, Martin Luther King, Jr. said:
The orthodox attempt to explain the divinity of Jesus in terms of an inherent metaphysical substance within him seems to me quite inadaquate. To say that the Christ, whose example of living we are bid to follow, is divine in an ontological sense is actually harmful and detrimental. To invest this Christ with such supernatural qualities makes the rejoinder: "Oh, well, he had a better chance for that kind of life than we can possible have." In other words, one could easily use this as a means to hide behind behind his failures. So that the orthodox view of the divinity of Christ is in my mind quite readily denied.



So why put forth King as explicitly Christian, but not invite the Jehovah's Witnesses, who would "quite readily deny" the deity of Christ as well? Perhaps a document that identifies Papal actions as explicitly Christian actions can be excused for its inherent self-contradiction.
There is no question that all believers need to think seriously about the issues raised by this declaration. But what is the only solution to these issues? Is the solution to be found in presenting a unified front that implicitly says "the gospel does not unite us, but that is not important enough to divide us"? I do not think so. What is the only power given to the church to change hearts and minds? United political power? Or the gospel that is trampled under foot by every Roman Catholic priest when he "re-presents" the sacrifice of Christ upon the Roman altar, pretending to be a priest, an "alter Christus"? Am I glad when a Roman clergyman calls abortion murder? Of course. But it exhibits a real confusion, and not a small amount of cowardice, it seems, to stop identifying the man's false gospel and false teaching simply because you are glad to have a few more on the "right" side of a vitally important social issue.
This takes me back to my original response to the ECT document. I have seen so many re-organize their priorities in light of having made "common cause" with those who have a false gospel all in the name of doing social good. I am glad Rome retains elements of God's truth and morality. But when did being good or moral bring one salvation, as if anyone is ever truly good, or truly moral?
These are the matters that truly concern me about the Manhattan Declaration. Why does God have the right to determine human sexuality, marriage, and to define life itself? It all goes back to the gospel, does it not? If we are going to give a consistent, clear answer to our culture, we dare not find our power in a false unity that overshadows the gospel and cripples our witness.
21:58:11 - Category: Christian Worldview - Link to this article -

Shea Not Willing to Dance to this Particular Piper
11/23/2009 - Tur8infan
Matthew 11:16-17
But whereunto shall I liken this generation? It is like unto children sitting in the markets, and calling unto their fellows, and saying, We have piped unto you, and ye have not danced; we have mourned unto you, and ye have not lamented.

Mark Shea seems unhappy (link to his post). He states:
Speaking of weird partisanship, here's yet another Calvinist sitting in the peanut gallery and cheering on the atheists because they happen to be quarreling with Catholics. Better that God be blasphemed than that any slight pettiness of the 16th Century quarrel be abandoned for one second. We must have our priorities!
He's complaining because I posted a link (on my personal blog) to a debate in which a Roman Catholic archbishop and a Roman Catholic member of the British parliament got trounced in a debate with Christopher Hitchens and Stephen Fry (link to my previous post).

It's not the first time I posted a debate between a Roman Catholic debater and Hitchens. Shea, however, didn't make the same complaint when I posted a link to a debate between Hitchens and Dinesh D'Souza (link to my previous post) some time ago.

Perhaps that's because I had positive things to say about Dinesh's performance and negative things to say about the performance of Archbishop Onaiyekan. That is still a bit odd, though, because I didn't see Shea complain when his co-religionist Patrick Madrid posted this same debate and said negative things about Archbishop Onaiyekan's performance (link to Madrid's post).

Shea mentions something about cheering from the peanut gallery, but frankly if you read my post, there isn't actually any "cheering" going on there. In fact, there was more cheering in the Dinesh post than in the Onaiyekan post.

What makes Shea's botched potshot more amusing is that so far no atheists have complained about "weird partisanship" because of my comments about Dinesh, though I spend a larger fraction of my blog addressing the false gospel of Rome than addressing the irrationality of atheism.

Although, in fairness, I did not go un-fired-upon for my posting of the Dinesh debate. Roman Catholic Dave Armstrong did mock me because my post says something nice about Dinesh's performance (link to Dave Armstrong's mockery).

So, when I post a debate that went poorly for Rome, I get targeted by Shea while he leaves Madrid alone; meanwhile when I post a debate that goes well by a Roman Catholic debater I get targeted by Armstrong.

The moral of the story: you can't make folks with double standards happy.

-TurretinFan


16:21:21 - Category: Roman Catholicism - Link to this article -

Talk About Convoluted...
11/22/2009 - James White
I was directed to what must be the most convoluted, complicated, amazing attempt to get around the plain meaning of John 6 I've ever seen. You really have to work at producing this kind of complexity in the face of plain teaching. The lengths to which people will go to avoid a sovereign God! If you have time for such a demonstration, click here.
17:43:10 - Category: Reformed Apologetics - Link to this article -

Yesterday on the Dividing Line
11/20/2009 - James White
Sorry to be late getting this up. Rich's laptop, which he uses to do a lot of this stuff, died this morning (motherboard), so we are a little delayed. Yesterday we discussed the great non-event of a former pro-golfer promoting a long-refuted book attacking the deity of Christ, then we took a number of calls on a wide variety of issues. I started to get into an interesting topic toward the end, but then decided to take one last call, which turned out to be...well, you'll see. Here's the program.
21:50:59 - Category: The Dividing Line - Link to this article -

More on Homosexual Uber-Rights
11/19/2009 - James White
I have been saying for years, homosexuals do not want equal rights. They want uber-rights. They want to silence anyone who would identify their sexual perversion as sin. Why? Romans 1 tells you. Suppressing the truth is tiring, and for the homosexual, it is a full-time job. They cannot silence their conscience, but they can try to silence anyone who would remind them of it. And so, they seek to force us, by rule of law, to honor, or admire, in the words of President Obama, their sin. Note this article from the UK:
Homosexual activists are lobbying to change the law hoping that, in the future, churches may be forced to host gay civil partnership services.





At present the gay lobby group Stonewall is seeking an amendment to the Equality Bill which will allow churches to host the services if they wish.





But Ben Summerskill, head of Stonewall, said: "Right now, faiths shouldn't be forced to hold civil partnerships, although in ten or 20 years, that may change."





Mr Summerskill said his organisation was working with the Lesbian and Gay Christian Movement (LGCM) and the Metropolitan Community Church.





Rev Sharon Ferguson of the LGCM told Pink News, a gay news website, she wanted "equality" for civil partnerships and marriage.



This is why there is no protection at all in the addition of "free speech" protections in hate crimes laws, etc. We need to realize they are taking things one step at a time: get the law in place, then whittle away at the protections until you accomplish your goal. Do it slowly enough not to raise too loud an alarm, but never, ever give up. And given that these people define themselves by their deviancy, they will dedicate themselves each and every day to their task.
11:38:56 - Category: Christian Worldview - Link to this article -

Responses to the Deen Show
11/18/2009 - James White
I have put together a YouTube playlist of the sixteen videos I have done providing response and refutation to what is promoted on The Deen Show. If you have Muslim friends, they might find the following to be of interest.
21:20:39 - Category: Islam - Link to this article -

Golfer Kermit Zarley is Servetus "the Evangelical"?
11/18/2009 - James White
Steve Noel wrote this morning and identified former professional golfer Kermit Zarley as Servetus the Evangelical. A brief look at his website seems to confirm this, as he has written a few religiously oriented books, and, more importantly, says the following:
North Park University's gregarious New Testament professor, accomplished golfer, and my close friend--Dr. Scot McKnight--a well published author himself, is the director of the Kermit Zarley Lecture Series.




I had been told from the start that Scot McKnight knew the identity of this man (shame on him!). Further, in talking about his "next book," Zarley says, "But my next book after that will be a double eagle! Stay tuned." More like a triple bogey, but let's not go overboard on the golf imagery.
Evidently, if you look over the "clues" Zarley posted, they all fit, including having the same birthday as Miguel Servetus. I have not gone through the entire list, but I would assume the book endorsement by a well known evangelical would be McKnight. [Update: it was actually Billy Graham, according to the back cover of his book on Amazon]. Also, some had traced his e-mail ISP to Scottsdale, Arizona, and wikipedia indicates he lives in Scottsdale.
So, there you go. A retired professional golfer with an interest in religion has dug up all the old liberal arguments against the deity of Christ that have been popular in the dead and dying "mainstream" Protestant denominations for over a century now. Woohoo! I'm sure some of my Muslim friends are really disappointed, since, obviously, this is about as major a non-event as you could imagine. We now return you to your regularly scheduled meaningful life!
11:09:14 - Category: Misc - Link to this article -

Why Many Modern American Evangelicals Don't Like Reformed Baptist Preaching
11/18/2009 - James White
Humanists with a thin coating of religion won't put up with this for long.





Reformed Baptist Churches tend to be between 50 and 350 congregants in size, generally. Here is a contrast. A "church" with 16,000 in attendance. Listen to the message.





While I did not add the text to this video, the final verse provided says it all.


07:39:44 - Category: Reformed Baptist Issues - Link to this article -

Help Us Get the London Debates!
11/17/2009 - James White
Here's what happened. Last year another ministry offered to pay for the video taping of the debates I did in London. They had likewise taped the debates in Southern California earlier in the year, and in Durham with Zulfiqar Ali Shah. We have received two of the eight debates (both with Osama Abdullah). However, they took too much on, and with the economic collapse of last fall, they have been unable to pay the videographers. After a lot of trying, I have been able to determine that we need to raise $500/debate for the four debates in London (I really don't have details on any of the others). Already today someone gave one video's worth ($500) since I mentioned this on the DL, so we are down to $1,500 to ransom the other three from the videographer. Yes, my new video camera and tripod is a lot cheaper, however, I have seen the finished product of the debates that have already been sent to us, and it is pretty impressive in quality, too. For those who know how much videography normally costs, this is pretty cheap. In any case, we have set up a donation item for anyone who would like to help us get the debates with Shabir Ally, Adnan Rashid, and Sami Zaatari that took place in London. To help out, click here.
13:34:44 - Category: Islam - Link to this article -

Today on the Dividing Line: Callers on Reformed Theology
11/17/2009 - James White
Talked a bit about upcoming debate possibilities, including my getting in contact with Dr. Michael Brown, and the possibility of having him on the DL, and my being on his program as well. Played a caller objecting to Reformed theology from Dr. Brown's radio program, then took calls. Here's the program.
13:20:02 - Category: The Dividing Line - Link to this article -

An Insight into Ehrman's Most Recent
11/17/2009 - James White
Michael Kruger from RTS Charlotte concluded his review of Jesus Interrupted with these words:



In the end, Jesus Interrupted can be best summarized as a book filled with ironies. Ironic that it purports to be about unbiased history but rarely presents an opposing viewpoint; ironic that it claims to follow the scholarly consensus but breaks from it so often; ironic that it insists on the historical-critical method but then reads the gospels with a modernist, overly-literal hermeneutic; ironic that it claims no one view of early Christianity could be "right" (Walter Bauer) but then proceeds to tell us which view of early Christianity is "right;" ironic that it dismisses Papias with a wave of the hand but presents the Gospel of the Ebionites as if it were equal to the canonical four; and ironic that it declares everyone can "pick and choose" what is right for them, but then offers its own litany of moral absolutes. Such intellectual schizophrenia suggests there is more going on in Jesus Interrupted than meets the eye. Though veiled in the garb of scholarship, this book is religious at the core. Ehrman does not so much offer history as he does theology, not so much academics as he does his own ideology. The reader does not get a post-religious Ehrman as expected, but simply gets a new-religious Ehrman--an author who has traded in one religious system (Christianity) for another (postmodern agnosticism). Thus, Ehrman is not out to squash religion as so many might suppose. He is simply out to promote his own. He is preacher turned scholar turned preacher. And of all the ironies, perhaps that is the greatest.

I don't know if Dr. Kruger knows Ehrman personally. I would not say I do, either, in the sense of really knowing the man. However, when you spend as much time as I did studying his teachings, listening to him speak in various contexts, reading his writings, in preparation for our debate, and then meet him in that context, you get past the "Yeah, I saw him in a TV clip once" level of knowledge. And the above litany of contradictions (not just ironies) I think flows from a deep lack of self-reflectiveness on Ehrman's part. Not only does he truly believe his own PR, but I have rarely heard Ehrman self-conciously raise issues of reflection upon his own position. That is, when I speak, you will always hear me say things like, "Now, having said that, others have suggested..." or "But how do we respond to this issue our position raises?" But once Bart speaks, well, what else is there to say? When he says "scholars have determined," well, by golly, scholars have determined! He does not see what Kruger notes above: he may have abandoned any logical or meaningful foundation for dogmatic pronouncements, but he still makes them, this time, on his own authority. And since many in our modern culture bow down in adoration at the great gift he offers (reason to disbelieve), after a while, you get used to being taken as the final authority.
This explains an element of our debate from January that did not fully strike me until I watched the debate months later while showing it to one of my GGBTS classes. During the debate I am focused completely upon the specific points being raised, and am not nearly as sensitive to tone and behavior (one of the reasons I rarely get caught up in emotions and the like). As I watched the debate with my class, I was taken aback by Ehrman's dismissive attitude, not only toward me (that is to be expected, I don't sip lattes with French textual scholars), but especially toward the audience. He truly was preaching at them, but, at the same time, did not seem to realize he was. There was such a striking contrast between his profession of pure scholarship, being a historian and not a theologian, and the fact that anyone could tell he was preaching. But he could not see that, and that is what I mean by a lack of self-reflection. It also struck me that his self-chosen appellation, "happy agnostic," does not seem to be as much description as hope. He seems caught in a spiral of his own making: the only way to continue to grow his popularity and his book sales is to become more and more gratuitous in his attacks upon his former faith (that is the nature of the fame engendered by apostasy), but that only drives him farther and farther away from his own self-claimed academic neutrality and fairness. He has to become the mirror image of what he is so obviously intent upon denigrating, hence the ironies listed above.
07:10:00 - Category: General Apologetics - Link to this article -

Zakir Naik's Claims on Muhammad in the Bible
11/16/2009 - James White
Here is my third and final response to Zakir Naik's appearance on The Deen Show. What I did was take my opening statement from my debate with Shabir Ally on this topic from London in November of last year, along with my comments on Deuteronomy 18:18 from the preceding debate, and put that audio under the KeyNote slides I used.
Let me take this opportunity to note that we have been informed that in essence we need to raise $500 for each of the four debates I did in London to get the video tapes. This includes the two debates with Shabir Ally, one with Adnan Rashid, and one with Sami Zaatari. We will either put an item in the shopping cart to directly raise funds to ransom those tapes, in essence, or, maybe we will do pre-sales and give the opportunity to add a small donation on top of the regular costs to help defray this unexpected cost.
12:45:33 - Category: Islam - Link to this article -

Responding to Zakir Naik on the Deen Show, Pt. 2.
11/15/2009 - James White
07:34:31 - Category: Misc - Link to this article -

Responding to Zakir Naik on the Deen Show, Pt. 1
11/14/2009 - James White
09:01:45 - Category: Islam - Link to this article -

An Ironically Accurate Description of the Majority of Roman Catholic Apologetics Efforts
11/13/2009 - James White
I say it is ironic because it is provided by...a Roman Catholic. In criticizing "Catholicism: Crisis of Faith," SDG wrote:
In short, the video appears to be aimed at Catholics whose faith is shallow, ill-informed, and unstable, who will not realize that there is anything more to the issues than you have presented here. It seems to seek to make a case that will appear unanswerable and unarguable to those who have never heard the arguments and answers. It looks like its purpose is to prey on the weak and sick of the flock … with promises of greener pastures: but it seems unwilling to admit to its prey that their flock may have healthier sheep (not to mention shepherds) who might withstand the attack; or that there may be greener pastures within the very fold which they have never known.

Is this not the very essence of what we see constantly from Catholic Answers, Patrick Madrid, EWTN, etc.? Have we not demonstrated this very syndrome over and over again on this blog and on The Dividing Line? That is why I had to take a moment while some video is rendering to point this out as a great irony, since it came from Jimmy Akin's blog. I would direct SDG to just about everything Patrick Madrid has put in print in the form of a "book" for the exact fulfillment of his words, only in reference to non-Catholics.
20:58:33 - Category: Roman Catholicism - Link to this article -

Today on the Dividing Line: We Finished Norman Geisler's "Sermon" on Calvinism!
11/12/2009 - James White
I know it only took me five months, but we finally finished up Norman Geisler's "Why I'm Not a Five Point Calvinist" sermon, and took a couple of calls as well. I took a few minutes to report on the last few days of my trip to New York as well. Here's the program

Our pre-feed music came from none other than Mylo Hatzenbuhler. Take my word for it, you just gotta have Mylo's Christmas CD in your Christmas music collection! How anyone can get along without such classics as "Heifer Bells" or "Winter in Nordakota," I can't imagine. And if you haven't hummed along to "Checkout Gals," you haven't lived! So hustle on over to Mylo's website and get your copy of A Very Mylo Christmas before the big rush hits! And while you are there, check out Mylo's other classic albums, the perfect stocking stuffers! [For those new to my blog, Mylo Hatzenbuhler, aka, Clyde Bauman, is a great friend and brother in the Lord, and hence I want to do all I can to get his great music out there. If you enjoy a great sense of humor, Mylo is your man!]
One of Mylo's friends, Carla (who is stranded in Canada, poor thing), has developed a line of Mylo gear here, and she likewise is the designer of the A&O gear here. Make sure to visit Carla's stores along with Mylo's and avoid all the rush and hustle of traffic and the crush at the mall!


19:40:30 - Category: The Dividing Line - Link to this article -

From the Mail Bag:
11/11/2009 - James White
An honest iniquiry about Dr. White's blog statement: I wanted to illustrate that simply taking the Qur'an as the final authority without recognizing that it is not mubinun, "clear" or "perspicuous," on so many points (and this is one of the most vital assertions it makes, in denying the atonement of Christ!) leads to irrationality."




How does this claim of "irrationality" differ from the Reformed 'Sola Scriptura' and the Catholic's claim of this doctrine causes irrationality?



The question mixes categories and ignores the context of my original statement. The Muslim starts with the Qur'an and reads backwards to the Bible, replacing the Bible's original context with that of the Qur'an. But while the Muslim will adopt an over-arching assumption of the corruption of the Bible, they will not even consider that possibility for the Qur'an, despite it coming after the other revelations, and claiming consistency with them. Further, the Qur'an is not clear in its text, lacking the kind of historical grounding found in the Bible. Hence, merely starting with its claims and overthrowing the Bible's as a result leads to irrationality, as you have to accept an unclear revelation at the expense of a clear one. I illustrated this with the mention of Surah 4:157 and the Qur'an's flying in the face of all the sources that come from the first century after Christ. The Muslim has to reject all of these sources while accepting, de fide, the Qur'anic revelation.
I do not know how to even connect this with the Roman Catholic argument against sola scriptura, as there are no connections historically or logically. One would have to prove discrepancy and error on the part of the Bible; one would have to make Rome's traditions prior to biblical revelation, etc., to even begin to try to make a case.
Next question from the mail bag:



The only thing I wish he'd addressed better was this: Dr. White speaks of the authors' intentions when the wrote something which was part of the Bible. But if he in fact believes that it is the Divine Word of God, why does the "writers'" intention and the context matter? It would be God's intention that matters as to his inspiring the writer to write. God could easily have inspired a writer to write for the time (context) as well as for all times and places. Two layers of meaning. Why would God waste words that seemingly apply only to the historical situation if those same verses didn't have great meaning for a person in any other age and place?
Meaning is carried in words. Words are spoken in a context. Without that context, words become empty containers into which we pour our own meanings, which is exactly what Harold Camping does. By removing the context, the words lack substance, and Camping can then fill them with whatever he wishes. This is classic eisegesis, reading into the text a meaning it never had.
The Bible being the Word of God does not tell us that we can simply ignore what it meant when it was first revealed. Surely there can be a "higher" fulfillment in prophecy, for example, but the prophecy still carries the original meaning it had when given. Even if one asserts "two layers of meaning" the text still has to determine both "layers," and without context, that second layer once again becomes an empty vessel just waiting for someone to come along and fill it with their own meaning, all the while claiming they are just following Scripture. It is a very shallow view of the means by which God revealed Scripture to refer to a "wasting" of words. God chooses the means by which He reveals Himself, and we are in no position to judge on the matter.
12:59:15 - Category: Mail Bag - Link to this article -

Yesterday on the DL
11/11/2009 - James White
Started off with a song from our KJV Only friends, via the Amazing Grace Baptist Church KJV, called "Bogus Bible Blues." What a way to start! Then gave a brief report on Saturday's encounter with Imam Sayeed, and then dove back into the Geisler sermon, taking one call on God "changing his mind" at the end of the program. More important refutation of Dr. Geisler's eisegesis in this section, so if you've been following this examination, you'll want to listen in. Might even finish this soon, as there are only about 15 minutes left to cover! Here's the program.
11:52:17 - Category: The Dividing Line - Link to this article -

A Major Ministry Resource Opportunity
11/10/2009 - James White
Last Saturday evening those in attendance at the dialogue in Queens know that I asked a number of direct questions of Imam Sayeed relating to Surah 4:157. One of the reasons I did so was because I knew there were Muslims in the audience who take a different view of the text, and I wanted to illustrate that simply taking the Qur'an as the final authority without recognizing that it is not mubinun, "clear" or "perspicuous," on so many points (and this is one of the most vital assertions it makes, in denying the atonement of Christ!) leads to irrationality. I was able to pursue that line of inquiry because I have confidence in the study I have done of the text of the Qur'an at this point, thanks to those who have helped provide the opportunity of studying Arabic, and have provided the often expensive and difficult to obtain resources that are part of A&O's library through the Ministry Resource List.
I am placing an item on the ministry resource list today that would truly add to the depth and breadth of a very important aspect of the library. Nothing sells today like Gnosticism. Atheists and secularists join with a wide range of Muslim apologists in utilizing any claim they can dig up from the Gnostic sources, and especially from Nag Hammadi, to promote their attacks upon the New Testament and the Christian faith in general. So when I saw a sale today that extends only till the end of the year on the 5,148 page authoritative Coptic Gnostic Library, which contains the complete texts of all of the Nag Hammadi codices, I was ecstatic. How often these very texts are cited, yet, one almost never has access to the original languages so as to check for editorial bias or to examine context. How vital that is in examining any other ancient text, and yet these oft-cited sources are almost always presented only in English translation in the flood of books that have come out promoting Gnosticism over the past few decades. This resource is normally tremendously expensive, listing just over $700.00. But till the end of the year, with a special discount code, it is obtainable for 50% off that price, which, given the rarity of the original language material, is actually reasonable for once! I have included the code in the description on the Ministry Resource List. There is another item on the list as well that is quite important, a resource that would provide the original language texts of the Dead Sea Scrolls along with textual variants! Once again, my deepest personal thanks to all who have helped our work in this important manner in the past.
07:54:07 - Category: Misc - Link to this article -

Jesus in the Bible and the Qur'an Part 3
11/10/2009 - James White
00:01:00 - Category: Islam - Link to this article -

Jesus in the Bible and the Qur'an Part 2
11/09/2009 - James White

Update: New rendering that fixed the audio problems YouTube had in converting the video.


00:01:00 - Category: Islam - Link to this article -

Many Thanks to TurretinFan and Steve Hayes
11/08/2009 - James White
When I landed in NY on Friday evening I found that TurretinFan and Steve Hayes had both responded to our Thursday DL caller, Wes. Steve responded here, and TurretinFan added some comments here. As you saw, TurretinFan had already linked to a rather extensive discussion he had posted a few years ago on the Grounding Objection here. I am thankful for both men's contributions.
20:12:40 - Category: Misc - Link to this article -

Quick Report from Long Island
11/08/2009 - James White
Greetings from Westbury, Long Island. I managed to get the first half of last night's debate up this morning, and now that I am finished with my Lord's Day duties, I'm compressing the next portion of the debate. My camera died before the end of the debate, so I had to use my little Casio for the last few minutes, and once I start the upload of Part 2, I'll get to that portion. It will not be very long so I should have it posted by the morning.
Had a great day preaching at Lynnbrook Baptist Church this morning, and Grace Reformed Baptist this evening. I spoke on Islam at Lynnbrook, and my sermon topic at GRBC was "What is an Abomination in God's Sight." How very sad to have to constantly be thinking of how our society is losing its liberties and how so many wish to stifle free speech in the name of a totalitarian, secular political correctness that is nothing less than Orwellian in nature.
This trip has been a technological disaster! I forgot the main camera I needed to bring. I even forgot the window mount device for my GPS (the nice fellow at Hertz gave me one---he had a whole box of 'em left behind by customers!). And in the ultimate example of absent mindedness, I even forgot my debate timer (I never do that). Then, when I got to the debate last night, the zipper on my bag completely failed, and we had to literally rip it open to get my materials out! For someone who is normally pretty well organized, well...it's been interesting. I picked up a new bag today, though, that looks quite promising. It has two pockets you can get to from the outside that I can use for my digital projector and the small streaming PC, so it will help in the wonderful task of getting through TSA screening.
Pray for a video interview Tuesday evening, and for my presentation on the reliability of the New Testament at New Hyde Park Baptist Church on Wednesday. I'm hoping some of my Muslim friends I met Saturday evening will come out for that presentation. I am also planning on doing the DL at the regular time on Tuesday, continuing with Geisler's sermon.
19:45:55 - Category: Misc - Link to this article -

Jesus in the Bible and the Qur'an Part 1
11/08/2009 - James White
05:45:00 - Category: Islam - Link to this article -

Listen Live to the Debate Today at 7pm EST!
11/07/2009 - James White
This is New York, and the debate is in Queens, so the chances of starting on time are just about nill, but, sometime around 7pm, and probably a bit before, I will start live streaming at the regular DL link here. Remember, this will be a raw feed straight from the debate, so you will hear audience noise, conversations during the breaks, etc. and etc. Hope you will "tune in" and pray for the presentation of the gospel here in New York.
11:01:51 - Category: Islam - Link to this article -

Today on the DL: Misrepresenting, Lying, and Slandering...Along with Phone Calls!
11/05/2009 - James White
Last Tuesday afternoon I had a Twitter "convo" with Wes from Atlanta. He started off saying he was listening to my presentation on Molinism and that he was amazed at my lack of "intellectual fortitude." He went on to say that I "misrepresent and slander" anyone who does not ride my particular "hobby horse," and he mentioned Caner, Craig, and Geisler as specific individuals I had attacked. We went back and forth for a while, and I invited him to call the DL to back up his allegations. So, he did. I gave him 22 minutes to provide a logical, reasonable substantiation of his allegations of misrepresentation and slander. I simply invite any fair minded person to listen and decide for yourself. We then took calls on Reformed theology, Federal Visionism, and some other topics. Here's the program.
18:11:31 - Category: The Dividing Line - Link to this article -

William Lane Craig on the Grounding Objection
11/05/2009 - Tur8infan
Today's Dividing Line (DL) program will be posted soon, I'm sure. In the meantime, since the issue came up in passing during the DL, and since you have some time to kill while you are waiting for the mp3 of the DL to become available, you can check out a response I wrote a couple of years ago to William Lane Craig on the issue of the Grounding Objection (link).


16:10:29 - Category: Reformed Apologetics - Link to this article -

Gheens Lectures - Stephen J. Nichols
11/05/2009 - Jeff Downs
It is always neat to see one of your professors from Bible College "making it big." :) In this case, Stephen Nichols, professor at Lancaster Bible College spoke at this years Gheens Lectures (Nov. 3). Speaking of Al Mohler, Jr., the Gheens Lectures are held on the campus of The Southern Baptist Theological Seminary.

Here are topics Nichols addressed (click here to listen or watch):

"Bearing the Image of the Creator: Theology and Beauty"
"Bearing the Image of the Redeemer: Theology and Incarnation"
"Proclaiming the Image: Theology and Preaching"

In the third lecture, Nichols mentions what would be a good bumper sticker. He almost has it right, when he says "Theology Happens (see here).

Stephen J. Nichols is the author of many good books included The Reformation: How a Monk and a Mallet Changed the World.

I mentioned this before, but James White and Stephen Nichols spoke together back in 1994. Here are the two lectures from Dr. Nichols. One of these days, I'll post five the lectures from Dr. White.


13:08:02 - Category: Misc - Link to this article -

Jesus: Myth or Messiah? (MP3)
11/05/2009 - Tur8infan
Dr. James White's most recent debate with Dan Barker, entitled "Jesus: Myth or Messiah?" is now available in high quality mp3 format from the Alpha & Omega Ministries Bookstore Here's the link. The CD and DVD versions of the debate are still in the works, with hopes that they too will be ready soon.

This is the debate that you will remember from Dan Barker's complaints about Dr. White addressing his book during his negative constructive speech. As I explained previously on this blog (link), I think Dr. White dominated the debate. Hopefully, when you have listened, you'll agree!

Enjoy!

-TurretinFan


11:07:51 - Category: General Apologetics - Link to this article -

The Smartest Southern Baptist Alive and Other Stuff
11/04/2009 - James White
That's what I was thinking this morning as I rode and listened to Dr. Albert Mohler's radio program on my iPod. If you have not subscribed to his podcast, take my advice and sign up. Few people can express Christian worldview issues like he can. Of course, he's also much more polished and urbane than I am. We end up saying the same things, but he uses a surgeon's knife, and I use a baseball bat. Well, OK, I'm exaggerating, but I really do appreciate the fact that Dr. Mohler does not seem to sleep. He is on top of things like few others, so I encourage you to take advantage of this great gift to the people of God.
Also, if you have not added www.choosinghats.com to your RSS feeds, I'd like to recommend it to you.
Please pray for traveling mercies to New York, and of course, health! Everyone is talking about the flu, and that is the last thing I'd like to pick up on my flight. The Lord has been most gracious to me with all the traveling I've been doing of late.
16:55:15 - Category: Misc - Link to this article -

A Word for our Friends
11/04/2009 - James White
I wish to once again thank everyone who over the past year has used the Ministry Resource List to bless this work. Few things have been as encouraging as that list. Two brothers even sought out my personal list, which again makes me realize how our work has reached to folks we could never imagine blessing. In any case, I wanted to note that a couple of items, while they have been removed from the list, have never arrived. If you go the list you can choose a pull down menu that switches from "unpurchased" to "purchased." When I receive an item I remove it from the "purchased" list so that you can tell when your item arrives. There are a few items still on that list that were removed from the unpurchased side more than a month ago, so I am concerned that maybe they were lost in shipping, sent to the wrong address, etc.
Again, thanks to all who have helped us pursue apologetics to the glory of God through this means!
13:25:36 - Category: Misc - Link to this article -

Where Do I Get That Tie?
11/04/2009 - James White
As I've been traveling about I've been asked a number of times, "Where do I get your ties?" I've designed a few ties, some based upon ancient manuscripts, some from my fractal art, that I've worn in some of my debates, etc. I've posted this before, but we have a lot of new folks, so, here is the link to my Zazzle ties:



00:01:00 - Category: Misc - Link to this article -

An Attempted Syllogism Examined
11/03/2009 - James White
It has long been understood by sound Christians that the Scriptures are the Word of God, yet, as Peter expressed it, they were spoken by men. "Men spoke from God as they were carried along by the Holy Spirit" is Peter's phraseology. Everyone knows that the language Paul uses in Ephesians, for example, differs in tone from Galatians, reflecting the fact that this is a real human being speaking, and he was in a very different state of mind when writing the one than when he wrote the other. Only those who hold to some kind of dictation theory where a mechanical method of inspiration is posited struggle with the reality of the different styles found in Scripture. So the fact that Scripture is a divine revelation that enters into human existence through human agency is the teaching of that divine revelation itself. It is traceable through the "thus says Yahweh" of the Tanakh into its fuller explication in the New Testament.




Next, it is likewise understood by sound students of Scripture and theology that the Bible teaches (note, I did not say tradition teaches) certain truths about the person of Jesus Christ that cannot be compromised. His deity, His eternal pre-existence, His full humanity, His incarnation, etc. These biblical revelations have provided the guide posts, the walls, so to speak, outside of which we dare not wander, in thinking about the Person of Christ. Fully God, and fully man, without sin, the perfect sacrifice.




Recently Frank Beckwith sought to defend Rome's gospel by reference to the above truths. Though he never explains the basis upon which he does so, he makes an argument that just as the Bible can have a divine and a human component, and Jesus likewise is divine and human (though, I would argue, there are differences between those two), salvation must share the same divine/human combination or dichotomy. For the argument to hold, however, it would require us to have some particular reason to parallel the hypostatic union with justification by faith, and Dr. Beckwith does not provide us with any basis. He presents the parallel, based upon Rome's confusion of justification and sanctification, denial of the imputed righteousness of Christ, etc., but he does not tell us why we should think that because Jesus was the God-Man this means the gospel has to be partly God's work and partly man's (a synergistic system). Further, in quoting the Roman Catholic position Beckwith embraces not only the concept of infusion, but that "Moved by the Holy Spirit and by charity, we can then merit for ourselves and for others the graces needed for our sanctification, for the increase of grace and charity, and for the attainment of eternal life." Of course, only God's grace makes it possible for this to happen, however, we are still doing the meriting and, of course, there are those who do not "cooperate" and thus lose the grace of justification, becoming enemies of God. And so the real issue of the Reformation remains the same today as it was then: it is not the NECESSITY of grace that is at dispute, it is the SUFFICIENCY of grace that is the focus of the debate. And, of course, so many of those who are non-Roman Catholics today actually agree with Rome against the Reformers on that topic, and are thusly crippled in resisting Rome's teachings. Beckwith makes the assertion:

...
[Click Here to Continue Reading]


19:07:53 - Category: Roman Catholicism - Link to this article -

Today on the Dividing Line: I Get Mail, Geisler Sermon Continued
11/03/2009 - James White
Started with 12 minutes of review of two packages I had just gotten in the mail, and if you don't have a sense of humor, skip past that. :-) Spent the rest of the hour reviewing the next portion of Norman Geisler's "Why I'm Not a Five Point Calvinist" sermon. Twice I stopped to comment on why A&O will always be...A&O, unique, and out of the mainstream when it comes to political correctness and "playing nice." Here's the program.
14:46:39 - Category: The Dividing Line - Link to this article -

With the Time Change...
11/02/2009 - Micah Burke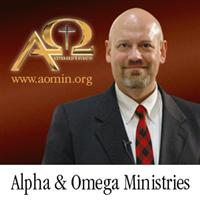 Please note that, with the time change, the DL will be on the usual time tomorrow... that is, the usual time in PHOENIX! While the rest of the US rolled their clocks back, those desert dwellers at Alpha & Omega Ministries did not.

So if you ever wonder what time it is in Arizona you can find out easily by going to the webcast page and check the clock there.


11:49:40 - Category: The Dividing Line - Link to this article -

When Islam Becomes the Majority Religion
11/02/2009 - James White
Over the weekend this news story came out:
(CNN) -- Authorities in Malaysia have seized more than 20,000 Bibles in recent months because they refer to God as "Allah," Christian leaders said Thursday.




The seizures have fed fears among minority groups, which see signs of encroaching Islamic fundamentalism in the predominantly Muslim but multi-racial country.




"There is a growing sense of Islamic assertion, yes," said the Rev. Hermen Shastri, general-secretary of the Council of Churches of Malaysia. "There is some concern."




The Bibles were written in the country's official language, Malay -- in which the word for God is "Allah," as it is in Arabic.




However, Malaysia's government says the word is exclusive to Islam.




Its use in Christian publications is likely to confuse Muslims and draw them to Christianity, the government says. So it has banned use of the word in Christian literature.




"Malay has borrowed from Arabic, just as it has from Sanskrit and Portuguese," Shastri said. "We have maintained the community has the right to use the word.




"But I think this has ignited a cause in the Muslim communities, who are interpreting it as a siege on Islamic beliefs."




A Home Ministry official directed requests for comment to the ministry's Publications and Quran Text Control Department, which enforces the ban. An employee there redirected calls to a spokeswoman, who in turn asked CNN to call the Home Ministry back. Calls to other departments were similarly redirected.




A Roman Catholic weekly newspaper, The Herald, is challenging the ban in court after the government threatened to revoke its license for using the word in its Malay edition. Hearings on the case have gone on for two years.




"We quote it as it is. We cannot change the text of the Scripture," Herald editor Father Lawrence Andrew told CNN last year. "I cannot be the editor of the Bible."...



Can you imagine the uproar if 20,000 Qur'ans had been seized by a "Christian" government? And for what? Using the common word "God"! In Malaysia the courts have ruled that only Muslims can use the word Allah, even though the standard word for God in their language is...Allah! Ostensibly the reason given is that Muslims might be "confused" by non-Muslim use of "Allah." Imagine that!
Meanwhile, if you support and subscribe to such organization as Voice of the Martyrs, and Barnabas Aid (as I do!), you hear daily of those being imprisoned, beaten, wounded, and killed, for the name of Christ. Yes, sometimes those being imprisoned are imprisoned by Communists, as in Vietnam, for example, and South Korea. Sometimes Hindus are doing the attacking, as in portions of India. There is persecution of evangelicals by Roman Catholics in southern Mexico. But the vast majority of the time those beheading, slashing, raping, and imprisoning, say the five daily prayers and loudly scream "Allahu Akhbar!" while engaging in these activities. I am thankful for those Muslims who condemn these things, but I have noticed something that is frightening, sad, and instructive: those voices are found only in nations with the smallest Muslim minorities, such as the US. Once Islam becomes the predominant religious and political system in a culture (and make no mistake, it is both), the calls for moderation and freedom become silent. In fact, those who would dare to call for such things find themselves imprisoned, or worse. Where are the voices in Saudi Arabia today? Egypt? Pakistan? Can "moderate" Islam survive Islam's rise to power in a culture? These are vital questions.
09:51:48 - Category: Islam - Link to this article -

It's November!
11/02/2009 - James White
And time to remember all the hard work Carla Rolfe has done in putting together "A&O Gear" for us. Below is a banner with just some of what she's done, which you can follow to her store. Share the message this season with some of Carla's great designs.
00:01:00 - Category: Misc - Link to this article -

The Reformation Brought About No Real Reformation: Frank Beckwith
11/01/2009 - James White
In a comment left on James Swan's blog (and then removed, I might add), Frank Beckwith noted:

I use the term "Reformation" and "Reformers" even though I do not believe that there was any real Reformation for which the Reformers are morally responsible. Nevertheless, I use the terms out of respect for my Protestant brothers and sisters.
As if the Council of Trent (we won't revisit Dr. Beckwith's comments on Trent in his interview with Greg Koukl) would have done what it did without the Reformation as its background! I'm sure there were plenty of folks in Rome who wanted to keep the money spigot on "full blast" with the sale of indulgences, but that troubling German monk really messed that up. I wonder if the "reformation" of indulgences would have happened without the Reformers?
But again, we cannot be overly surprised at such a comment. Dr. Beckwith has returned to Rome, and we would not expect him to see the Reformation as a time when the light of the Gospel broke through the encrustations of Roman tradition. But as we have pointed out many times, it does not seem that Dr. Beckwith ever viewed Rome's gospel as non-saving and actually false. He continued:

What would be really something, by the way, would be finding Madrid, Hahn, Ray, et al using "Roman Catholic" in every single instance the word "Catholic" appears in their writings and blog post as well as employing "Papist" and "Romanist." Just like hip-hoppers who call each other "n**ger" once and a while, we Catholics can refer to each other as "Roman Catholic" every so often. We do it out of love for the Bishop of Rome; you do it out of condescension and derision.

You ain't me homie, you can't use "Romie." :-)

Well, there you go. The real problem is not that Rome herself does not use terms like "Roman church" all the time, as she self-evidently does. It is that Dr. Beckwith can read the hearts of others and decide that when they speak of the Roman Church they do so out of "condescension and derision." It matters not if we explain that we believe it is necessary to be specific, as long as we do not grant to Rome her own claims to represent Christ, we are precluded from using the language she herself uses. I'm glad we have gotten that straight.



20:00:43 - Category: Roman Catholicism - Link to this article -