Alpha & Omega Ministries Apologetics Blog

Gotta Love Yearbooks
04/30/2010 - James White
So a former Southeastern seminary student (who shall, for his own health and welfare and peace of mind, remain anonymous), sent me a shot of his yearbook. You will notice the Caner brothers were students at the school together, which is consistent with their story. But what is intriguing is the hometown listed for both of them: Stockholm, Sweden. That is, indeed, Ergun's hometown (not Istanbul, Turkey). But, Emir was born in the United States, not in Sweden. Of course, this is a yearbook, and we all know how notorious they are for messing things up (often done by students, not by professionals), but it is interesting to note the information. I am still looking for some shots of Ergun Caner in his turban in high school.


16:04:25 - Category: Misc - Link to this article -

A Must Read Article on the Caner Situation
04/29/2010 - James White
Tom Chantry has provided a rather lengthy, but very well written and thoughtful discussion of the Ergun Caner situation. Unlike most of what you read in the blogosphere, it has flow and style. You can start here, but be prepared to do something early 21st century people rarely do: invest more than 45 seconds on one topic! Chantry nails the real problems: 1) the cult of celebrity, and 2) falsehood in the "service" of the gospel. He likewise attempts, as I have, to warn the leadership of Liberty: the clock is ticking. You have little time left in which to do the right thing and bring much needed clarity to this situation. Full disclosure, no matter how painful, must take place before the reporters from CNN or NBC or ABC are camped on the front lawn of the administration building in Lynchburg. None of the questions can be ignored. If Ergun Caner lived in Turkey, both in Ankara and on the border with Iraq, the dates must be provided. Explanations of the legal documents showing him to have been in the US from about 2.5 years of age need to be explained. The order for the Caner boys not to be removed from the US from about age 7.5 for Ergun, in light of his oft repeated claim to have come here much later, immersed in Islamic, not Ohioan, culture (even to the point of having broken English), has to be explained. His claims about debating Islamic leaders in thirteen countries needs to be explained. Nothing can be left hidden, full disclosure is now the only way for a Christian institution. Once again, we pray Dr. Caner and Liberty will do what is right and begin the process of removing this blight from the witness of Christ's church in the world, and to the Islamic people in particular.

Further, a note to those who are concerned about how the secular media is going to "spin" this story. Some are ready to sacrifice integrity and truthfulness in light of the fact that we all know the secular media will white-wash us all with Caner's dishonesty and self-promotion. Some seem to feel it is better to lower our standards and "protect a brother" who has yet to repent, yet to ask for grace, yet to confess the truth, than to experience the unfairness of the men of the world. May I suggest this will only encourage others to follow in the path of self-aggrandizement and embellishment? That it will bring dishonor to the gospel of Christ, not only in the eyes of the world, but especially in the eyes of Muslims who are watching very carefully to see who will be honest here, and who will cut and run? "Yes, Christians speak often of their Jesus as the way, the truth, and the life, but when it comes to doing the hard things, holding the line for more than just a little while, standing up in the face of scrutiny and scorn, they don't prove to have much faith." No, that is not an option.


12:44:50 - Category: Misc - Link to this article -

Will You Partner with Us?
04/28/2010 - James White
Two tremendous opportunities have opened up for ministry in just a few months. But we need your help.


First, we have gotten a positive response from Christopher Hitchens for a debate on Long Island in August. We are hoping it will be around the time of the John 10:16 Conference, however, it might have to be late August instead. I suggested we debate the title of a chapter from his book, God is not Great, hence, "Is the New Testament Evil?" Hitchens has done dozens and dozens of debates on various issues revolving around bare atheism. I think a debate dealing with his assertions concerning the Christian Scriptures would be a new thing for him, and a needful topic for those of us who have heard many of his previous debates.

Within just a few minutes of my hearing about the Hitchens debate, David Wood contacted me about an opportunity to defend the veracity of the New Testament against a Shia Imam in Dearborn in June, along with an opportunity to join him on the Arabic Broadcasting Network at the same time to do some programs on Islam, as well as preach in a church there in the area.

So, two tremendous opportunities--and our travel fund is exhausted. Busted. Gone. So if you would like to help make these opportunities a reality, please join with us. I already have debates lined up in September and October (two of which are with Roman Catholic apologist Robert Sungenis), and I will be training pastors in Peru in November on Mormonism, Jehovah's Witnesses, and Roman Catholicism, so I am definitely keeping things busy! But these two new opportunities are very exciting, and we need the help of God's people to make them happen.


17:23:10 - Category: Misc - Link to this article -

Monday Miscellaneous
04/26/2010 - James White
Jamin Hubner has an excellent discussion concerning this amazing quotation from William Lane Craig on the Janet Parshall Show:

Let me first make a point, Chris, that I'll hope you'll understand, and that is I don't try to prove the inerrancy of Scripture to a nonbeliever. I think Scriptural inerrancy is a Christian doctrine that someone comes to believe after becoming a Christian as a part of training in Christian doctrine and discipleship. In order to get someone through the door, through the gate into eternal life, you don't need to convince them that Scripture is inerrant. All you have to do is convince them that Jesus was who He claimed to be, that he rose from the dead, in authentication of those claims and that therefore you need to place your faith in Him and become a Christ-follower. And what implications that has for your doctrine of Scripture can follow later on. In other words, my strategy of evangelism is to set the bar as low as possible, to put as few hindrances in the path of the unbeliever to getting him to come in faith, to faith in Christ. So I don't argue about inerrancy with an unbeliever. I just argue that we have historically reliable documents to show things like the empty tomb, the resurrection appearances and transformation in the lives of the disciples, and what that leads to. (Live recording was April 24)

Next, Liberty University has invited Glenn Beck to speak at their graduation. For those unaware of the background, Beck is a Mormon. It seems discernment has been banished from the campus in Lynchburg. To add insult to injury, Ergun Caner tweeted about the invite, "Glenn Beck at the LU Graduation! Love it! And I'm loving the snarking of the haters. LU folk: rejoice when they revile!" So, for Ergun Caner, if you think it is unwise to ask a Mormon to address a Christian university's graduating class, you are a "hater." And if folks point out the lack of simple discernment on the part of the leadership, you are "reviling," just like the enemies of the faith revile...Christians. Could it get any stranger at Liberty? Lane Chaplin tweeted regarding the situation, "Apparently the exchange will go, 'So you're a Mormon?' Beck will respond, 'Yes.' Then @ErgunCaner's site will be amended to include the db8."

Finally, my overview of 1 Corinthians 15:1-11 from PRBC in the Sunday morning service.






00:01:00 - Category: Misc - Link to this article -

Preview of Possible Topics on the DL on Tuesday
04/24/2010 - James White
Of course, other things could intrude upon my thinking between now and then, but right now, there are a few items I want to get to. First an announcement, secondly a humorous item, finally a really important item.

Next Wednesday I will be joining Michael Brown on his radio program. No, no debates this time: they have recently gone on the air in Salt Lake City, so we will be discussing Mormonism! Should be interesting.

Next, James Swan just directed me to a Catholic Answers web forum thread about some comments I made on the last DL. It wasn't so much what the fellow said (he has a long history of taking shots at me), though he did ignore the majority of my comments, context, etc. (standard fare for the folks who lurk in those forums, sadly), but what caught my attention was the other participants who were willing to comment without having actually taken the time to listen to the DL. In other words, "Well, one Roman Catholic listened to ten minutes, that's enough for me!" The mind-set in those insulated little worlds is at times just frightening.

But far more important is this clip from Ergun Caner. This is the very end of one of the "interviews" Caner has posted as part of his classes for Liberty. He interviewed a local Oneness Pentecostal pastor. For those who have heard my debates on the Trinity, including the one with a leading Oneness proponent (you can see most of the debate here and here), the experience of listening to the entire thing is simply painful. The truth is never defended, falsehood is presented, and even though at one point Caner calls this debacle a "debate," it is, of course, anything but. However, right at the end the associate pastor of the Oneness presenter asks Caner a simple question. A question that anyone who has done a single debate with a Muslim on the topic of the Trinity or the deity of Christ has had to answer over and over again. A question I had to answer three different times while standing in Leicester Square in London back in February with three different Muslims. A simple, basic question: if God the Father has eternally existed, and God the Son has eternally existed, how can a Father have a Son who is the same age? I have often commented that I had to deal with many of the same arguments back in 1999 when I did two debates within a few days, one with a Muslim, one with a Oneness proponent. Ironic. In any case, it is the basic question of the relationship of the Father and the Son.

Ergun Caner is the president of a theological seminary. He claims to be a former Muslim, to debate Muslims on university and college campuses literally all around the world. He is the head of the Global Apologetics program at Liberty. Global apologetics. Think of it. So here is an associate pastor at what seems to be a pretty rural little Oneness Pentecostal church asking one of the most basic questions you can ever field on the topic of the Trinity. This is the one, single time Caner had to try to present the orthodox position on anything in this interview (I refuse to call it a debate: words have meanings). The resultant flood of incoherent verbiage is simply shocking. Not only does he contradict himself, he clearly diminishes the concept of sonship to a merely incarnational term. I cannot possibly imagine how anyone can make heads or tails out of his response, and surely, the Oneness folks could not. And oh, what must the Liberty students have been thinking? Finally their great champion steps forward after all this time to present the truth and...what happens? I cannot help but think of the looks on the faces of the Roman Catholics in the audience in 2001 on Long Island when Peter Stravinskas got up to give his closing statement in the purgatory debate. It had been a rough night for him, and the cross-examination period had left the Protestants happy and the Roman Catholics disturbed. So when he launched into his closing statement, a statement that I could not begin to follow myself, I watched the people in the audience move from expectation to confusion to utter dejection. And that must have happened a lot faster during this three minute Trinitarian debacle for Ergun Caner's devoted students.

My observations here are, of course, irrelevant to the issue of Dr. Caner's myth-making regarding his background. However, they are clearly related. I have never heard him go in-depth in any kind of exegesis or preaching. He could not even hold his own against Nadir Ahmed in an e-mail exchange. And here we have him fumbling all over himself attempting to handle the most basic questions regarding the Trinity. What on earth is going on in Lynchburg? I am left without words.


21:07:58 - Category: Misc - Link to this article -

Monday Miscellaneous
04/19/2010 - James White
This morning someone pointed out to me that the Liberty website's bio is now the same as the one on Ergun Caner's personal website, and hence all references to debating have vanished. That would be good---if it were accompanied by full disclosure of and honesty. Until that "rebuffing" is made public, and we see that it does, in fact, address all the questions that have been raised, explaining how the wrong date for Ergun Caner's coming to America had been posted for so long, etc., it is nothing but whitewashing.

Steve Hays took note of this loving blast from one Anthony Sacramone over on the First Things blog:

If Calvinism, especially in its supralapsarian form—which argues that God foreordained the eternal fates of humans not yet created in a world not yet created, never mind fallen—is true, then most of us are lost, and not just because, in the words of Dirty Harry, we don't feel particularly lucky, but because we are asked to love a monster. A deity who out Hitler's Hitler in a blood-thirsty self-preening is too repellant to contemplate, never mind adore. Especially one whose obsession with his own glory reduces every person to nothing more than an adornment. If this is true, let's please stop talking about the sanctity of human life. In this horrific scheme, there is nothing more expendable than a human being. "I need more glory—throw another baby on the barby!" (Whether non-elect infants go to hell has been a long-fought controversy within the Reformed world, admittedly, but there's nothing it its confessions or theology that seriously argues against it.)

Well there you go...if you can't defeat a position, just caricature it! It's the way to do theology today, you know. Works real well.


18:47:07 - Category: Misc - Link to this article -

Greetings from Between Flights in Philadelphia
04/18/2010 - James White
My apologies for "going dark" this weekend, but I've been speaking in Rochester, NY, and when I wasn't doing that (and visiting the Palmyra LDS sites, as those who follow my Twitter account saw on Saturday afternoon/evening), I have been working on preparations for the Robert Price debate. Lord willing I'll be getting back into the "groove" this week, doing both DL's and pressing on with debate preparation. Please continue to pray for this major debate, my preparation, and please continue to support our work. I still have some resources listed on the Ministry Resource List, and your support of A&O makes it all possible. I look forward to getting back and hearing from you on the DL on Tuesday morning!


16:57:32 - Category: Misc - Link to this article -

Ergun Caner Rebuts All the Charges: But, Only in Private
04/15/2010 - James White
When you thought it couldn't get any stranger...well, of course, it does. I got here to Rochester this afternoon, got to my hotel, got on line, and immediately was directed to an internal memo from Liberty Seminary. Now, let me say immediately, I have yet to see verification that this memo is genuine. It looks like it is, and the names and positions are correct (Dave Eppling teaches at Liberty and is described as Caner's "Chief of Staff" in this Liberty publication) so it looks genuine, but till we can confirm this, take it for what it is: a genuine looking memo that may well give us more insight into what kind of thinking is taking place among the leaders of Liberty University. And if it is genuine, it only illustrates that the problem extends beyond Ergun Caner to those around him as well.

I ocr'd the memo. It claims to come from Dave Eppling, "Chief of Staff to the President, Liberty Baptist Theological Seminary."


DEAR SOR FACULTY:

I have been told that recently you received a mass email from a Muslim, attacking me, and including links to his pay YouTube site.

For those of you who have been around here a while, you have seen such things before, involving any number of people at Liberty. I think I received one the first week I came on campus. Nonetheless, I am sorry that you have been "dragged into" this. You are seeing a portion of the life I have to live, sadly.

Most of you know my younger brother, Emir. He is President of Truett-McConnell College, one of the Baptist schools in Georgia. We have faced this type of vitriol for most of our lives. Perhaps recently it has gotten worse, since some Christians (who are no fans of LU, or Dr Falwell) have now joined in the attacks. I never thought I would see the day when alleged "Christians" join with Muslims to attack converts. In fact, it has gotten so bad that they procured or hired someone to go to the courthouse in Columbus, Ohio, to get copies of our parents' separation, divorce and appeal papers. The purpose of this was to "expose" us as frauds. They wanted to prove that we were not former Muslims. They have actually posted these documents online.

What they ended up doing was proving that we were, in fact, Muslims. The court papers showed that (1) we are immigrants, (2) we were Muslims, (3) our father was so devout that he demanded that the court order that we continue to be raised Muslim, (4) they he wanted visitation on the Eids (Muslim holy days], (5) that we were Turkish citizens and would become American citizens from our Turkish papers, and (6) that our father still had property, money and furniture back in Turkey.

In fact, some of you may have known Jamal Jivanjee, who graduated from Liberty a few years ago. He was saved out of the same Islamic Center, on East Broad Street in Columbus, Ohio. Jamal is now a Christian speaker, and the executive director of Illuminate. The irony is, Jamal knew us as Muslims, because we went to the same Mosque, prayed in the same prayer room, and was taught in the same classrooms as we were. In fact, his family rented an apartment from our father!

Regardless of how this ended up backfiring on them, you can imagine the horror of having your entire life up online, for the joy and derision of others, especially those who should know better.

Again, I apologize you had to be bothered with these skirmishes.

If you have any questions whatsoever, feel free to write me back.

If you wish to see the rebuffing of this Muslim's arguments, I have answered his claims individually and placed it in a handout. We scoured all ten videos he uploaded, and prepared answers to his objections. Feel free to come by office and pick up a copy.

Blessings:

Ergun

Now, once again (though for some, it would not matter how many times I repeat this), we can only comment on this memo at the moment as an unconfirmed item that fits the current situation. However, since it raises a number of points that have already been voiced by Dr. Caner's defenders, let's examine what it says. If it is verified, then we have already provided interaction. If it is not, then take it for what it is worth.

1) Assuming this is referring to e-mails sent by Mohammad Khan, I do not understand what the text means by "pay" YouTube site. It sounds like you have to pay to watch the videos, but, of course, you do not. This is confusing.

2) It would not be possible for someone to send an e-mail documenting errors in Dr. Caner's personal claims the first week he was at Liberty. While he had begun making false claims at that point, it seems most have come after his arrival at Liberty. I am unaware of anyone else who has invested the time Mr. Khan has in collecting documentation regarding Dr. Caner's claims. The text is attempting to make it sound like the current attempts to get Dr. Caner to honestly answer important questions is just another part of some long campaign against him, once again seeking to play the martyr card, in essence. This will come up later. Let me once again emphasize: the reason Dr. Caner needs to come out publicly and explain all these issues is not because he is a convert from an Islamic background (he is), it is because he is President of Liberty Theological Seminary. He is a Christian leader, and as such, is to be held to a certain set of standards regarding truthfulness and honesty. It would not matter in the slightest if he was a life-long Southern Baptist born in Dallas, Texas. If he makes up stories and pawns them off on unsuspecting people, he is to be called to repentance, period. ...
[Click Here to Continue Reading]


20:45:34 - Category: Misc - Link to this article -

Ergun Caner's New Cleaned-Up, Without Apologies Bio
04/14/2010 - James White
Well, Mr. Burleson was right. Yesterday the bio that had included the claim that Caner came to the US in 1979 (you can still see that date in the search data found here, currently the third entry, which reads, "... homeLIFE Ergun was born in Stockholm, Sweden to turkish parents and in 1979 immigrated
to the United States with his parents, grandmother, and two brothers. ... ") disappeared from the Liberty website. It has now been replaced with this, which conspicuously lacks...well, almost anything relevant to Caner's own false claims about his past, being trained as a jihadist, living in Turkey, majority Muslim countries, etc. and etc.---his stock story he's been telling since 9/11. The claim to have debated "leaders" in major religions remains, however, despite Caner's inability to provide evidence of such debates. At the very same time the bio link became active again on Ergun Caner's personal website, here. This one is even more vanilla, lacking almost all detail. It even drops all mention of debates!


I'm sure for most of Ergun's supporters, this will be enough. I mean, didn't he sorta apologize for something back in February (though only for a few days before pulling the apology down)? And what if he were to stop claiming all the things he has claimed for all these years? What if he stopped claiming to have been born in Turkey and to have been trained as a jihadist and attending madrassa there and knowing Arabic and living in only majority Muslim countries before coming to the US via Beirut and Cairo in 1979 as an older teenager and debating known Muslim leaders and...all that stuff? Isn't that enough? Well, you tell me! When you were a child (assuming you had a good upbringing here) and you lied to your parents, would you have gotten away with, "I am not admitting I lied, nor am I apologizing for having done so...I just promise not to tell that particular lie again in the future"? If you think that is sufficient, well, you are welcome to your opinion. I just hope you don't raise your kids to think that is sufficient.


Meanwhile, the white-washing continues at Liberty University. It seems this goes all the way to the top, and the "good ol boys" mentality of "circle the wagons, them nasty folks will go away eventually" remains in full swing. Removing falsehoods from Caner's biography does not explain how they got there in the first place. Silently deleting them (well, how can you do that in this day of Internet perma-documentation?) without notice, without explanation, and without apology, does not explain to the student who enrolled at Liberty under the false impression that the leader of the seminary was an expert in things Islamic why he or she has not been misled and deceived. And in all of this, what is being said about the integrity of high-profile leaders, entrusted with the theological education of young men for ministry? I wonder, would a Liberty Seminary student be admitted who submitted an application filled with the kinds of myths Ergun Caner disseminated for so long? Would he pass a class wherein he submitted papers citing from such great Muslim leaders as Abdul Saleeb, or from interviews he never had with Shabir Ally? If not, why not?



09:13:19 - Category: Misc - Link to this article -

Argumentum ad Misericordiam and Misdirected Nausea
04/14/2010 - Tur8infan
Read this account:
Now his [Mr. Roe's] eleven year old son is receiving messages on his facebook page with links to critical articles about his "deceptive daddy" on Muslim attack sites, the very sites [Smith], [Jones], and [Doe] have milked dry in an apparent attempt to smear [Mr. Roe and his brother]. I remain nauseous in my soul over this.
Is the author suggesting that Mr. Roe and his brother are being falsely accused by Smith, Jones, and Doe? The paragraph does not state that the accusations are false. Instead, it tries to evoke emotional sympathy for the poor Roe family, who is under "attack" and "apparent attempt[ed] ... smear" by bullies who try to "milk[] dry" suspicious web sites even to the point of harassing a young child and "nause[ating]" the "soul" of the author of the paragraph. The paragraph could have been more neutrally written as follows:
Now his [Mr. Roe's] son has received links to articles criticizing his father's dishonesty. The links point to the same sites that [Smith], [Jones], and [Doe] have relied upon in criticizing [Mr. Roe and his brother].
Notice how the paragraph written in a neutral way no longer demonizes the critics and no longer evokes the same kind of emotional reaction toward the Roe family. One still may feel sorry for the son having to deal with the result of his father's dishonesty, but the emotional appeals as an argumentum ad misericordiam against the criticism are gone. Also gone from the neutral paragraph are the suggestions that the critics are lying or attacking.
The neutral paragraph would fit well within an article criticizing the father for bringing this sort of problem on his own family by being dishonest. The emotionally charged paragraph fits in an article shooting the messengers who point out the dishonesty. The neutral paragraph reports the sad effects that sin has, whereas the emotionally charged paragraph lashes out against those who call a sinner to repentance.
What's saddest is that the emotionally charged paragraph isn't hypothetical (link to actual paragraph). The author of the real paragraph is Mr. Lumpkins, whose nausea should be directed against the sin of dishonesty not against those who call sinners to repentance.
-TurretinFan

UPDATE: a kind reader brought to my attention that Facebook has a policy that one must be 13 years old to have a Facebook page. So, that bit about the 11 year old suggests that someone is not being completely honest, though it is tough to pinpoint a culprit.


07:48:45 - Category: Misc - Link to this article -

Monday Miscellaneous---a Day Late!
04/13/2010 - James White
For my friends in the New York area, I will be speaking on Islam in Rochester this weekend. Here's the info.
Anthony Flew passed away. Jamin Hubner has some comments here. I never understood how non-Reformed apologists rejoiced over someone moving from atheism to deism, as if this somehow proved something. It is the "better to be a little closer to the truth" concept---which leaves the person under the wrath of God (since you don't get salvation by getting closer to the truth, you get salvation by repenting and believing).
Finally, Michael Brown is debating Bart Ehrman on the issue of Ehrman's book, "God's Problem" Thursday evening. There will be a live webcast here.


20:12:58 - Category: Misc - Link to this article -

Caner Debacle Gaining National Attention
04/12/2010 - James White
Some things just don't go away by ignoring them, spinning them, or yelling louder that your critics are meanies. Ergun Caner's myth-making is becoming more widely known despite the wall of silence he, and evidently, the leadership at Liberty, are hastily attempting to erect. I'm seeing other sites picking up on the story, and today ran across a very interesting comment made by someone with deep connections in the SBC, Wade Burleson. In the comments on this blog entry Burleson writes:

Though I have never written on this subject, I have read yours, Debbie Kaufman's and James Whites articles with interest. I do not know Ergun Caner, but I hope he comes clean-quickly. What is available in published form is enough to indict his truthfulness, without ever going to motive. An "apology" for "mistakes" of "unintentional misleading statements" is like a CPA apologizing for "unintentionally" ignoring GAAP accounting principles and the law of the land - he may be sorry but there are consequences when the issue goes to the heart of one's calling.

The new bio of Dr. Caner will go up this week on his website. It has been approved by the Chancellor himself, Jerry Falwell, Jr. When I say, "approved," I mean the Chancellor sat at his desk, read it, and said, "Post it."

As of this morning, Caner's "Bio" link on his website still 404's. It has been that way for over a month now, if I recall correctly. The "apology" from February 25th remains MIA as well. Since that time documentation has been posted blowing holes in his "I came here at 15 trained to be a jihadist" story. He grew up from age 4 in Ohio---heartland of the good ol' USA. So much for "I had always lived in majority Muslim countries" and "I came here via Beirut and Cairo" and claiming his first language was Arabic and training in a madrassa in Turkey---all of it, simple hype meant to sell his story to undiscerning listeners. Ergun Caner has been creating a myth about himself for years now, aided, it seems, though probably unknowingly, by the "superstar" mentality that pervades certain portions of the Southern Baptist Convention. Got a great testimony? Come on up here and tell us about it! Maybe those first few times in the spotlight after 9/11 sealed it for him, I do not know. But I do know that this is a simple matter of truth vs. falsehood, honesty versus deception, and for Christians who follow Him who is the Truth, there is no wiggle room here, no place for neutrality. If you let the President of Liberty Theological Seminary make up his entire history just to "impress" the audience, upon what ground can you ever stand to 1) claim the Gospel message is REALLY true, or 2) demand integrity from anyone in what they claim or teach?


Here is what I expect will happen: as long as Ergun Caner provides Liberty with a + sign on the "paying customers" side of the ledger (enrollment), the wall of silence will remain up, the massive holes blown through Caner's story being patched quickly by the diligent servants on the other side. As soon as the + sign becomes an = or a - sign, the wall comes down, "Oh, we had no idea, we must do the right thing" will become the mantra, and Ergun's defenders will all of a sudden find themselves needing to, shall we say, attend to other issues. What began as primarily an amazing insight into the psyche of one individual leader is now beginning to reflect upon the structures that have not only allowed him to live in a self-made world of mythology for so many years now, but seem intent upon assisting him to perpetuate that myth even in the face of a clear demonstration of the truth.



11:04:04 - Category: Misc - Link to this article -

You Can Tell I Have a Debate Coming Up
04/05/2010 - James White
I know, I know, I'm a geek. On many levels. Fractals and gadgets and cycling and all that, I know. So some of you know that I've gotten into creating special ties for major debates. I designed a tie for the Ehrman debate featuring P52. Another for my debate with Shabir Ally on the prophecies of Jesus in the Old Testament. One for my debate with Dan Barker in Illinois, etc. So, I was thinking last week, what would I do for the upcoming debate with Robert Price? And the idea came rather easily.

Robert Price does not believe Paul wrote anything attributed to him. Nothing. But even beyond that radical position, he denies that 1 Corinthians 15:3-11 was an original part of 1 Corinthians, no matter when it was written. So, I thought it would be a great idea to take the uncial text of that vital portion of Scripture (this from Codex Sinaiticus) and create a tie. This time I inverted the colors, did some tweaking, used my 1990s vintage graphics program for Windows (PhotoSuite III---still my favorite!) and voila! One radically cool looking tie: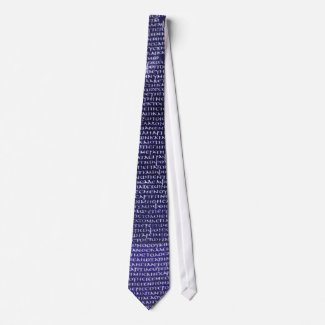 1 Corinthians 15:1ff from Codex Sinaiticus

by

DrOakley

Design a

custom tie

with zazzle



Yes, of course I posted it for sale, too, however, I only request that you don't show up to the CRI National Conference wearing it. That would be...well, you know...weird.

I get regular requests when I travel for information on how to get my wild and wacky ties: either the biblical manuscript ties, or the fractal ones. I keep telling folks, "Just search for Zazzle on the blog." And that would work, especially since I just used the word Zazzle. Here's the flash panel with all my ties:


Look for a personalized gift at Zazzle.



14:37:57 - Category: Misc - Link to this article -

So Now There are Fractal....Shoes
04/01/2010 - James White
Last month Carla, who does a lot of A&O related graphics, t-shirts, etc. (see here), mentioned that she has been designing shoes. I guess Keds allows you to design...almost anything and put it on a pair of their classic Keds. I don't remember who came up with the idea, but I provided her with the wildest, brightest fractal in my collection, this one:




It is one of my older ones, so old I don't remember if this was a tweak of a pre-existing formula or just what. I just know it has orange and blue, and for me, that's all it needs (my favorite colors, and my favorite color combination, as you can tell my looking at my Bible covers, my Mac case, my phone case, etc.). Now, I even made a tie of this one, which you can see here. So Carla designed the shoes, and yes, here they are:




You can see 'em up close here. Now, I prefer white instead of the black (all those things can be customized), but I'm pretty proud. Just think of it! In one month I've been linked with Sproul, Piper, and Edwards in the infamous Southern Baptist "How to Recognize a Calvinist" paper, warned about by George Bryson in an e-mail sent to all Calvary Chapel Pastors, and had one of my fractals put on a pair of Classic Keds! I do believe I've arrived!


18:00:34 - Category: Misc - Link to this article -