Alpha & Omega Ministries Apologetics Blog

How to Study for a Debate on Homosexuality---My Way!
05/11/2013 - James White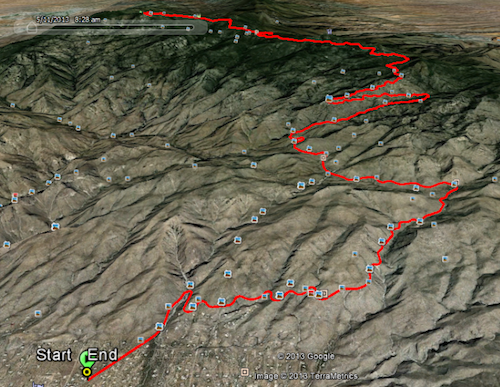 1) Load your iPod with the third time you've listened to your opponent's book...all the way through the endnotes and publisher's materials---and third time you've listened to two of his public presentations.
2) Load a bunch of Rob Gagnon lectures, which you listened to a few years ago, but need to refresh.
3) Load the Indiana University lecture Doug Wilson gave and prepare to scream alone in your car at the lunacy of university students.
4) Drive down to Tucson---twice in two days, and get turned back halfway through your first attempt on Friday by a nice big thunderstorm. Go home, repeat on Saturday.
5) Do your first solo (unsupported) climb to the very, very top of Lemmon---that is, up to UofA's Sky Center, a mere 9,052 ft. above sea level. Touch the gate. It's official. Pass a guy right at the top who is young enough to be your son. Feel good about that. (Total ride: 56.83 miles, 7,779 ft. of ascent. Here's the Garmin Connect readout).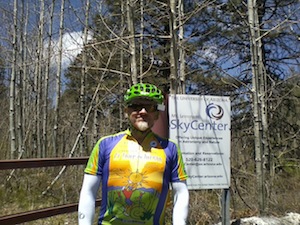 6) Stop and smell the roses...or, in this case, take some really cool pictures of the incredible scenery you get to see from the vistas on the climb up Mt. Lemmon, such as this one right at 9,000 ft. above sea level, looking out over the Tucson valley.
7) Get stuck in a HUGE freeway closure on the way home (fatal roll-over accident 8 miles up the road); discover you have MORE Rob Gagnon lectures hidden in your podcast section on your iPod, listen.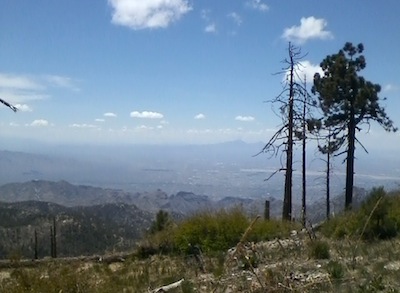 8) Given you've burned a minimum of 4,000 calories on the ride, enjoy some yummy Nutella when you get home.
9) Thank God for the health to be able to enjoy His creation in this way at 50 years of age, always recognizing---every ride could be my last, and someday, I will get off the bike for the last time.
10) Sleep very, very well.


19:28:16 - Category: Personal - Link to this article -

My 2012 Holiday Challenge! Care to Join Me?
11/22/2012 - James White
So, I have taken up rowing again, something I enjoyed doing back about five years ago. In 2007 I completed the Concept2 Holiday Rowing Challenge, rowing more than 200,000m (i.e., 200 km, approximately 122 miles) between Thanksgiving and Christmas Eve. So I am committed to doing that again this year.

But---I am a cyclist who rows (not a rower who cycles), so I was thinking, how can I add a cycling element? So I started doing some numbers in my mind and figured that a good balance would be 200km rowing/800km on the bike (total of 1000km covered in two different ways). I have a three day trip to St. Charles next weekend, so I don't have a clear path as far as workout days goes, and my grand daughter will be arriving during that time, too, so I will need to get a good jump on it to be sure.

But that's just the physical side. I need some intellectual and spiritual goals too. So, I want to finish all of Sahih Al-Bukhari by Christmas Eve (that's 40 hours worth of audio at normal speed, but about 32 at high speed). And I want to do some memorization work as well. Some will include some texts in the Qur'an (in both English as well as portions in Arabic), but on the positive side, I wish to memorize a few NT texts in Greek (Hebrews 1:1,3, John 6:37, Mark 5:30) some Proverbs (28:4 in English and Hebrew), and the 46th Psalm in English.

So how about you? I know, I know, it is a BUSY time. I preach eight times during that period, do a full seminar on the Trinity as well, do the Dividing Line, and all the family stuff that goes with it. But if you don't set goals, you will never reach them! So as I seek to keep this aging body going strong (I enter my sixth decade during this month as well!) I need to combine goals of Scripture memorization as well. In my next blog article I will address some of the tools we have available to us to help. But for now, I hope you are challenged! Obviously, you do not have to do what I'm doing specifically---you can choose your own verses, your own workout patterns, etc., but I hope you will consider a full-orbed challenge for this holiday season!


13:41:29 - Category: Personal - Link to this article -

Red Morning, Cyclist's Warning (Ancient Proverb, I Think)
08/31/2012 - James White
19:54:05 - Category: Personal - Link to this article -

Another Glorious AZ Sunrise
08/24/2012 - James White
Well, it was glorious right up until it soaked me about ten minutes after I took these, but hey, that's the risk you take! ...
[Click Here to Continue Reading]


10:21:55 - Category: Personal - Link to this article -

A Word of Thanks
08/18/2012 - James White
I am at my office on this Saturday afternoon, typing as fast as my fingers will go, working hard to beat my deadline in finishing this book before I head to the UK. The folks in channel are probably tired of reading my text dumps as I keep them appraised of what I'm working on. But in any case, I wanted to take two minutes to thank someone who doesn't get thanked nearly enough, since he's always here: Rich Pierce. I've said many times this ministry would not exist but for him, and if anything ever happened to him, well, we'd disappear quickly (so pray for his well being!). Anyway, a few weeks ago I mentioned to Rich and Barry that I need more light in my office. My eyesight is aging, just like I am, and I need more light to be able to read the teeny tiny fonts in most of my books (how did they shrink over the past decade?). So Rich put aside some other projects and, with the initial help of Ray from PRBC, an electrician, installed tracks in the drop down ceiling. I now have some LCD spots above my desk that I can turn on and off with a little remote sitting on my desk. I don't want them on often---they make seeing my 3x22 inch stacked screens hard---so I can just pop them on and off with my remote. So, I was just typing out some quotes from Ibn Ishaq's Sirat Rasul Allah and all I had to do (aside from getting out the reading glasses that I hang around my neck, yeah, the CSI-NY coroner's version!) was reach over, pop a little remote, and POOF, brilliant white light to read by. Done typing? Click, back to normal! Yeah, I know, but such things make my life a little easier, so, thanks again to all who make such things possible (in this case, Rich and Ray, but of course, we had to buy the materials, so all our supporters), as well as to those who help make such written materials available via the Ministry Resource List as well. Much appreciated!


16:10:34 - Category: Personal - Link to this article -

Another Glorious Sunrise
08/15/2012 - James White
Pictures (esp. on cheapie little cell phones) just cannot begin to do justice to the sunrise this morning. I took this on my second climb up "Tower Road" on South Mountain (for those familiar with the park). It took a minute or two to get the phone turned on, and the sun is actually just peeking over the horizon in these, but I just had to stop and try to capture this. We had a strange little rain storm in the early morning hours, and even now in Phoenix it is oddly hazy and overcast and windy, so the unsettled weather produces some spectacular sunrises. If I did not have a book to finish I would do a video about the physics of why sunrises look like this---
and how, if we think ourselves overly wise because we understand refraction and water content in the air and a few other things like that, we will miss the fact that the reason we find this so beautiful, so thrilling, and so "peace producing" in our hearts is not because we are merely some briefly existing random accident of nature that has been conditioned to find this "pretty." The conditions that have had to come together for the existence of life, the functioning of my eyes, the operation of my mind, the appreciation of beauty---all together point so clearly to the Creator that it is only the most blind of men who refuse to see. But---no time! So, till then, just enjoy the pictures. I sure enjoyed seeing it.


13:56:22 - Category: Personal - Link to this article -

Not Headed to Dallas in October
07/26/2012 - James White
I was contacted yesterday about a problem with my upcoming trip to Dallas for a debate with James Anderson, a very kindly and, in my few interactions with him, reasonable and thoughtful Oneness advocate. We had arranged the debate because I was going to be speaking at the Psalm 119 Conference with Todd Friel and Phil Johnson and others. Well, as we all know, Phil has had to cancel all his speaking engagements for the foreseeable future, so he wasn't going to be able to make it. Issues arose that likewise have precluded my participation.

I do hope all those who are planning to attend Ps119 will still do so, as it will undoubtedly be even better without a crusty old bald apologist there. I will still be in Delaware and Detroit in October, Zenia, Ohio in November, and St. Charles, once again, the first weekend in December, as always. Then don't forget the ministry in Hephzibah, Georgia, the week after, along with the debate with Anthony Buzzard.

[This is an edited version of what was previously posted.]


12:26:33 - Category: Personal - Link to this article -

In the Midst of a Tough, Chaotic, Pressure Filled Monday Morning...
07/23/2012 - James White
The heavens declare the glory of God...




Taken just north of the Carefree Highway on New River Road at 5:27am this morning on a 72.11 mile ride that took 3:49:11. Man could I feel the dew point at 66! Seven more weeks to endure!


09:00:02 - Category: Personal - Link to this article -

Loveland Pass: A Year Later
06/21/2012 - James White
Last year I ventured out while here in Colorado and did something I never expected to be able to do. I overcame a life-long, deep-seated fear of heights in climbing the famed Loveland Pass. When I got there in my car, I was so nervous driving up the north side of the pass that I could not stay in the right lane, since there are sheer drop offs with no guard rails. I drove down to the Keystone ski parking lot, rode up to the top, and then back down. The snow was incredible, as Colorado, and most of the US, had experienced record snowfall that year. I had to overcome some tremendous mental obstacles to make it to the top, let alone survive the ride back down, but I did. Here is the blog entry I provided then.


Note especially all the snow in the pictures in that blog article. Fast forward to today. Eric Ellis, pastor of Flatirons Baptist Church, drove me out this time. I knew that the Triple By Pass will climb Loveland from the north, the side that I had not even tried last year, the side I could barely drive by myself. But, I knew I needed to beat it. So, we started on that side. No warm up, just hit the climb, starting at 10,700 ft. above sea level. I was surprised at how well I handled the climb. Yes, I was watching traffic behind me, because the road is not wide, it has no shoulder, it has no guard rails, and it is the truck route for all hazardous cargo vehicles that are not allowed to go through the tunnel on I-70. But, the trucks gave me enough room, and I got to the top pretty easily.


I descended down to Keystone, thinking I was going to ride back up to the top, and then back down to Keystone, and that would be it. But as I climbed back up the other side (starting around 9450 ft. above sea level---it is a longer climb) I started thinking (which, given the altitude is sometimes dangerous). Why not just complete the loop? No, I had not even thought about descending the "grippy" side, but hey, I hope to someday do the Double Triple, and I will have to descend it then, so, since I just climbed it, why not? So I told Eric I was headed back to where we started, and I headed on down. Sure it was a bit nerve racking, especially given I am on a rental bike (and a rental never "feels" the same as your own), but I made it down fine, holding her steady around 30 mph. Here is the read out of the ride.


Spending a couple of hours working hard at an average altitude of about 11,000 ft. above sea level is quite an experience, but for me, overcoming that very visceral, very real fear of the heights associated with such a ride was the real victory of the day. I have three weeks until the Triple By Pass, and I am really looking forward to the completion of many months of training and effort with that single day, 120 mile, 11,000 ft. effort.


21:21:14 - Category: Personal - Link to this article -

On a Personal Note: End of the Riding Year Report
06/16/2012 - James White
Last week marked the end of my 2011/2012 riding year. For those not interested in cycling and related topics, please skip to the next entry. For those wondering why a riding year would end June 13th, well, because I got back on the bike, after a 7 year hiatus, on June 14th, 2005. In any case, my riding year ended, and another has begun, one filled with some real challenges, if I press for the goals I have set for myself.

2010/2011 had been a record setting year. 9000 miles and 338,607 ft. of ascent was so far beyond anything I had ever done before it was amazing. Back in 1998, my last year of riding before moving into the "weight lifter" phase, I had ridden 6,300 miles. In 09/10, 5420. So to jump to 9k was massive. Further, I only climbed 148,579 ft. in 09/10, so I more than doubled my climbing in just one year. As I began 11/12, I did not look to exceed the distance I rode last year, but I did look to at least match, if not exceed, the climbing. Every cyclist knows, if you want to improve, you have to climb. It hurts, but it is good for you.

My final distance for 11/12 was 8,619 miles, 381 miles less than last year. Now, that might indicate the old guy is slowing down, right? But a little closer examination would indicate otherwise. Though I rode a few less miles, my climb over those miles was 393,845 ft, i.e., 74.59 miles, more than 55,000 ft. beyond last years total! That's a lot of climbing, meaning the miles I was riding were of a higher "quality" than last year. But, add to that another factor: my average speed over the 8619 was a full half a mile an hour faster than last year. That may sound utterly insignificant to the non-cyclist, but my fellow cyclists well know that a half a mile per hour increase in average speed over 8619 miles means a lot more energy was expended to cover that distance. Add in the extra 55,000 ft. of climbing as well, and that is a significant improvement over last year. ...
[Click Here to Continue Reading]


21:01:00 - Category: Personal - Link to this article -