See below for more donation options
Alpha and Omega Ministries, Inc is a
501(c)(3) Non Profit Organization
Donations are fully tax deductible
Online Banking (preferred method)
If you use online banking you can setup Alpha and Omega Ministries as a payee using the following information. It is easy and you can set it to repeat the donation automatically or just one time. This method ensures that your entire donation goes to the ministry with no bank fees. You can change or stop the donations at any time right there in your online banking panel.
Alpha and Omega Ministries
P.O. Box 37106
Phoenix, AZ 85069-7106
Phone: 602-973-4602
Check or Money Order in the Mail
To send a donation in the mail use the address above.
Credit Card or Paypal
One Time Donation
Use the cart above to submit a one time donation with CC or Paypal
Automatic Repeating Donation:
Want scheduled automatic donations without having to remember every month? Setup a repeating donation using PayPal or your Credit Card below.
How to Setup a Repeating Donation:
Alpha and Omega Ministries, Inc is a 501 (c) (3) Non Profit Organization
Donations are fully tax deductible
How to use PayPal with a Credit Card
Repeating Donation
Want to make a donation that repeats Monthly? Use the links below to choose the amount and your donation will automatically repeat until you cancel it.
Don't see the combination you are looking for? Contact us and we will send you a custom link.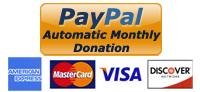 Alpha and Omega Ministries Donations  Policy
Alpha and Omega Ministries invites you to support this work through your prayers and financial gifts. Alpha and Omega Ministries was established on August 11, 1983 exclusively as a Non-Profit organization for religious and educational purposes under section 501 (c) (3) of the Internal Revenue code of 1954.
Cash contributions (donations), are fully tax deductible*. Contributions made to Alpha and Omega Ministries are accepted on the basis of good faith and are not refundable. 
Thank you for supporting this ministry!
*Amount is limited to no more than 50% of your adjusted gross income. See IRS pub 526 page 13 under the topic "Limits On Deductions" for more information.