Why I Love Riding in Arizona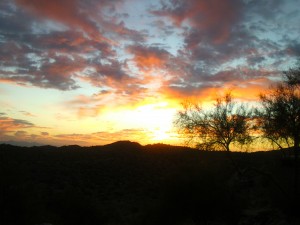 Just had to stop a couple of times today to snap a few pictures as I rode once again in South Mountain Park.  After a pitch dark ascent long before sunrise, on my second run up Dobbins I saw this, and had to stop long enough to record it.  Just glorious sunrises here in the Sonoran Desert.
And speaking of the Sonoran desert, here's a later point in my ride, looking west.  Arizona is truly a beautiful place.  Blessed to live here.