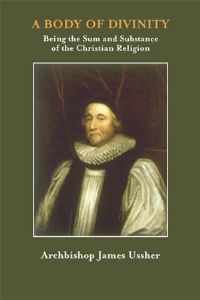 Well, just when you thought it was safe to dig your credit card out from under the rock in the back yard, the folks at Solid Ground leap out from behind a tree and hit you with A Body of Divinity: Being the Sum and Substance of the Christian Religion by Archbishop James Ussher, the great Irish Puritan leader. Till 12/31 SGCB is offering a pre-pub price of 30% off (it will be out in January). Note this information:
Archbishop James Ussher (1581-1656), author of the newly reprinted "Annals of the World," wrote his Body of Divinity in a way that would make it useful to the family. Long out of print, used copies regularly bring $400.00 and more on the used market. This edition is newly typeset and will be a smyth-sewn hardcover volume with a full color dusty jacket that will endure for generations. A new Introduction by Dr. Crawford Gribben and a complete Bibliography on Ussher make this the most valuable edition ever produced.
Though it won't be out till January, you might consider making it a present for yourself or your elders and just put the endorsements found on the website on a sheet of paper in a card or something in lieu of the book itself until it arrives. In any case, kudos once again to the folks at Solid Ground for bucking the trends in Christian publishing and bringing out what we really need! Here is the listing.