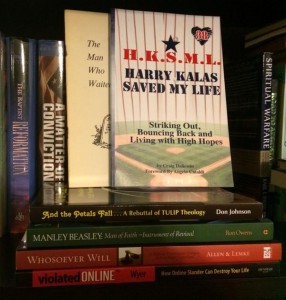 Ergun Caner posted a picture of the books he's reading over the summer.  I found it…interesting.  Whosoever Will is old, so I figured Caner would have been feasting off that one long ago.  And I may have to pick up Violated Online myself, given the behavior of Caner's online henchmen!  But given Caner's frivolous lawsuits and Twitter rages, listing that one is the height of hypocrisy.  And the Harry Kalas one is interesting, because surely Caner has fallen from the great heights of popularity that were his at Liberty to where he is today (though I can imagine he will be living large Sunday at Woodstock—unless, of course, something wonderful happens and he actually publicly repents at that time—we can all hope!).  But the one that caught my attention was Don Johnson's And the Petals Fall: A Rebuttal of TULIP Theology.  I have a pretty decent collection of anti-Calvinist literature, but hadn't seen this one before.  A little digging around (Amazon doesn't have it either) brought me to its homepage.  There I found this bit of advertising:
In And the Petals Fall you will find definitive, undeniable answers from God's Word proving:

Faith always precedes regeneration.

There is not a "Golden Chain of Redemption."

Biblical predestination has nothing to do with obtaining salvation.

The "other sheep" of John 10:16 are not Gentiles.

John 3:16 destroys the first 4 points of Tulip theology.

There are no unsaved elect Gentiles.

Not only does John 6 not teach the so-called "doctrines of grace," but actually refutes them.

Plus Bible verses you will never hear a Calvinist discuss.
That last line makes me chuckle, of course, and please, do not ask me what the sixth line is about, as I just ordered the book.  But in any case I have the feeling we will get at least one Radio Free Geneva out of this one, if not more!