Had to start off with a little Caner news (specifically, materials from the police report of the criminal complaint Ergun Caner tried to use to stop us from giving our presentation in Lindale last year). The wave of documentation continues to grow and grow, and the shrill attacks of Caner and his defenders (Lumpkins, Rogers, Penn, et al) only show they well know the truth. But I got through that fairly quickly and managed to finish up my review of Pastor Steve Gaines' sermon from September of 2013. Next RFGs will include reviews of David Allen and Shawn McCraney.
Also, I completely forgot two important things during the program! My sincere apologies. First:
PLEASE TAKE NOTE! Next Tuesday at 11am my guest on the Dividing Line will be Dr. Michael Kruger, author of a number of vitally important and useful books. We will be discussing sola scriptura and the issue of the canon of Scripture in response to a Catholic Answers call from a few months ago. So please, don't miss this program! I trust it will be a real blessing.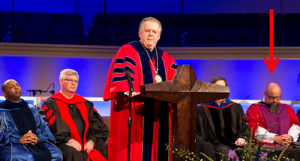 The second item I forgot was this: I will be posting an article (right after this entry) relating to the Ergun Caner scandal. It was originally posted 12/19 at 9:25am at www.christianpost.com. It was pulled within the next three hours or so. The author, Dr. John Carpenter, has received no response to his inquiries as to why it was removed. I, too, have written to christianpost.com and, like him, have received no response but silence. My concern here, aside from the suppression of the truth inherent in the action, is that the executive editor of the website is none other than Dr. Richard Land, the new President of Southern Evangelical Seminary and evidently close friend of Ergun Caner as well. I think for honesty's sake the leadership of christianpost.com needs to explain themselves.
Here is the YouTube link: