No, I'm not a fitness guru.  But I do know that when I am in shape, I write better, teach better, preach better, research better.  I wasted all of my 20's.  I never worked out.  I fell apart.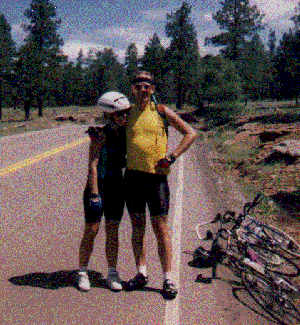 By 1993 I weighed over 200 lbs. and was in horrible shape.  That's when I chose to get in shape, and began cycling.  I quickly lost 30+ lbs. (within 6 months) and hit my lowest weight the day after my first century ride (the Magic Circle Bike Challenge in 1993).  By 1995 I was in great cycling shape: strong legs, but, otherwise, the classic cyclist look: Mr. Skeletal.  Here's a picture of my wife and I at the top of the switchbacks on US 89A just north of Sedona, Arizona.  I had just climbed the mountain in 2nd gear.  Note that my arms are about the same circumference as my wife's!
Years of heavy aerobic exercise will eventually get to you, and I was told that I had muscles in my back that, to use the words of one doctor, were "atrophying."  I didn't like the sound of that.  Then, in September of 1998, one Mr. Mark McGwire shattered the home run record in the major leagues, and I couldn't help but notice that Mr. McGwire is, well, not Mr. Skeletal.  He's a horse.  He's huge.  And my wife had noted, a few times, that she liked men who had a few more muscles than the skeleton hanging in the closet at the lab back at Grand Canyon when I was a biology major.  I got the hint.
Well, when you are in your late 30s, how much can regular weight-lifting and lots and lots of protein do for you?  It has now been three years since I began lifting, and with the help of friends like Brick Darrow (proprietor of Thorbecke's Gym), George Soto, Simon Escobedo, Warren Smith, and Eddie Dalcour, I've seen some progress.  Last year my son Joshua, friend Warren Smith, and daughter Summer were goofing around after a workout in my "gym" which is actually what's left of a back porch after you fill it with weight equipment.  We lift on Monday nights, come rain or shine.  Or, in this case, 111 degree weather.  Well, OK, by 6:30 in the evening it was only 110.  But we lifted almost 2 hours, and by the time we finished, it was 105.  Possibly the heat was getting to us, but we were playing around with the digital camera, and I couldn't help but notice the difference in this shot, and the one up above.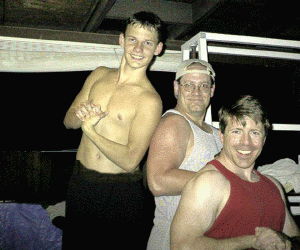 So, if you have started trying to pack on a little muscle, here's some encouragement.  It will happen.  Eventually.  And you might just get to have a lot of great fellowship along the way.  We sure do!  Yes, that's my 14 year old son, who was the only smart one amongst us (he just got out of the pool). And that's Warren Smith making me look like the old man in the group.  See, you can workout outside in Phoenix.  Please don't bother with the e-mails about mad-dogs and Englishmen!
Since then I've kept at it, and am now up to about 230 lbs. in weight. I've also shaved my head (why battle male pattern baldness?), re-grown my goatee, and adopted Oakleys. Some folks think I look like Jesse "the body" Ventura.  I can't imagine why.  Here is a more current picture: